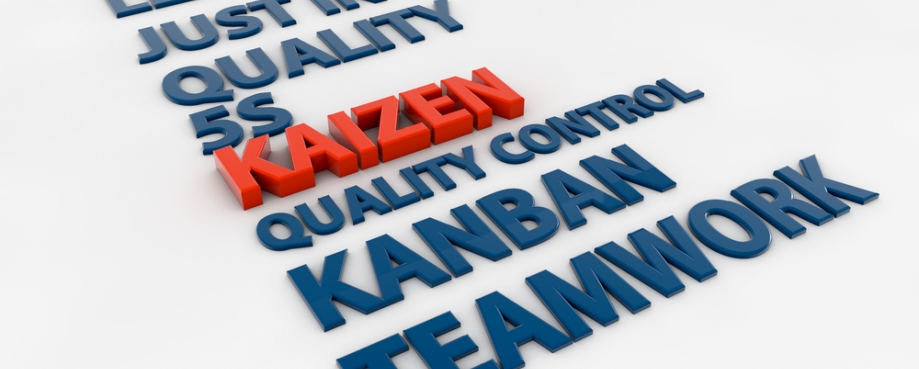 ETI Programme Officer Eshan Chan explains what ethical trade, eight ETI members, 17 Chinese factories, "Kaizen" business philosophy and boxes of storage labels have in common.
Earlier this year, ETI's office in Hong Kong teamed up with the ILO office for China and Mongolia to launch Sustaining Competitive and Responsible Enterprises – or SCORE – training for ETI members.
Now, participating factories have just completed the first module of the training on workplace cooperation.
I was there to witness two wrap-up meetings in Shanghai and Guangzhou.
But first some background.
ETI and the ILO's SCORE training focuses on developing cooperative working between workers in small and medium sized enterprises (SMEs), local management and international buyers. [Editor: we blogged about it in July 2017 here.]
The aim of the wrap up meetings was to bring participating factories, brand representatives and SCORE trainers together to share success stories and discuss challenges.
Before moving on to the second module.
The Kaizen efficiency cycle
I was impressed about learnings from training on the "Kaizen" efficiency cycle; and as part of that, the use of "Kanban" or visual images/cards to reinforce systems.
Factories showcased before and after photographs of their factory floors and production spaces which they arranged according to the Kaizen '5S' cycle.
The five S's are: Sort; Shine (or Sweep); Set in order; Standardize; and Sustain (or Self-discipline).
5S is about improving efficiency at the micro-level. It can, for example, eliminate searching for tools. It may eliminate wasted steps or long reaches that are ergonomically hazardous.
Since workers themselves analyse and rearrange their own workplace, it helps each worker to think about their activities.
And here's the science:
Kaizen (改善), is the Japanese word for "continual improvement".
In business, kaizen refers to activities that continuously improve all functions and involve all employees from the CEO to assembly line workers.
It also applies to processes, such as purchasing and logistics, that cross organizational boundaries into the supply chain.
Learning from Liansheng factory
Liansheng factory produces sports goods for our member, Matrix.
A delegation of three, the factory owner, a manager and a female worker attended the Guangzhou forum.
I was sitting at their table when Matrix brand representatives were facilitating the group discussion on SCORE benefits.
Factory owner, Mr. Guo Kai Xuan, said: "Better communication is the biggest benefit we have gained from SCORE."
He shared that previously all their units worked independently and seldom communicated with each other. When quality control issues arose, everyone would complain and point their finger at each other.
Now, the factory management and workers have a new and more constructive way of working together as the following storage labels (kanban) example shows.
As part of SCORE, Liansheng has set up an Enterprise Improvement Team (EIT), with equal numbers of managers and workers. It serves as an opportunity for units to resolve the root causes of any problems together. "We were involved in the design of storage labels," Miss Li Wei the worker representative told the meeting. "At first, we only included dates and the names of the person in charge on a piece of paper, but soon realized the information was not useful enough. After several discussions between colleagues, and with the advice of our SCORE trainer, we decided to revise it and include information that tracks the progress of production. We have even laminated the label so we can easily amend the information when necessary." Smiling, she continued: "Workers need to understand the reason behind making improvements, and the solutions must come from them."
Matrix is proud of the successes as well.
Its Head of Procurement and Compliance, Steve Wickham said, "Communication is key to the success of any collaborative project.
"It ensures that experiences and lessons learned are shared between the participants.
"It also helps to build and maintain support and interest in the project amongst the wider community of stakeholders too."
Collaboration between workers
Liansheng's SCORE trainer complimented the workers' efforts, explaining that their case was particularly interesting because it demonstrated effective collaboration among workers – and that their factory management was very supportive of this throughout.
This is only one of the many stories I heard during the supplier forums, and it exemplifies the close relationship buyers, suppliers and trainers can develop through working together.
It also proves the positive impact that supply chain improvement programmes can have on worker manager relations.
As Module 2 on quality management kicks off this month, I look forward to collecting more encouraging case studies along our journey.
To learn more about the ETI-ILO SCORE project contact Eshan Chan
The ETI-ILO SCORE project runs from February 2017 to February 2019 with funding from Germany's Federal Ministry for Economic Cooperation and Development (BMZ) via its develoPPP.de programme. DevelopPPP helps German and European companies conduct business activities in a responsible manner in line with the expectations of the Sustainable Development Goals. In the context of the SCORE initiative, ILO and ETI are cooperating with SEQUA, one of DevlopPPP's designated partners charged with implementing the programme.