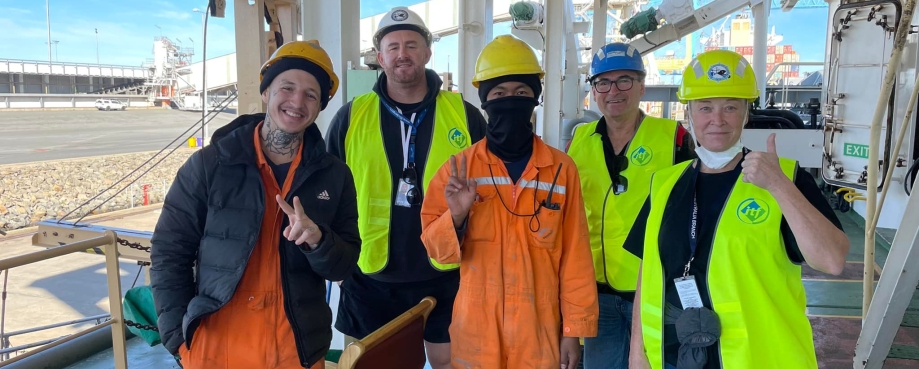 The Covid-19 pandemic and the war in Ukraine have thrown the maritime supply chain into the spotlight in recent years, as hundreds of thousands of seafarers were stranded on ships. 
The pandemic
During Covid governments restricted the movement of foreign nationals, access to ports was heavily limited for seafarers, commercial flights home were unavailable, or their relief crew unable to reach them. And if they were not working, they were not being paid, leaving many unable to support their families, and with their wages docked, many faced financial difficulties.
As a result, we at TFG, like many businesses, were experiencing major logistical supply chain disruptions due to the shortage of containers, delays, and rising shipping costs with reduced options. 
On any given day over one million seafarers are at sea on approximately 60,000 cargo ships, and about 90% of all goods in the world are carried by ship. So many aspects of our day-to-day lives are made possible thanks to seafarers. Yet, their contribution to our daily lives continues to go by unrecognised. 
Russia's invasion of Ukraine
The war in Ukraine exacerbated the problems that seafarers were experiencing already, posing great danger for crews and ships in the Black Sea. At the start of the conflict, more than 2,000 seafarers were stranded on over 100 ships, and the IMO and international aid organisations created task forces to address issues about seafarers being trapped on ships. 
As you read this, there will be seafarers around the world whose rights at work are being abused.
So, what can be done about it?
ITF's support has been invaluable to TFG, when it comes to identifying risks to seafarers as the first step in performing our human rights due diligence (HRDD) within maritime supply chains. They stand alone in being able to offer a worker-centred analysis of human rights abuses at sea measured against international laws and standards. 
Working in cooperation with the ITF, companies can collaborate on HRDD, including developing and adopting risk mitigation processes, ongoing monitoring procedures, and grievance mechanisms. 
Since we initiated our work with ITF, we have benefited from some significant learning on how to better our due diligence. The following steps might be useful to a brand who is starting on their journey to enhance their maritime HRDD:
Initiate an introduction to cooperative maritime human rights due diligence: The ITF can help support the effective communication of the risks to seafarers' rights and HRDD requirements across corporate teams.
Request ITF's rights check: Request an assessment of human rights risks to seafarers on those vessels over a specified period.
Open the dialogue on risks and mitigation: Engage and update business policies related to HRDD.
Developing a formalised commitment
Our relationship with ITF has rapidly evolved and we recently became the first fashion retailer to partner with the ITF to cooperate on preventing, mitigating, and addressing human rights risks for transport workers in its supply chain. A Memorandum of Understanding signed on 29 March 2023 sets out ways of working together to eradicate human rights abuses from our entire transport and logistics supply chain, including shipping, freight, and warehouse workers. By signing this cooperation agreement, we commit to:
Cooperate with the ITF to prevent or remedy actual or potential human rights violations in maritime logistics, early, directly and in a manner acceptable to the affected seafarers – in line with the UN Guiding Principles. 
Undertake regular 'Rights Checks' for seafarers. 
Map our whole transport and logistics supply chain, with the possibility of expanding ITF Rights Checks to other parts of our supply chain. 
Recognise the ITF and its affiliates as representatives of transport workers and collaborate to address actual and potential impacts on transport workers' rights, including labour rights.
With this agreement we want to formalise our commitment to enhanced HRDD in our transport and logistics supply chain. We will work to influence our relationship with our partners through contractual agreements that will further our efforts and ultimately safeguard workers. 
"ITF has been an invaluable partner of TFG London since the start of the Covid-19 pandemic, initially collaborating to address the seafarers' humanitarian crisis and helping to shine a light on an area of our supply chain where we had limited visibility." 

Justin Hampshire, Chief Executive, TFG Brands London 
Every business should adopt a human centric approach to due diligence, and we hope we can join forces with other industry peers to eradicate human rights abuses affecting all transport workers. 
You can find out more about ITF Human Rights Due Diligence Guidance here.