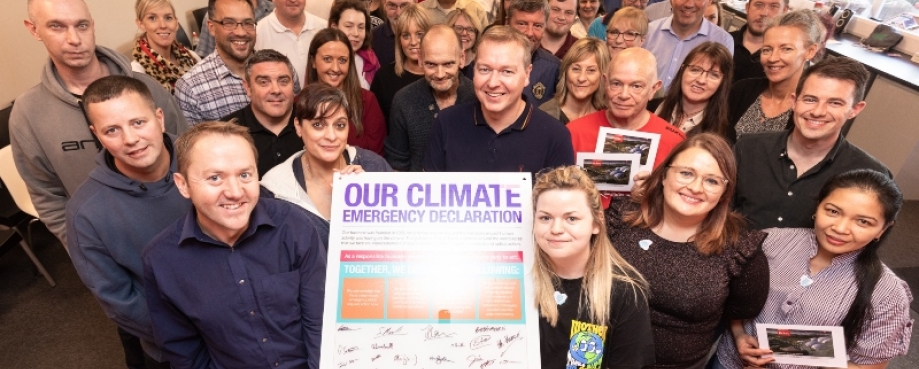 For the employee community at schoolwear manufacturer Rowlinson Knitwear, something significant happened on 20 September 2019. As the world turned its collective gaze on the climate crisis and thousands of people across the globe went on strike, our modestly-sized business stopped working for one day.
This small action is pretty massive for us.
With just 55 employees working at our UK head office, it's unlikely that we changed the world that day. Choosing not to work, we spent our time taking part in a series of informative presentations and workshops to better understand the stark realities of the Climate Crisis, so we can take steps to improve what we do at work and at home. Also, everyone signed our Climate Crisis Declaration, committing our business to take immediate action to avert the Climate Emergency. Lunch was a delicious vegan buffet – even the diehard carnivores gave it a try!
So why did a small garment manufacturer from Stockport take the decision to stop working for one day? And can we really hope to have a positive impact that could change our world?
As a small business, we're keen to prove that being small doesn't stop you making a big difference.
A responsible employee-owned business, we consciously align everything we do with our values of care, trust and be better. A touchstone for decision-making, these values ensure that ethical practices are at the heart of what we do, both in our UK operations and overseas. While we do not own our manufacturing factories, we have exceptionally close and longstanding relationships with our overseas partners and we are 100% exclusive with the largest two suppliers. As a result, we can lay claim to supplying great, high quality garments made in safe workplaces by happy, healthy workers using ethically-sourced raw materials.  
While we'll never compromise the quality of our garments, we also ensure that the people who make our products work in environments that meet UK standards in health and safety. Since 2014, we've gifted water filters to workers with more than 1 years' service, granting more people access to clean drinking water.  We also financially support access to a free-of-charge, anonymous helpline, Amader Kotha, so workplace issues and concerns are heard and resolved. In recent months, we've also introduced an education programme and the supply of products to female workers in our Bangladesh factory to help end period poverty.
But we're not complacent and know there is more we can do. In fact, our business mission is to become a force for good. A Foundation member since 2017, our partnership with the ETI is helping us to navigate the complexities of adopting best practice in ethical business activities.
So what's next? Caring for our people has been part of our DNA for a long time, yet there is still more we can do. Caring for our planet is incredibly important too. In 2020, we're installing solar panels to power our electricity supply and plug-in hybrid cars. We've also set our sights on becoming a Certified B Corporation. A new kind of business that balances people, profit and planet, certification legally obliges us to consider the impact of our decisions on workers, customers, suppliers, community and, crucially, the environment.
As a small business, we're keen to prove that being small doesn't stop you making a big difference.
Blog post
SMEs - the new human rights defenders?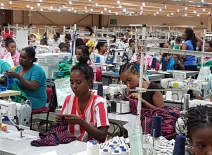 The UK's 5.8 million SMEs have huge untapped potential for leading on human rights at work, and are often better placed to do so than the big multinationals. A new government-funded scheme offering SMEs bespoke ETI training at a significant discount is helping unlock some of that potential.
Read more