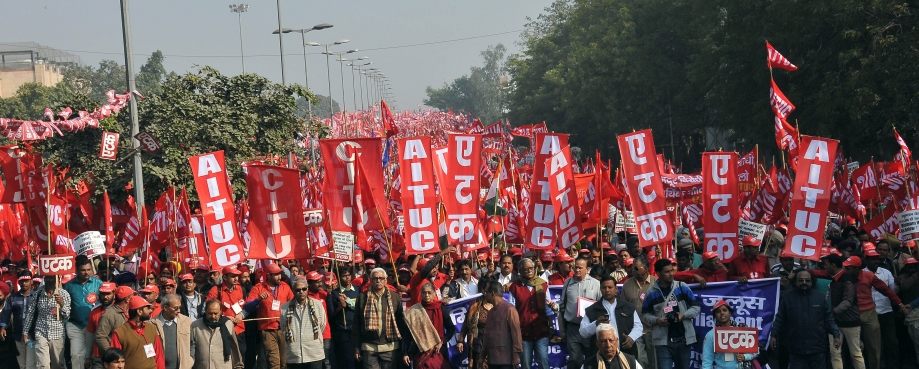 As the ITUC publishes its Global Rights Index 2018, Stephen Russell, the TUC's international policy officer for business & human rights, reflects on this year's troubling findings.
The world turns. And for workers, it's turning nasty.
Worldwide, workers are facing a tougher and more violent environment as they seek to defend their rights. The ITUC's Global Rights Index, the launch of which I attended this week at the ILO, shows a serious increase in the abuse of fundamental rights and violence towards those trying to defend them.
Now in its fifth year, the Global Rights Index (GRI) was conceived as a counterpoint to the World Bank's "Doing Business" report, which ranks economies on how easy it is to "do business" there, but which ignores human rights.
The ITUC's answer draws on reports from unions around the world to build a picture of how workers are being treated. Countries are then graded based on access to and respect for basic rights, including civil liberties and the core labour rights enshrined by the UN via the ILO's Fundamental Principles and Rights at Work.
Of these, Freedom of Association remains the key enabling right to delivering others, and as such is the one most under fire.  
A sobering picture
The picture painted by the GRI is a sobering one for anyone who hopes to see progress in the quest for decent work.
Overall, the world is getting more restrictive and more violent. Instances of persecution are spreading to more and more countries.
Last year 44 countries were guilty of locking up trade unionists; this year there was a shocking leap to 59, a 34% rise. 
Worse still, violence spread to 65 countries from 59, putting more worker representatives in the line of fire – a risk that cost workers' lives in 19 of those countries.
The examples of attacks with water cannons, machetes and police batons, as well as kidnappings and fatal drive by shootings, offer a chilling reminder that despite all the hard work being done to address abuses of rights and conditions, too many people are still left behind and drifting out of sight.
The worst countries for workers
While relatively closed economies like Saudi Arabia, and regularly transgressing nations like Colombia and Guatemala, are singled out for fierce criticism in the report, countries where social partners have been trying to challenge ingrained exploitation of workers are still being ranked as amongst the "The World's Ten Worst Countries for Workers", with Bangladesh, Cambodia and Turkey among those listed.
Clearly, attempts to help workers protect themselves must be sustained, and a long hard look taken at the countries' governments, whose actions continue to create a deeply unhelpful climate for breaking down longstanding hostilities.
The list is completed by Algeria, Egypt, Kazakhstan and the Philippines.
While the Middle East and North Africa was the worst region in the world, no area of the planet escapes, with examples of oppression listed from Indonesia to Italy. 
A stark challenge
From the relative comfort of western nations, the enthusiasm and commitment of campaigners can create the impression that progress is inevitable and that the world can only improve.
But words must be turned into action, and action must be strongly targeted at protecting fundamental rights if the deadly turn of the world is to be slowed and spun in a more progressive direction.
For ETI members, the challenge is stark. By definition we wrestle with some of the worst environments for workers, and the achievements we have made in scattered workplaces remain stubbornly isolated.
For companies in particular, robust business policy and responsible sourcing practices must be followed up with business activity that challenges abuse at all tiers. But that in itself will never be enough. The scale of the problems is too big for any one company to make lasting change. It is only by working together collectively that the desperate environment faced by workers can be transformed.
That means companies pooling their efforts to increase their leverage on suppliers and governments – and even on the formal employers' organisations that represent the corporate voice on the world stage.
Indeed, the ILO remains the perfect stage to launch the annual GRI, as it is only with the full cooperation of all the social partners, including unions, companies, governments, as well as our friends and allies in NGOs, that we will – as has just been said on the stage at the conference – forge "a less troubled world".
Subscribe
Sign up to receive email updates from ETI:
Subscribe
ETI's blog covers issues at the intersection of business, news and ethical trade. We welcome a range of insights and opinions from our guest bloggers, though don't necessarily agree with everything they say.