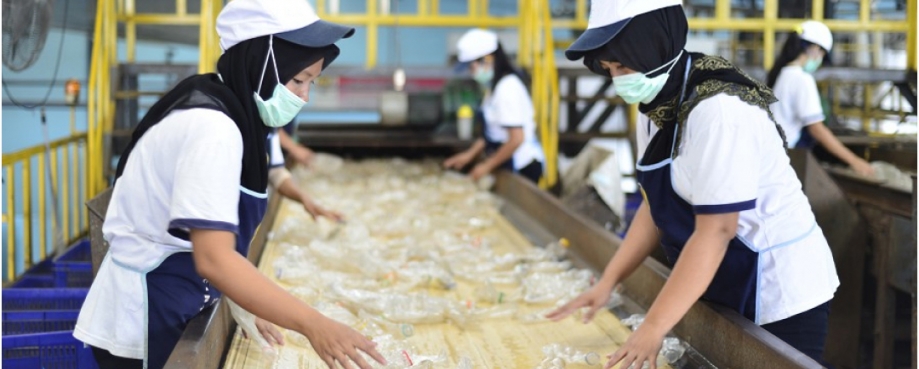 ETI has officially welcomed its first recycling industry company member. Bantam Materials, the supplier of Prevented Ocean Plastic, is a leading logistics and distribution company that developed the market-leading programme to solve recycled supply problems by providing manufacturers, retailers and consumers certified recycled plastic – a better plastic choice.
Established over 15 years ago, Bantam Materials, together with its brand and manufacturing partners, prevent over a billion bottles each year from entering our oceans. Bantam Materials' hero product is Prevented Ocean Plastic material: high quality, certified recycled plastic that has been collected from coastal areas at-risk of ocean plastic pollution. Used by supermarkets and brands around the world, it meets regulatory health and safety standards, is fully traceable back to source and can be identified on-pack through its distinctive triangular logo.
The Prevented Ocean Plastic programme is the largest of its kind, having diverted over 500 million plastic bottles away from our oceans in 2020 alone. The programme works with approved suppliers across South East Asia, the Mediterranean, Central America and South America. We are committed to promoting better working conditions and improving business practices across our supply chain. The programme supports coastal communities in low-income countries by providing informal and formal work to communities, with over 20,000 work days per month, establishing recycling infrastructure and creating value out of plastic waste.
Established in early 2020, the Prevented Ocean Plastic Research Centre's aim is to provide data-based truths to promote culture change within the recycling industry. The Research Centre employs 6 staff and is based on the Richmond Green, London and encourages partners to procure recycled materials with confidence. With limited information published about the informal waste sector, which represents 60% of recycled plastic collection, our focus in 2021 is on worker demographics in the informal waste economy (bottle collectors) and Life Cycle Assessments (LCA) of recycled material.
"Bantam Materials has always been committed to ensuring that Prevented Ocean Plastic is best-in-class recycled ocean bound plastic, pushing up standards wherever necessary. Our ETI membership is the latest step in our commitment to protect bottle collectors across developing countries as demand for recycled plastic builds, with each geographic location presenting its own unique challenges. We need to be certain that our efforts are good for people working at every step of the supply chain, as well as the planet."
Raffi Schieir, Director of Bantam Materials
Bantam Materials joined ETI as part of our ambition to drive up standards for recycled packaging products. Having already achieved full traceability of Prevented Ocean Plastic material, we want to establish full transparency across our supply chain. Our membership will help us gain a greater understanding of the workers in our supply chain, provide further support to suppliers and learn from experiences within the membership who are  facing similar systemic challenges.
Several of our key implementing partners include UK retailers who are existing members of the ETI including: Sainsbury's, Waitrose and Aldi. We look forward to collaborating with existing and future partners through the ETI membership to tackle systemic ethical trade challenges and share our knowledge of the plastics industry.
Establishing the Prevented Ocean Plastic programme has brought with it a number of challenges, not least because ocean-bound plastics are notoriously the 'Wild West' of the recycling industry. Bantam Materials has put in place rigorous traceability practices and auditing requirements where previously access to supply chain has been limited. Setting up the programme has meant creating unique methodologies to fit the ocean-bound industry, building strong supplier relationships to uphold standards and establishing due diligence processes.
"We are proud to be joining ETI as the first recycling industry supplier and pleased it comes at a time when strength in diversity matters to the membership. We represent the changing industrial landscape of initiatives contributing to environmental improvements while seeking to progress human rights in our supply chain, two sustainability issues which until now, have been tackled separately. Becoming members of ETI allows us to build on our existing work and drive improvements for workers in our growing diverse supply chain."
Claire Sammons-Evans, Sustainability Lead at the Prevented Ocean Plastic Research Centre
Bantam Materials has been building an understanding of our supply chain risks, whilst engaging suppliers and customers in honest conversations about the challenges and opportunities we face. We are adapting existing policies, processes and systems to ensure the programme upholds workers' rights at every stage of the supply chain.
In the coming months, we look forward to beginning our ETI journey, by conducting a gap analysis of our existing processes and supply chain management; understanding where we can add value through participation – in particular sharing our experience of addressing both salient environmental and human rights risks in both operations and our supply chain.
We recognise there is still lots to learn, and we look forward to engaging with ETI and its members as a 'critical friend', learning from the combined expertise of companies, trade unions and NGOs to inform our programme and drive longstanding, transformative change throughout our supply chain.
"We are delighted to welcome Bantam Materials to Foundation membership at ETI. Bantam Materials brings a new emerging sector to ETI and we look forward to working with Bantam to further develop their work in ethical trade and human rights.  This move sends an important signal to others in this sector about the importance of facing the issues head on and the advantages of working collaboratively with other sectors and peers."
Kate Lewis, Head of Membership