As interventions to curb pollution and end climate change sweep the world, an inexorable question looms large: can the circular economy deliver a just transition for those who need it most?
What does this even mean?
In a circular economy, all materials are reused, repaired, or recycled. Effective or not at creating a truly sustainable material economy, attempts at a more circular economy bring disruption to waste systems, which are an essential source of survival for more than 20 million workers in the world's informal waste economy around the world.
A just transition means that the move towards a more environmentally sustainable economy generates and preserves decent, inclusive jobs, and that workers impacted by such shifts are integrated into new systems or retrained into other occupations. This is only a realistic goal if such workers are involved in planning processes and supported to organise and stay informed. Evidence shows that ensuring a just transition can alleviate poverty and wealth disparity and prevent conflict.
Where are there good examples of this?
Increasingly, a just transition is understood as an approach that can simultaneously address environmental pollution (including climate change), inequality and social inclusion. Political will is important if socially inclusive material management policies are to be implemented at a scale that meets the need. There is no single model for a just transition, and more work is needed even in places that are achieving it, but good examples can be found in the southern and northern hemispheres alike. Because of the rapid economic changes that both technology and environmental degradation are causing, just transition should be a long-term and adaptive component of our economies, something that is possible in socially inclusive systems.
Despite the dearth of informal economy examples in just transition literature, especially in the context of the circular economy, strong waste picker organisations are securing a just transition for their workers in several places around the world. In Argentina, Colombia, South Africa, India, Brazil and Kenya, national waste picker organisations are helping transition waste pickers out of dumpsites and into doorstep materials collection. In India, this includes doorstep composting services in several cities. In Brazil, waste picker cooperatives now operate a large share of the country's formal recyclables collection and sorting. In Canada, waste pickers are contracted to sort recyclables in facilities that need to meet minimum waste diversion rules. In France, waste pickers have secured flea markets and the legal right to sell second-hand goods.
Lessons from around the world indicate that socially inclusive systems can be sustained longer in places where workers have organised themselves, rather than being absorbed as employees by the private or public sectors. Countries like Brazil, Colombia, India and Argentina have inclusive policies and legal frameworks that give waste pickers varying degrees of recognition and priority for work in waste management. In South Africa, municipalities are required under the nation's waste management law to develop waste picker integration plans. In July, Fiji became the first Pacific country to formally recognise waste pickers.
Demands for a just transition towards more socially inclusive waste management systems are increasingly making the agenda of private sector actors as well. 
Raffi Schieir, director of Bantam Materials, asserts, "we must support the millions of people working in the informal waste economy through a just transition to improve quality of life and build the wider economy. It is possible to provide these workers with dignity and a good place to work which is properly monitored and fully traceable.  Only by involving every member of the supply chain can we achieve a just transition."
So, what's the problem?
Despite good examples around the world, waste pickers and other informal economy workers tend to be left out of climate or circular economy debates and investments, which generally lack any just transition plan and serve to further disenfranchise those already in precarious work. In recent years, waste pickers around the world have become particularly concerned about  Extended Producer Responsibility (EPR), which extends the responsibilities of the producers of a product to its entire life cycle, including its take-back, recycling and final disposal. They cite EPR's tendency to drive or amplify the rapid privatisation of the recycling industry and usher in a new wave of competition for materials.
Eli Kodisang of the African Reclaimers Organisation worries that "reclaimers will lose whatever gains were made by fighting for inclusion in EPR. This is just another attempt at marginalisation of the poor, it has no place in the midst of poverty and high unemployment."
All this is not to say that we should not aspire for an authentic circular economy. Rather, we must design the circular economy around the people who have informally been leading the way in circularity for decades.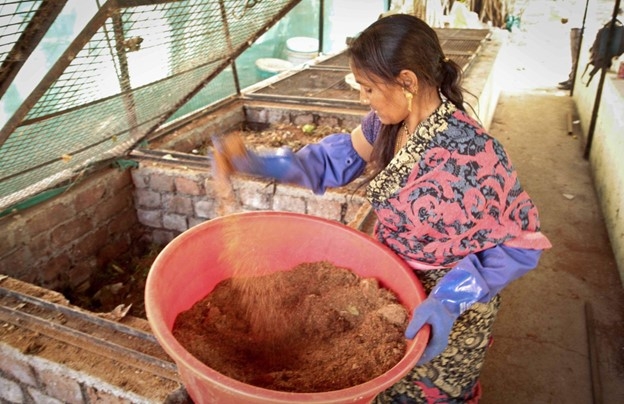 How can waste pickers be supported?
The private sector has more power and space in circular economy debates, but workers are fighting for space of their own in these discussions. Over the past couple of years, the Global Alliance of Waste Pickers engaged hundreds of their members towards the development of their official position on EPR. The demands include that EPR require waste picker integration, support the organisation of informal economy workers, and that it be funded — but not implemented — by producers. Representatives of the Global Alliance of Waste Pickers are also deeply involved in the Global Plastics Treaty process, which should include a just transition for workers.
Waste picker organisations are working hard to create their own just transition towards a new circular economy, though they have few resources and, in most parts of the world, virtually no support. The circular economy can deliver a just transition if we start now to establish inclusive materials management systems in our communities. This starts with mapping our systems, then bringing workers in the informal economy and their organisations to the table to build the shared knowledge and relationships necessary for those engagements to be effective.