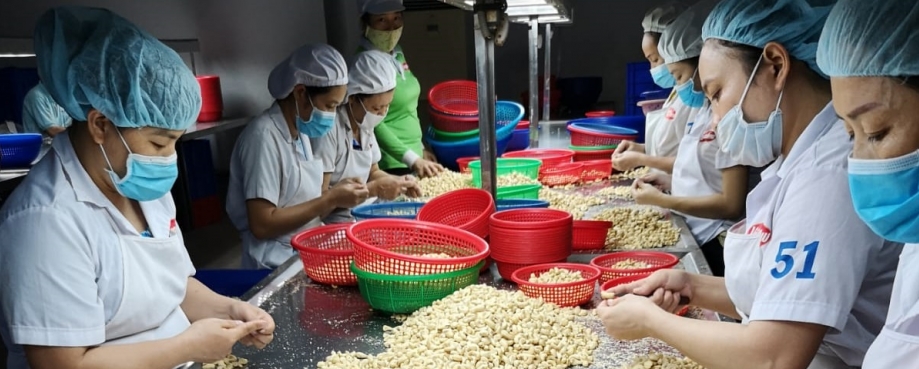 Preliminary reports indicate risks of serious labour abuses in the cashew nut industry, including use of prison labour, child labour, unsafe working conditions and lack of contracts. ETI Norway's Ole Henning asks: is this really the case, and if so, what can we do about it?
In 2017, Norwegian food retailers asked the Ethical Trading Initiative Norway (IEH) to embark on a journey of human rights due diligence in the cashew nut supply chain. It surprised me that they wanted us to focus on a product seemingly so marginal. Yet a closer look revealed that cashew nuts are a high-end product and the volumes in terms of value are substantial.
Our investigations on the ground identified many challenges, although for some issues the situation was better than expected. Based on our findings, we're now creating an action plan to be implemented in collaboration with local partners.
Mapping the supply chain
Increasingly, cashew nuts are grown in African countries such as the Ivory Coast and Ghana, where they protect the soil from desertification. However, these countries lack the capacity to process the nuts and remove the shells and so they ship most of them to Vietnam, which with its huge processing capacity, has become the world's leading exporter of cashew kernels. Vietnam also grows some of the cashews it processes.
Our due diligence process set out to map the conditions at cashew farms and processors in Vietnam. With the help of ETI, we found a highly qualified Vietnamese consultant whose experience in dealing with local processors was essential to the success of the project. Gaining access was tricky as the industry protects its reputation, and government control seems to make processors cautious.
The study looked at five processors of different kinds – exporters and sub-contractors; state-owned and private; small family-owned, medium-sized and large – as well as ten cashew farms.
Assessing risk  
Overall, we found the situation was better than we had feared, but there is still a lot to be done. Fortunately, the use of prison labour, specifically drug detainees in rehabilitation centres who are forced to work in cashew factories, is now a marginal phenomenon. However, farmers lack knowledge of child labour requirements, and often children in the family work on the farms. We also found that farmers have poor knowledge and handling of pesticides, with the result that the ground water in certain farming areas was polluted and non-potable.
We also found that the sub-contractors shelling the cashew nuts had little knowledge of labour legislation; most workers were employed without work contracts, and there were numerous health and safety issues.
We found that conditions were markedly better at the exporters, though often, the management also acted as trade union representatives. Not surprisingly, these trade unions were not used by the workers to voice grievances.
Next steps
Following the completion of the report, we recently invited suppliers and industry stakeholders to a workshop in Ho Chi Minh City to present our findings and recommendations and to discuss the way forward. The Vietnam Cashew Association (VINACAS) co-hosted the event with us, and Grete Løchen, the Norwegian Ambassador to Vietnam, gave the welcome address. The event provided a starting point for local collaboration and for launching activities aimed at making improvements.
Our next steps are to prepare a work plan addressing the issues, which will include collaboration with local industry and stakeholders, and to start putting it into action. This may include activities such as training of farmers on pesticide use, capacity building of sub-contractors on labour rights, and a programme on social dialogue. No doubt there will many challenges along the way, but with persistence we believe we can have a real impact.
Finally, we would like to invite companies and suppliers dealing with cashew nuts and wanting to contribute to improvements in conditions to get in touch with us at ole.henning@etiskhandel.no.