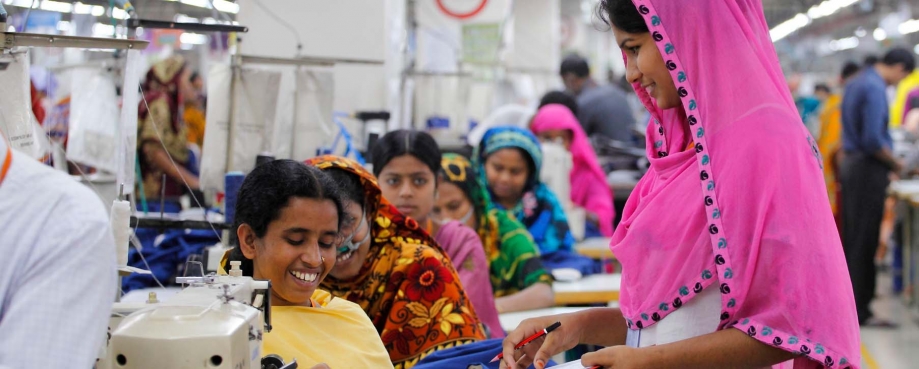 Sunday sees the third anniversary of the Rana Plaza disaster in Bangladesh. Over 1,100 garment workers were killed and thousands more maimed when the multi storey factory complex they were working in collapsed. So what's happened since then? Has the situation improved? And what lessons have been learnt?
After China, Bangladesh is the world's largest exporter of ready-made garments.
Apparel and textiles – and that largely equates to  fast fashion – contributes around 20 per cent of Bangladesh's GDP as well as 80 per cent of its exports.
The fast fashion sector is therefore crucial. Not only to the national economy, but also to its four million, mainly women workers.
Rana Plaza acted as a wake-up call
Prior to the disaster, many factories operated under appalling conditions. Building, fire and electrical safety were hardly prioritised, let alone picked up via traditional social audits.
It's safe to say that Rana Plaza and the less well publicised Tazreen fashion factory fire that left over 100 dead in 2012, acted as wake-up calls to the garment industry.
They galvanised global companies and brands to address the systemic health, safety and labour issues that riddled the industry.
Immediately following the collapse, brands including many ETI members signed up to one of two new multi-stakeholder initiatives looking to tackle health and safety issues in the industry.
The Bangladesh Accord on Fire and Building Safety and the Alliance for Bangladesh Worker Safety.
The former is funded by mainly European brands and the latter by American. And from the start they have looked to work with employers' associations, NGOs and in the case of the Accord, trade unions.
Yet change on the scale that was needed takes time. So where are we now?
There are two main issues:
Addressing occupational health and safety.
Promoting worker rights including freedom of association.
Addressing factory health and safety
We can confidently say that important progress has been made. At least 1,600 factories have been inspected by Accord and Alliance inspectors covering two million workers. And numbers of factories are nearly doubled if we include government inspections.
Not only that, but follow up inspections are now taking place and those inspections have teeth.
Brands are legally bound to act and are pulling out of local factories that are significantly underperforming on building and fire safety.
And we shouldn't forget that key drivers within this progress are the 250 global brands that are working collaboratively for the first time.
That's unprecedented and includes most large high street fashion chains.
Yet there are obviously still challenges. There were over 30 factory fires in 2015. Thankfully, no lives were lost and while concerning, newly implemented or strengthened safety processes were followed effectively within evacuation guidelines.
Nevertheless, putting things right is taking far too long and there is a recognised need to accelerate the pace of the remediation effort.
ETI has strong links with Accord and we and our members acknowledge that only half of the safety issues flagged in inspections have still to be fixed.
While we should recognise that many of the corrective actions that manufacturers have been instructed to address can require huge capital investment e.g. whole factory sprinkler systems or even relocation (it can take up to three years to build a new factory in Bangladesh), timelines need to be put in place and adhered to with regular follow up.
Worker rights and freedom of association
The key lesson that is now coming to the fore is that long term solutions rest with an empowered workforce.
While the immediate focus was rightly on compensation and building and fire safety, ETI is now encouraging our members to concentrate on worker engagement and participation.
And we can report that the door is open.
The reason for the tragically high death toll in Rana Plaza (and also the 2012 Tazreen factory fire) was that workers knew there were real dangers, and did raise concerns.
But because they were unorganised, management made them enter an unsafe building in the case of Rana Plaza, or in the case of Tazreen, remain inside the burning building.
That's one of the reasons why, last year, we started working with ETI member brands and unions to make sure elected and trained participation committees and occupational health and safety committees are in place to ensure sustainability and strengthen worker voice
We've delivered 389 training sessions to 240 workers, trade unions, managers and supervisors in factories employing a total of 8,445 employees.
And following demand from brands and suppliers for the establishment of more elected and trained participation committees, we have plans to expand to many more factories.
What's in the future?
Our Base Code points the way.
Strong health and safety provision. Decent wages. Better terms and conditions of employment. Freedom of association. They all have to be delivered.
That's going to take more time and effort. And most importantly it's going to take even more collaboration.
Between local factory owners and their workforce, with global brands and companies, and in partnership with strong trade unions and committed local NGOs.