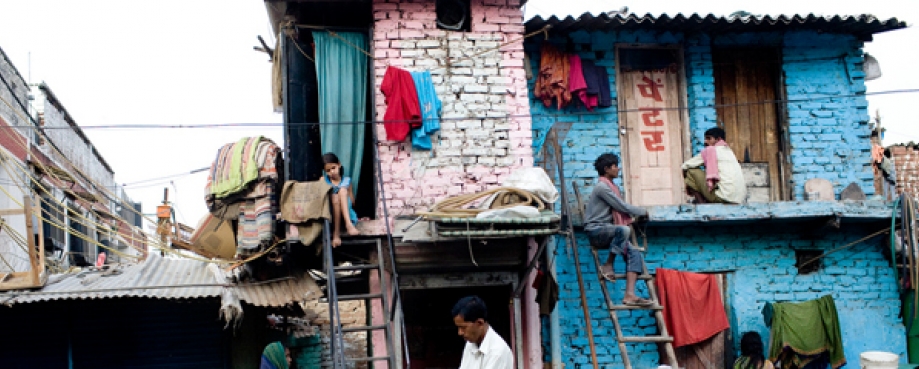 I participated recently in a series of meetings and presentations in Mexico, a significant part of which was about the potential for partnership with business to drive development. The clear aim is to lift out of poverty the many millions around the globe who still survive on a day to day basis and have little or no access to the things that most of us take for granted.  I was asked to share ETI's experience at the invitation of the UK Department for International Development and sponsored by the UN, to what was grandly titled the "First High Level Meeting of the Global Partnership for Effective Development Co-operation: Building towards an Inclusive Post 2015 Development Agenda." 
There has been a process signposted by the cities in which key meetings have happened: Rome in 2003 leading to the Declaration on Aid Effectiveness in Paris 2005, followed by Accra in 2008 to agree an Agenda for Action, and Busan (Korea) in November 2011 leading to a commitment to Partnerships for Effective Development Cooperation. The shift from talk about traditional aid, implying richer countries providing aid to poorer countries, to a discussion on development co-operation is an important one. It aims to reflect the realities of emerging economies and global power shifts, the increase in south-south trade and more capable and assertive countries from the global south. Part of this discussion has included a more explicit recognition of the central role that economic development plays in countries overall development, supporting their ability to better resource their own plans and over time reduce their reliance on traditional aid. 
This new focus on cooperation has lead to discussions about the role of the private sector in development, which is often a heated debate. The private sector covers a wide range of activities from investment capital, investment in sourcing or manufacture, to agriculture development, market development and the need for a vibrant SME sector. All of these might be needed in a country as it grows and needs to create jobs for an often growing and underemployed population. In exploring a more active role for business questions are rightly raised about equity and inclusiveness, about tax and trade preferences for foreign companies and in particular about the ability of the private sector to actually deliver in traditional areas of development such as health and education.
So what has this to do with ethical trade? On the one hand, listening to many conversations about how to partner with the private sector and get civil-society and business collaborating, I could not help but think this is an area where ETI has a long history with much valuable experience. We know first-hand how frustrating and difficult this can be, but also the real potential when partnerships deliver. ETI and its members have a rich experience, whether it is in bringing home-workers into the limelight in supply chains and supporting them to secure an improved income, helping the creation of the Gangmaster's Licensing Authority, or more recently supporting the birth of the ACCORD for improved factories in Bangladesh. We also know that business activity has the potential to have a very positive impact through job creation, but that for the full benefit of this to be felt by workers employment creation needs to be married within a robust framework of worker's rights that is implemented with clear accountability. The ILO core conventions on worker's rights and the UN Guiding Principles and voluntary codes like the ETI Base Code offer relevant structures that can help deliver not just employment but decent work.
There is also something for those involved in ethical trade to take away from the debate in Mexico. At Busan, four principles for effective development cooperation were agreed which it seems to me are relevant for the direction of travel for ethical trade. These principles are:
Ownership of development priorities by developing countries
In the context of ethical trade we need to move the paradigm from retailers and brands being expected  to "implement" worker's rights in sourcing countries to one that supports the ownership of worker's rights as a priority in sourcing countries. This will not only deliver more sustainable conditions for workers, in the long term, it will be the most effective and efficient way of ensuring that worker rights standards become the norm in well-run businesses, in ethical supply chains.
Focus on results
While much is being done in ethical trade in this area, there is still far too much effort to measure activities and outputs, such as number of people trained or audits completed, and not enough effort to tackle the more difficult challenge of a focus on real results. Ultimately the measure of our success is in determining where workers rights are being denied, for example wages are too low, discrimination is taking place etc and measuring the improvement in these fundamental conditions.
Inclusive development partnerships
As development partners grapple with how to develop effective inclusive partnerships, this also remains a challenge for many in ethical trade. Inclusiveness means involving workers and their representatives, not as subjects or beneficiaries, but as key participants in how we understand issues and put in place measures to drive change and protect rights. It also means meaningful innovative partnerships between business, their suppliers, trade unions, NGOs and where necessary Government to deliver results.
Transparency and accountability to each other
There is still far too little transparency and accountability in ethical trade. Too often only the good projects are shown the light of day and not enough is done to research and share information on the realities for workers, being open about activities and lessons learned, even if projects have not been successful. Accountability means committing to ensure workers are fully involved and we listen to them, but it also means being accountable within the value chain, to shareholders and to consumers who have more and more information to hand to make judgements of all of us.
I was not sure quite what to expect as I signed up to this event and my natural aversion to grand meetings meant I went with a sense of scepticism. However having now worked in development for nearly 30 years, many of those years spent overseas, I was genuinely heartened to hear a changing debate around how to support development and eradicate poverty. While this is a seismic change and will take time to really deliver, moving the agenda from one largely of western donor driven Aid to one that is genuinely based on country realities, capacities and plans, that embraces wider forms of collaboration, that actively includes the private sector but remains rooted in people's rights and is results focussed, is genuinely exciting. 
And for ethical trade? Well as ETI and its members develop a five year strategy this year it will be vital we conceive this within the wider emerging development framework and the opportunities that new forms of development collaboration offer. We should be willing to share our experience but also take up the challenges that the Busan principles present. I look forward this year to developing a strategy that continues to put ETI and its members at the forefront of this effort.