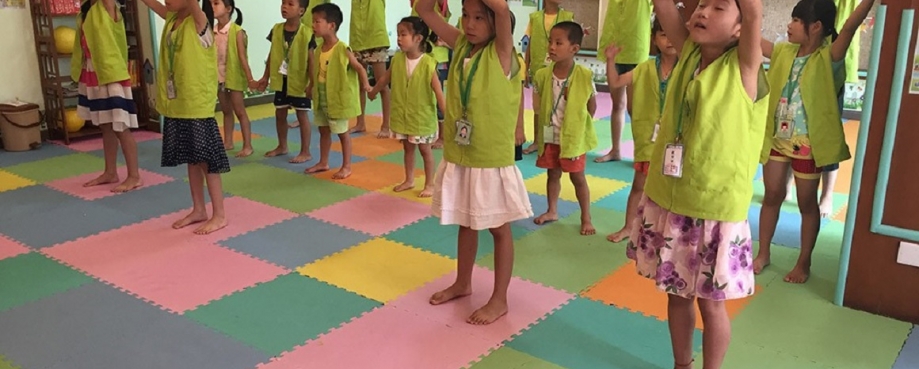 Find out more about the factory-level child friendly spaces being piloted in China by the Center for Child Rights and Corporate Social Responsibility (CCR CSR) in this guest blog by the Center's Executive Director, Ines Kãmpfer. Based in Hong Kong, the CCR CSR works with businesses to improve the lives of children, young workers and working migrant parents.
ETI's new Base Code Guidance: Child labour - practical guidance for brands and retailers.
The mid-size textile factory in early August was bustling. But not all the bustle was related to production.
Amidst the fabric, sewing machines and heads bent over garments, a group of children were running through the aisles. Some smaller children were sitting on stacks of clothes. And some older ones were giving their parents a hand with simpler processes.
Yet this is a first-tier factory with a history of passed audits and decent grading from international compliance bodies.
Auditors had not seen the children in the factory – they are mostly there during vacations, after school or on weekends. And for announced audits, the factory knows to make sure the children stay inside workers' dormitories.  
Reforms to China's 'Hukou' system
China has become known for its 'left behind' children. According to latest official figures, the number of workers moving from rural to urban areas is 247 million with 61 million children growing up without one or both of their parents.
However, gradual reforms to China's 'Hukou' system – the household register that has tied people's access to social services to their hometowns and thus has made it difficult for millions to take their children with them – are being rolled out across the country.
100 million migrant workers are expected to benefit from the reforms, most notably through the introduction of a residence permit which gives migrant families greater access to social services such as schooling and healthcare.
Such changes are obviously positive, but one major conundrum is yet to be addressed; if parents take their children with them to their places of work and manage to enroll them in a local school, who will look after workers' children when school is out?
While the socio-political landscape is changing, the realities for workers on the factory floor are not.
Long working hours, lack of childcare facilities and the absence of flexible work schedules means parents who decide to take their children with them, struggle with finding adequate care.
Keeping children off the factory floor
The manager of the textile factory defended the situation in the factory with a valid point:
"It's better than just locking them up in the dorm room or letting them run around outside with no one to look after them."
In fact, most factories have established clear rules and guidelines and manage to keep children away from the production floor. But often this comes with a high price for children.
This summer we met a range of parents who told us their children – as young as four – are often left home alone or out and about by themselves when school is out.
Ms Liu, a widowed mother told us about her constant anxiety when she had to leave her four-year-old locked inside her apartment, six days a week last summer. She left before he woke in the morning, ran home during lunch to make sure he'd eat, and then tried to get off work as early as possible in the evenings.
Piloting 'Factory Child Friendly Spaces'
To tackle the challenges, CCR CSR piloted Factory Child Friendly Spaces (FCFS) in six factories in China this summer.
As the name suggests, the aim was to provide workers' children with a safe space to learn and play while their parents work, and to allow families usually separated by distance a chance to live together and forge closer relationships.
Selected factory staff were trained in the implementation and running of the spaces, and once drab, non-functional rooms were transformed into colourful oases of play mats, books and toys. Activities such as running, singing and dancing, handicrafts, drawing, movie hour and homework hour, were introduced to great enthusiasm.
Ms Liu's son, who was locked in their apartment for two months the year before, attended the Factory Child Friendly Space, clearly enjoying every day of his vacation.  "My son is very happy and is in high spirits when he comes back home. When I go home with him at noon, he doesn't rest and is anxious to go back to the FCFS, saying that it's so much fun there." 
Over 100 workers sent their children to the various FCFS this summer and the stories that have emerged are both profoundly moving and telling.
Factory managers' engagement
Creating FCFS clearly has a positive impact on families. But one can argue that child care is not the factory's responsibility – so how did factory management perceive the project and what impact, if any, did it have on a factory's business?
In the great majority of cases, management, while raising valid questions on liability and safety, quickly saw the positive potential of the project, and readily tackled the challenges coming with it. Management appeared motivated by genuine concern for the wellbeing of children and by the opportunity to show their support to workers, which in turn helps build trust and increase worker satisfaction.
"This is the first time the factory provided professional teachers, lunch and snacks to workers' children. The workers didn't believe it at the beginning. Now they trust us more... I feel now that my relationship with the workers transcends a work level and we feel more like a family, which is very good for me to communicate with and retain our workers," the general manager of one factory commented.
"When workers are happy, we are happy too. When they are grumpy they either make trouble for you or pick fights from time to time…Now we can sleep better at night," echoed another manager.
Learning from pre and post evaluations
Pre and post evaluation data from the factories that took part in the programme was positive:
In one factory 73% of workers said they would recommend their factory to others, up from 54% before the FCFS opened.

In another factory, all (100%) working parents whose children were participating the Child Friendly Space said they would like to stay working at the factory for two years or longer, an increase from 41% increase from the answer given during the baseline assessment.
And although it's too early to refer to retention rates of these participating factories at this stage, successful business cases from similar projects point to promising results. A pottery factory in Dongguan, which set up a child friendly space, now open year round, observed a year-on-year reduction of turnover rates from 19.4% to just 3% and cut costs on recruitment and training.
The project therefore has all the hallmarks of a solid business case, one in which everyone – the parents, children and factory – emerge as winners.
When the last of the Factory Child Friendly Spaces closed for the summer and the final round of interviews with workers and management were wrapped up, some factories had already begun plans to open FCFS all year round, while others were determined to open one again next summer.
Echoing the many parent workers and managers who lauded the FCFS, we hope that even more factories will reap the benefits next year.
The Center for Child Rights and Corporate Social Responsibility (CCR CSR) has advised businesses on child rights since 2009, offering services and expertise to improve the lives of children, young workers and working migrant parents. It works in China, Myanmar, Bangladesh and a growing number of Southeast Asian countries. To learn more, please visit http://www.ccrcsr.com/, follow on Twitter @ccrcsr, or email: info@ccrcsr.com.