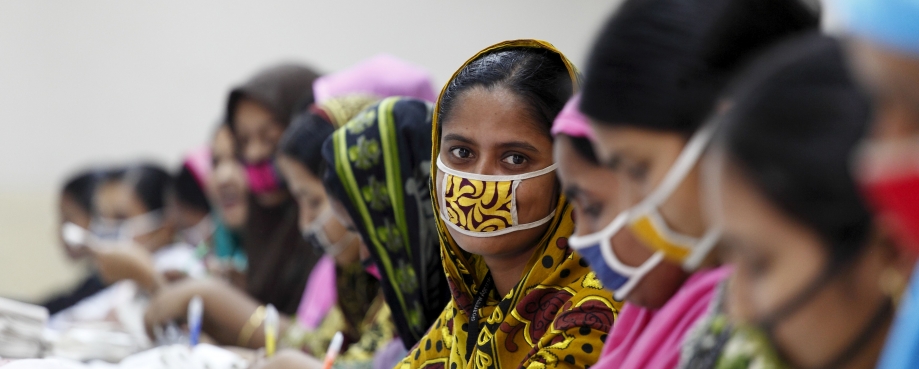 This year's International Women's Day theme, #EmbraceEquity, seeks to challenge gender stereotypes, call out discrimination, draw attention to bias and seek out inclusion.
These are precisely the same issues that we have recently found through a landmark study exploring the decline in number of women workers in the ready-made-garments (RMG) in Bangladesh.
In Bangladesh's major cities – Dhaka and Chattogram – a typical morning scene is of thousands of women making their way to work in garment factories. However, for some years now, researchers and industry experts alike have noticed a decline in these numbers. 
You might be wondering why we need to understand these trends in the first place. For starters, the RMG sector in Bangladesh has been responsible for the employment of millions of women in the country, thus contributing significantly to gender equality and women's economic empowerment. The business models upon which the sector has been built over the past four decades, have also largely depended on women's low skilled labour, which has helped to keep production costs low. A decline in the numbers of women employed by the sector is therefore concerning, both from an industry and economic perspective.
So, where are the women?
ETI Bangladesh and GIZ, with support from the Informal Workplace-Based Dialogue Network (WBDN) and funding from the Ministry of Foreign Affairs of the Netherlands, recently commissioned BRAC University in Bangladesh to investigate this decline further. And the findings are quite staggering.
Exit 
The data shows that the numbers of women employed by the RMG sector in Bangladesh has declined from 80% in 1980, to about 54% today. Factory surveys, focus group discussions with women workers and key informant interviews with industry stakeholders paint a very worrying picture. When asked why they were leaving their seemingly decent jobs, 27% of the women cited the difficulty they face in balancing paid work with unpaid care work, specifically caring for their children. This was closely followed by reports of the sector's difficult working conditions, with reference to harassment faced, long working hours and low pay.
Entry 
The research also found that women entering the job market are simply not so keen on being employed in the RMG sector. They would rather look for non-garment sectors jobs such as hospital support staff, home tailors, or teacher, among others. Why? These jobs are likely to provide them with greater flexibility in terms of their time, an easier commute, personal independence when it came to workload, more understanding supervisors and no verbal abuse. 
What does it mean overall? 
When you put these exit and entry factors together, it is clear they are very much interconnected and re-enforce the need for significant improvements in overall working conditions in the sector. At the heart of this, is better purchasing practices, specifically around production planning by buyers and suppliers. This would ensure factories can meet their production volumes without putting pressure on workers to do overtime and would also reduce incidences of harassment. 
Retaining skilled women workers and attracting new entrants also requires factories to review recruitment and retention practices for bias and discrimination against women, and invest in creating a favourable working environment.  Trade unions and worker representatives can facilitate such improvements through constructive social dialogue where the voices of women workers can be heard and their needs adequately addressed. 
To #EmbraceEquity in the world of work, be it in the RMG sector in Bangladesh or elsewhere, first requires an understanding of where discrimination against workers based on their gender exists, and a deliberate desire to change it. There is still some way to go but we must keep moving forward.
See the summary report for this study below, including recommendations for factories, buyers, government, trade unions and civil society organisations. 
File(s)
Where are the women?
A study on the declining number of women workers in the Bangladesh RMG industry.
Read more