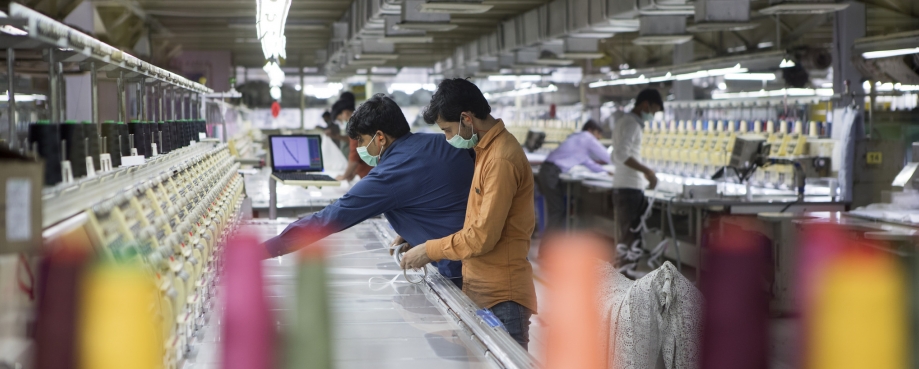 Established in the British countryside by Tom Joule in 1989, Joules is a premium lifestyle brand with an authentic heritage. Now a truly multi-channel business, Joules designs and sells clothing, footwear, accessories, homeware, gifting and lifestyle product collections for all the family. 
Our CSR journey  
The Responsibly Joules strategy sets out Joules' approach to Corporate Social Responsibility (CSR), defining how the business operates; fairly, responsibly, and sustainably. The Joules team works hard to ensure they do the right thing for the people the company works with, the communities it's based in and the world around it.  
Within this, the company's sustainable sourcing work is recognised as a key area in which Joules can make a real difference to both people and planet, improving both the ethical and environmental impact of Joules' products and operations.  
Based in Market Harborough, England, Joules also works with over 150 factories across 13 different countries – all carefully chosen for their skills, experience, and attention to detail – to help bring the brand to life. Joules also has a sourcing office based in Shanghai which enables the company to work more effectively on the ground and offer better support to suppliers, which is invaluable as strong relationships with trusted suppliers that have shared values and principles is essential to delivering Joules ethical trading work.  
Following almost three years as a foundation member, Joules has now graduated to full ETI membership, demonstrating a commitment to the continuous improvement of its ethical trading work and upholding the highest ethical standards throughout its supply chain.  
"Ensuring our clothes are made ethically by suppliers we trust is integral to our business and something we take very seriously. Joining the ETI in 2018 was our way of holding ourselves to account for this and we are really proud to have now graduated to full membership, demonstrating our continued progress in this area. We will now continue to develop on all the work we have done to keep the wellbeing of the workers in our supply chain at the forefront of our CSR strategy going forward." 
Ruby Fowler, CSR Manager, Joules
Foundation Member Learnings 
Joules has found its involvement with ETI invaluable over the last two years. Joules has had  the opportunity to learn,  develop its ethical trading work and collaborate with other brand members, trade unions and NGOs, all of which is crucial to driving real change across the industry.  
The support ETI provides through webinars and group meetings has been a huge benefit in developing Joules' understanding of the salient risks in the textile and garment supply chain and provided the opportunity to hear from those at the heart of these issues, discussing best practices and actions with other stakeholders.  
Working with ETI and implementing the Base Code as the standard for Joules' ethical compliance work has also simplified the monitoring of suppliers' ethical performance both Joules and its suppliers. Providing clear guidelines which are easy to understand, measurable and standardised means suppliers have more consistency across the brands they work with, which is better for them and ultimately better for their workers.  
The key learnings Joules gained during its foundation membership with the ETI, enabled the brand to relaunch its Ethical Trading Policy at a virtual supplier conference in February 2021. This provided a great opportunity to relay the importance of the policy and how suppliers would be monitored against it, as well as showcasing the simplification for all stakeholders that would come with the change.  
Although it has been an incredibly difficult year for many, Joules and its suppliers have fared well through the Covid-19 pandemic, in part due to the strong relationships they have built together. From the start of the pandemic Joules teams were in contact with suppliers to ensure they were stable, and workers were protected. No existing orders were cancelled, all finished goods were paid for and any plans to help get through the difficult time were agreed collaboratively. The ETI enhanced Health and Safety guidelines were a really useful tool to support suppliers to ensure their factories were safe for workers, and the Enhanced Expectations Survey was a welcome resource to ensure Joules held itself to account and was taking the necessary considerations with every decision made during such an unprecedented time.  
Future goals 
 Joules looks forward to increasing its involvement in ETI programmes and activities, taking the next step to enhance its ethical trading work. The collaboration ETI provides across all stakeholders in the industry is hugely valuable and Joules sees this as an important building block for its future ethical strategy, particularly when looking at specific sourcing countries and the support ETI can provide to enhance human rights due diligence in these territories.   
Joules will also continue to provide support and build strong, long-term relationships with its suppliers, particularly following the impacts of Covid-19, looking at how they can work together to come out of the pandemic stronger. Joules hopes to utilise the programmes, resources and connections ETI provides to help achieve this, collaborating with NGOs, trade unions and other corporate members where possible.  
Finally, the pandemic has demonstrated the importance of supply chain transparency, in ensuring the wellbeing and protection of workers throughout the supply chain. Therefore Joules will continue to work on improving transparency and traceability beyond its tier one suppliers as a priority, to ensure working conditions for all workers - from raw materials to final product - meet the requirements of the ETI Base Code.   
"We are delighted to see Joules graduate to full membership at ETI. Joules performed well at graduation assessment, making good progress in what has been a challenging year for business. We were particularly impressed with both its ethical trading and procurement practice policies, which clearly support buying staff, individual colleagues and the wider Joules workforce to understand their individual responsibilities and impacts on workers. We look forward to ongoing work with Joules to further develop its work on transparency and traceability beyond tier one of its supply chain."  
Amelia Glynn, Senior Progression Advisor, ETI