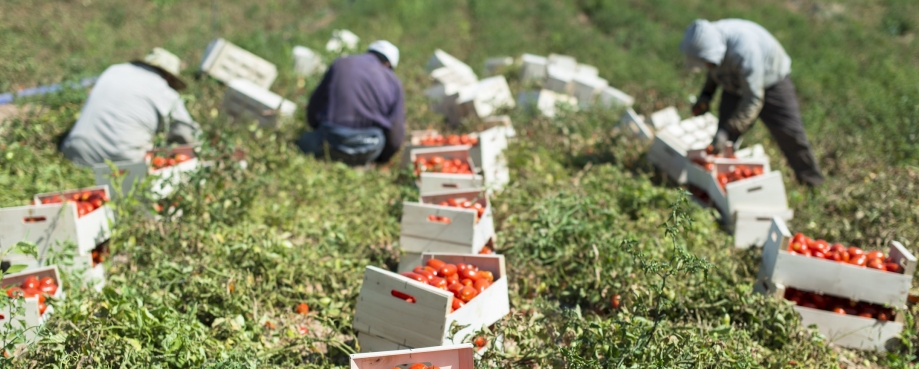 How do you strengthen public-private cooperation to end migrant worker abuse in Italy's agricultural sector? It's an increasing priority for ETI's food and farming sector members, reports Alessa Rigal.
I've just been to Italy to take part in a discussion organised by ETI member, Princes, to promote an ethical approach in Italy's agricultural supply chains. I was there, representing the major UK supermarkets which are members of ETI's Italian Produce Working Group alongside Princes.
Attending were local suppliers (over 100 farmers and producers) and industry bodies, who listened to Italian government representatives, the International Organisation of Migration, the British embassy and other specialists.
This was a large meeting in front of an important audience, taking place as it did, in one of the heartlands of Italy's tomato industry – Manfredonia, a small town outside Foggia in Puglia.
Risk mitigation and supporting their Italian supply chains is an increasing priority for international companies – so Princes wanted to share the efforts of the private sector to promote better labour standards within their business operations. And to drive forward greater government and company cooperation.
Princes and ETI

International food and drink group, Princes Limited is a significant supplier to the retail and food service sector. With focused internal support and an Ethical Steering Group reporting to the board, Princes collaborates with ETI around sourcing Italian tomatoes and Thai seafood and on ethical recruitment in Mauritius.
Tomatoes: a byword for exploitation
The exploitation of migrant agricultural workers is one of the most widespread forms of modern slavery in Italy, especially following the surge of migrants into the country over the past four years.
As the delegate from the British embassy indicated, consolidating cooperation, tackling the phenomenon of labour exploitation and the marginalisation of workers, and coordinating different initiatives at private and institutional level is key.
It's also why this meeting was so significant.
As we have written previously, tomatoes are the crown jewels of Italian agriculture. They are Italy's major agricultural export and most processed tomato products sold in the UK are sourced from Italy. It's the same for Germany, the Nordic countries and others.
Yet Italy's tomato sector has become a byword for the exploitation of migrant workers.
As in many other European countries, agricultural workers are predominantly migrant workers. In Italy's case from Eastern Europe, Africa and the Middle East.
But in Italy, at the centre of the sector, sit the Caporalati. They are the organised networks which dominate the recruitment process.
They are why so much effort is being put into stopping a practice that by its very existence fosters modern slavery. In a 2015 ETI report, for example, we revealed that:
Caporalati oversaw all parts of a migrant's life, from residency permits, to accommodation (more often than not in conditions of extreme squalor), to gaining work, for all of which they charged extortionate fees.
Workers were being bussed onto farms, with farmers having to negotiate terms with the gangmaster, for a crew of workers.
It was not unusual to find migrant workers earning 40% less than the minimum wage and working far more than 12 hours a day.
Ending Caporalati exploitation
Since 2015, the Italian authorities have become increasingly active in countering labour exploitation by Caporalati.  
As have major companies, such as Princes, which recognise that labour recruitment practices inherent within the industry are at odds with a commitment to upholding the UN's Guiding Principles on Business and Human Rights and the world's Sustainable Development Goals.
At the meeting, we heard that the regional Government of Apulia, together with the Ministry of Interior Special Commissioner for the district of Foggia and with IOM, will be working on a project to introduce regulated reception practices and resources for temporary seasonal workers to avoid them being caught in the illegal labour net.
The plan has been approved by the Italian Ministry of Interior and will be funded by the European Commission. Italy's National Labour Inspectorate will also participate in the project by reinforcing monitoring interventions in the most problematic areas of Southern Italy.
The Princes meeting
Princes has been one of the private sector's driving forces in addressing the issue.
However, labour needs must be met, and everyone realises that it will be difficult to address ingrained abuses such as the Caporalati system.
Industry may recognise the imperative for doing so. The question is how?
ETI has been calling for much greater government intervention and an insistence on higher standards by the big retailers – to ensure a level playing field – amongst other issues.
Without such high-level intervention, suppliers will be locked into a recruitment system that is automatically exploitative. We already know that many suppliers are relatively small and cannot address this issue alone.
To paraphrase our Executive Director Peter McAllister, who was recently talking to the Financial Times about labour abuses in Leicester's garment factories, "we want (the industry) to thrive, but it mustn't be based on a 19th century model of exploitation and poor working conditions."
That's why it's important to find viable alternatives to a system that has been in place in Italy for many years. And why the Italian government must lead the way with the support of big players.
Here, the messenger very definitely matters and it's important to have leadership from within the business community itself. Princes' commitment is therefore crucial.
Engaging other retailers and the supply base
Not only do Princes have their own very large processing plant in the area, they are focussed on good practice, on learning from their experience in other markets and in communicating their expectations.
In addition to engaging the supply base in the ethical journey, they're helping us reach out to buyers in other large European retailers and supermarkets, particularly the big German players, who must come on board if real change is to happen (while via the pan-European Consumer Goods Forum, other working group members have been communicating with European buyers also).
This type of engagement is critical, not only to encourage work on the ground, but to promote the value of sourcing responsibly and ethically.
We strongly believe that such investment and ways of working should be made a priority via commercial KPIs and sourcing decisions – i.e. an incentive to be rewarded.
Next to come in ETI's wider work, is a survey of tomato growers to gain their insights and to enable buyers and large retailers to better understand suppliers' constraints and give them the support they need.
What's clear is that while there is still a long way to go, the sector is on the right path by seeking to marry government intervention and regulation with collective business action.
As such, this latest meeting was an example of the importance and power of public-private collaboration, and the significance of sharing information.
Companies wishing to join ETI's Italian Produce Working Group should contact Nick.Kightley@eti.org.uk.