Page
COVID-19 outbreak resource pack for RMG suppliers in Bangladesh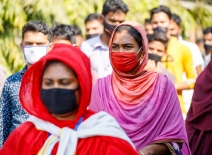 A range of resources to support garment factories manage outbreaks
Read more
File(s)
Recommendations for factories to protect workers from COVID-19
Findings from the FCDO/Vulnerable Supply Chains Facility COVID-19 Bangladesh factory needs assessment
Read more
The tragedy of the 2013 Rana Plaza disaster spurred international retailers to address health and safety issues in Bangladesh factories. Since then, despite valid concerns over the rate of progress, tangible improvements have been made to factory safety. But, serious issues remain around workers' rights.
The Bangladesh garment sector
Bangladesh is the world's second largest exporter of ready-made garments after China. 
The country's garment sector not only contributes significantly to national income but has made a real difference in helping raise people out of poverty. It employs nearly four million workers, of whom 65% are women, and it has helped to transform the country's economic and social landscape.
20% - Apparel and textiles contribution to Bangladesh's national wealth

80% - The sector's proportion of Bangladesh's exports.
However, in an industry that has largely been based on low paid and flexible labour, workers are often treated poorly, with the sector failing to guarantee fundamental workplace rights.
Why we and our members are running a programme in Bangladesh
Low wages, excessive overtime and workplace harassment are common. Underlying this, is the inability of the workforce to represent themselves, articulate their needs and defend their rights.
The aim of our programme in Bangladesh is to ensure that garment workers will have a stronger voice, resulting in better working conditions.
We also believe that employers' businesses will be strengthened through improved communications, a more motivated and stable workforce and more skilled managers and supervisors.
How we are tackling poor employment practices
Awareness of health and safety in the garment industry has been significantly raised since the dual tragedies of the 2012 Tazreen factory fire and the 2013 Rana Plaza factory collapse.
But, other labour rights issues – particularly around freedom of association and collective bargaining – are in urgent need of attention.
Accordingly, in partnership with our sister ETI's in Denmark and Norway, we are implementing a programme to improve dialogue between workers and management and build workers' ability to represent their needs.
The programme is based on the concept of 'social dialogue' and has grown from a pilot in nine garment factories to now reaching 54,000 workers in a further 25 factories.
Within ETI's programme we bring workers and managers together to talk through issues and arrive at jointly agreed solutions. We pay particular attention to gender and diversity.
An independent evaluation of the pilot phase found that the programme had improved understanding of rights and responsibilities and enhanced communications and morale.
It increased the participation of women in workplace processes, including in Participation Committees; Bangladeshi law requires workplaces employing fifty or more workers to have freely elected workplace committees i.e. Participation Committees.  
The programme was also found to decrease labour unrest and showed potential for increased productivity.
Alongside worker training we show supervisors and managers how to work constructively with the Committees.
In addition, the programme offers joint training for trade union committees and managers on industrial relations and collective bargaining, to enhance mutual understanding and trust – and increase respect for workplace rights. 
The British, Danish and Norwegian governments fund the programme.
Bangladesh garment working group membership
Bestseller
C&A
Dimensions
IC Group (DIEH)
Inditex
M&S
Mayoral Moda Infantil 
New Look
Next
Primark
Tesco
Varner (IEH)
Programme funding
This initiative receives funding from the British, Danish and Norwegian governments. In 2020 additional funding was grated via the UK FCDO's COVID-19 Vulnerable Supply Chains Facility (VSCF).
About the FCDO's COVID-19 Vulnerable Supply Chains Facility (VSCF)
The Vulnerable Supply Chains Facility (VSCF) is a rapid COVID-19 response fund set up by the UK Foreign, Commonwealth and Development Office (FCDO), and managed by Mott MacDonald Ltd.  The Facility partners with 20 UK and international retailers and brands, and 7 not-for-profit organisations, supporting over 100 suppliers across Bangladesh, Ethiopia, Ghana, Kenya, Myanmar, Tanzania, and Zimbabwe.  It will provide economic, social, and health benefits to around 1 million women and men directly and indirectly.
Countries:
Bangladesh, Ethiopia, Ghana, Kenya, Myanmar, Tanzania, Zimbabwe.
Sectors:
Agriculture & Garments
Donor:
FCDO
ETI's two projects receiving funding from the VSCF for interventions in the garments and agriculture sectors are implemented in Bangladesh (garments) and Kenya, Ethiopia, Tanzania and Zimbabwe (agriculture).
Other ETI programmes funded through FCDOs VSCF fund
Page
Securing workers' rights in a COVID-19 context - East and Southern Africa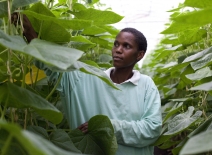 Support to strategic suppliers of food retailers in Kenya, Ethiopia, Tanzania, Zimbabwe.
Read more
ETI contact
Hannah Bruce  hannah.bruce@eti.org.uk
From the ETI blog
Social dialogue in Bangladesh: Yes, but is it cricket?
Bangladesh garment sector alarms over extremist attacks
What's the Bengali for jargon? Social dialogue in garment factories
Fast fashion is crucial to Bangladesh. So what's changed since the Rana Plaza disaster?