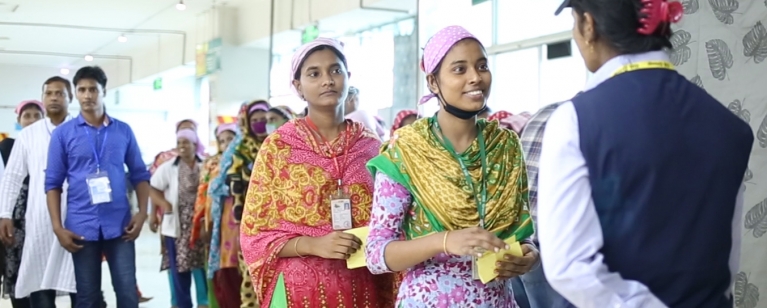 ETI Bangladesh Ltd is a fully owned subsidiary of ETI, established with the aim of designing and delivering programmes and activities in Bangladesh to achieve ETI's global vision and strategy.
As part of that vision, ETI Bangladesh Ltd is delivering the Joint ETI (JETI) Social Dialogue Programme in Bangladesh, a collaborative initiative that strives to empower low-income workers in global supply chains by enabling worker voice.
Since it began in 2015, the programme has brought together brands, suppliers, local trade unions, and other stakeholders in 77 factories, impacting more than 169,000 workers. 
A key focus for ETI Bangladesh has been addressing gender issues and creating gender-friendly workplaces for healthy industrial relations, improved productivity and sustainable growth. The team also works to empower female workers through increased knowledge and awareness, building the capacity of factories and workers to address gender-based violence and creating gender sensitivity across the sectors.
Expected outcomes
60 factories receive technical and advisory support to create gender-friendly workplaces  
54,000 female workers sensitized on gender issues.
600 factory managers, 6,000 supervisors and 360 members of sexual harassment complaint committees trained on gender, GBV and SH issues at work
60 factories supported to establish sexual harassment complaint committees.
"These modules are very helpful and I think the contents covered in these are a 'must know' for us. Also, the handouts are specific and easy to understand for workers and supervisors ... Kindly have a plan for arranging a training session for us at IBC on gender issues, because leaders also need to understand these. "   IndustriaLL Bangladesh Council Women Leader