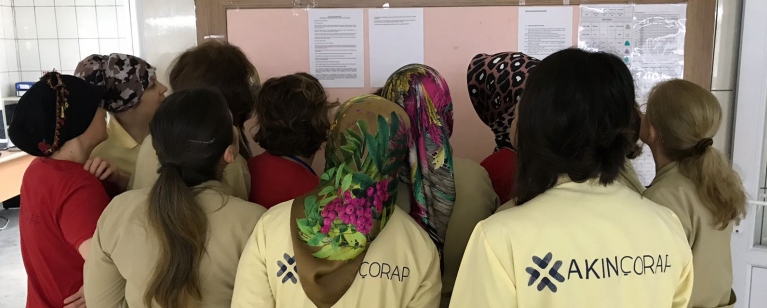 Organisations
Tesco
Next Retail
Primark (ABF Limited)
Deriteks
Türk-İş
IndustriAll
How ETI helped to resolve a workplace dispute. A commitment to building trust and cooperation between an initially oppositional trade union and sock manufacturing factory averted potentially devastating factory closure.
ETI believes that social dialogue in the workplace will be successful, even in conflictual environments, as long as mutual trust is built between parties.
ETI and three of our member brands – Next, Primark and Tesco – were made aware of a dispute at Akın Socks, one of the biggest sock factories located in Giresun. Giresun is a province in the Black Sea region in the north of Turkey.
Local members of Deriteks, a trade union affiliated to Türk-İş (the biggest worker confederation in Turkey) and global union IndustriAll, were alleging that they had been dismissed by Akın Socks' management on the basis of their union membership.
ETI in Turkey: ETI has worked in Turkey since 2016, building a local platform of 30 brands and retailers, employer associations, trade unions and civil society organisations. The platform is focused on three areas: business and human rights; purchasing practices; and, social dialogue in the workplace.
Defining and contextualising social dialogue
Before talking about the specifics of the dispute, it is important to define what ETI means by social dialogue and to contextualise social dialogue within Turkey's industrial environment.
For ETI, social dialogue in the workplace is about establishing formal or informal processes that enable workers and employers to negotiate or consult collectively on issues concerning their rights and responsibilities and to resolve conflicts peacefully and effectively.
However, looking at the larger picture in Turkey, a conflictual approach dominates industrial relations.
Employers and trade unions are often at odds, not only due to reasons arising from the nature of the production process but also on political, ideological and cultural grounds.
There are also rigid divisions between the biggest trade union confederations. They too are often positioned on different sides of various issues.
And these divisions have become increasingly entrenched over the last 30 years, with governments concentrating on embedding business-friendly policies and unions being progressively sidelined.
The emerging imbalance of power has made the functioning of social dialogue hard at all levels, with conflict rather than negotiation often viewed as a starting point.
Bringing parties to the table
ETI and member brands reached out to both the Akın Socks' and union's management to hear all sides of the story, which can be summarized as follows:
Deriteks had started to organize at Akin Socks without the formal knowledge of the factory's management.
Akın Socks did not feel it necessary to contact the union before making dismissals at the factory.
Deriteks efforts to have workers reinstated were rejected by Akın Socks' management, which claimed workers were being dismissed on the grounds of downsizing.
It was clear that mutual suspicion, exacerbated by a lack of communication, was driving conflict.
We and our member brands therefore collaborated with IndustriAll and asked Deriteks and Akın Socks to come to the table to discuss what steps could be taken.
Communicating together
At the first meeting, a channel of communication was established with both parties nominating contact points, who it was agreed should be in constant dialogue with each other.
In a goodwill gesture, Akın Socks' management also agreed that the right to freedom of association and to organise would be recognised and encouraged at the factory.
A public announcement was subsequently made during the factory's working hours within the presence of Deriteks, ETI, member brands and IndustriAll.
On the issue of the dismissed workers, factory management asked ETI to conduct an independent assessment to find out if the dismissals were made on the basis of trade union membership.
Recognising goodwill
While ETI was undertaking the necessary preparations to conduct an independent assessment, the goodwill of Akın Socks' management in making the freedom of association announcement and in transparently asking for an independent assessment was recognised by all parties, including the union.
In its contacts with Akın Socks' management, Deriteks respected the importance of the announcement at the factory and avoided provocative forms of organisation during the negotiations.
Effectively, with the support of international brands, and with the fruitful cooperation of IndustriAll, mutual trust was gradually built and progress made as meetings progressed.
Revisiting decisions
As a final step, Akın Socks' management agreed to revisit the decision made on the dismissal of the unionised workers.
Upon discussions with the trade union, the workers were reinstated with their salary compensated for the time they were away from work.
The settlement of the dispute shows that despite being in a conflictual environment, it is possible to build cooperation and trust, helping to put workers back to work and compensate them for their loss.
What's crucial is that – as in this case – all sides in a dispute show a genuine commitment to social dialogue and act with goodwill.