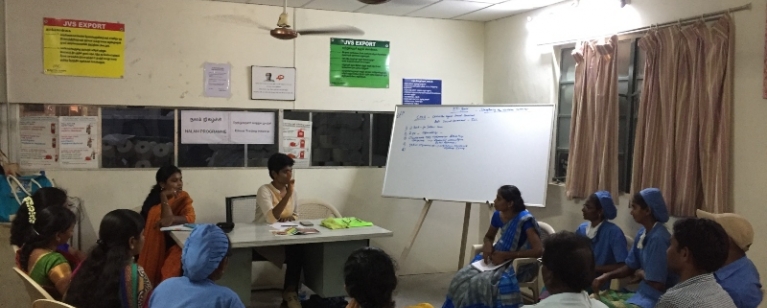 Subbamal is a peer educator, working to ensure her fellow mill workers know which employment support benefits they're entitled to. 
Subbalmal has been working at the spinning mill for 11 years. Before undertaking ETI's Nalam (wellbeing) peer educator training, Subbamal no knowledge on of Provident Funds (PF) or Employment Support Initiative (ESI) Benefits, but now she works to educate her co-workers about what they're entitled to.
Peer educators are recognised by their distinctive coats bearing the name Nalam ETI,. They are issued with an identity card, introduced as peer educators in common meetings and hostel day celebrations, and made members of workplace committees.
Women workers were not aware of the financial support available to them via PF and ESI, and were taking out high interest loans with local finance agencies. Now, thanks to Subbamal, they know how to access loans for schooling, home renovations and their children's weddings, medical treatment, and compensation for workplace accidents. 
Peer educator quote: "We are respected by the peers and supervisors due to our role as peer educators in the Nalam Programme which makes us feel happy and helps us to become responsible peer educators".