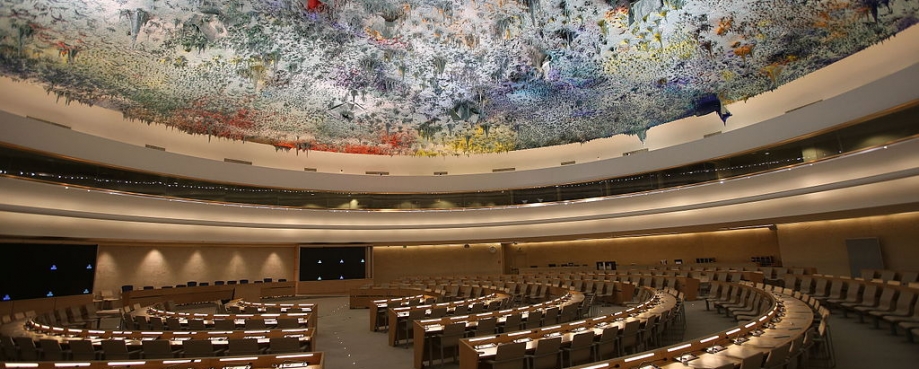 At his final International Labour Conference as British ILO Director General, Guy Ryder remarked that the multilateral system can still deliver for working people. But only if governments and unions work together. In his last address, Guy attributed the achievements of the conference to "our collective responsibility to find agreed solutions in the face of quite dramatic challenges in the world of work."
So, what were these achievements?
Several key decisions taken at the conference will benefit workers worldwide and support those struggling for fundamental rights in countries where violations are flagrant. Three trade union members of ETI's Board all played key roles in this year's conference, so it's no surprise the workers' rights issues tackled are already reflected in the ETI Base Code.
New rights recognised for working people
The addition of occupational health and safety to the 1998 ILO Declaration on fundamental principles and rights at work – something ETI campaigned for in line with Clause 3 of the Base Code – is already having an impact. Just this month, safe and healthy working environments have been included in the New Zealand trade deal with the European Union, and new ILO guidelines have been agreed on biological hazards ahead of the introduction of a new ILO Convention on the issue in the next few years.
A global standard on quality apprenticeships – where British trade unionist Amanda Brown of the National Education Union acted as workers' spokesperson – should be finalised at next year's conference. The standard will cover lifelong learning, provide for adequate remuneration or other financial compensation and other employment rights like protection against long hours and rights to holidays, as well as sick, maternity, and family leave. It will also assist in transitioning people from informal or precarious work to formal jobs. An interim report calls on ILO member states to promote equality, diversity, and social inclusion in apprenticeships, and in access to apprenticeships. It urges that special attention is paid to the situation and needs of those in vulnerable situations or belonging to disadvantaged groups. These provisions all reflect Base Code Clauses 5, 6 and 7.
Beyond this, Amanda told the final plenary session of the International Labour Conference that "Apprentices must be able to exercise their rights to freedom of association and collective bargaining. We expect to see an end to apprentices being told that they are excluded from collective agreements or union representation." A vital right expressed in Base Code Clause 2.
There is more work to be done on the relationship of traineeships and apprenticeships, but progress has undoubtedly been made in tripartite discussions between governments, employers, and unions.
In addition, technical committees at the conference supported decent work in the social and solidarity economy and – with the help of ETI Board member Evelyn Astor - promoted job creation including through the UN's Global Accelerator on jobs and social protection for just transitions.
Tackling human rights abuses
The Conference Committee on the Application of Standards (CAS) – where ETI Board members Stephen Russell and Ruwan Subasinghe were key members of the workers' group – took a number of decisions to address the shortage of nursing personnel and ensure that they, as well as domestic workers many of whom are migrants, receive the full protection of organising, collective bargaining and other fundamental rights. The CAS also adopted strong conclusions reinforcing ILO's foundational principles of protections for workers and respect of civil liberties, freedom of association and collective bargaining, again, in the spirit of the ETI Base Code.
It also adopted strong conclusions on Myanmar, insisting that the military junta allow an ILO Commission of Inquiry to enter the country to carry out investigations, as well as on Belarus where the regime has continued to flout key findings of a Commission of Inquiry report from 2004. Both Belarus and Myanmar were given 'special paragraphs' in the CAS report, which is the highest sanction available to that Committee. The CAS further called on China to accept a special mission to assess the situation of discrimination and forced labour in Xinjiang and called on the government to report back to the ILO by September.
What multilateralism can achieve
At least since the global financial crisis of 2008, electorates who have generally seen more of the disadvantages of globalisation than its potential benefits, have elected populists who have driven governments away from progressive engagement in multilateral institutions. Donald Trump was only the most visible and offensive example.
So, Sharan Burrow, ITUC General Secretary, had this to say on the results of the International Labour Conference:
"Some very significant decisions were taken by the ILO this year. In a world beset with crises, and multilateralism under attack, the ILO provides an irreplaceable function which provides vital protections for workers and support for social justice."
She put this down to the work trade unionists did at and before the conference, but also to the role of many governments which have stayed true to the responsibilities of ILO membership and the values of progressive multilateralism.
In particular, governments from the USA, European Union and Africa – fresh from successfully promoting Gilbert Houngbo of Togo as the next Director General of the ILO – played key roles. Hopefully, Gilbert will be able to bring more governments on board, and get employers, who were at best reluctant partners in this year's conference, to act more like the responsible employers of the ETI.