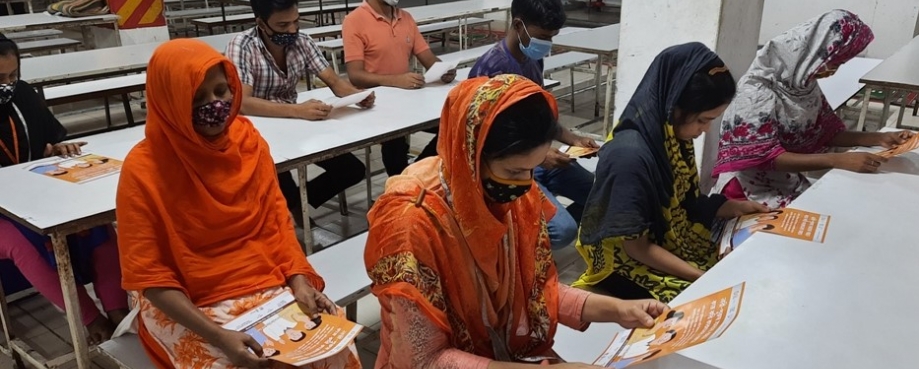 On Friday 10 June, the 110th International Labour Conference in Geneva agreed without any opposition to extend its 1998 Declaration of Fundamental Principles and Rights at Work to include a healthy and safe working environment. This historic development – the first change for a quarter of a century – was the culmination of a campaign led by global unions but crucially supported by multi-stakeholder bodies like the ETI.
Making workers' working environment better
It will make a real difference to working people and supply chains all over the world, but especially in those countries and sectors where life is depressingly cheap and risk to workers is high - from the tea estate workers of Sri Lanka and Southern Africa, to the garment workers across South Asia, and the electronics industries of East Asia.
ETI's support for this important development was crucial. In the spirit of the ILO's own tripartite nature, ETI brought together progressive employers, trade unions and NGOs to call on the ILO and the International Organisation of Employers to stop delaying the change and move forward. Not for the first time either, similar moves saw hundreds of construction employers worldwide sign agreements with the Building and Woodworkers International (BWI – an ETI union member) union.
In formal terms, the change means that all 187 ILO member states are – by virtue of their membership – bound to uphold the core conventions identified on 10 June: ILO Convention 155 on occupational health and safety and Convention 187 on the promotional framework for occupational health and safety. They will be assessed by the ILO supervisory mechanisms against the workers' rights set out in those conventions – to be consulted, to be trained, to refuse to work in conditions they fear could cause them harm.
But more effectively, it also means that the conventions will be built into investment decisions, trade agreements and supply chains – both private and public.
Fundamental to the ETI Base Code
The ETI Base Code, of course, already includes health and safety at work, and past reviews of performance have suggested that this is the area where the Base Code has had most impact. But putting health and safety into the 1998 ILO Declaration should make it easier for ETI member companies to insist on adherence to the core conventions, both from the countries where they operate and in the workplaces that form part of their supply chain. Governments in those countries should make adherence mandatory, and competitors should also be bound to the same obligations ETI members have voluntarily undertaken.
It won't be that simple, of course. ETI member companies will need to review their own health and safety policies to ensure that they are consistent with the core conventions. Crucially, the rights set out in the core conventions require action by governments to enforce them, employers to abide by them, and most importantly, they require the active involvement of workers – whether employees, sub-contractors or in the informal sector – which is best done through their trade union.
So effective implementation of this fundamental principle and right at work will require ETI member companies to redouble their efforts to ensure workers in their supply chains have genuine freedom of association and the right to bargain collectively. Enabling the creation of joint worker-management safety committees and empowering union-supported workplace safety representatives would be major steps forward.
Occupational health
The ILO did not accept one trade union argument, though, despite the support of professionals and practitioners in the field, such as the International Commission on Occupational Health, the UK-based Society of Occupational Medicine and the Institution of Occupational Safety and Health (IOSH). That was the proposal to make ILO Convention 161 on occupational health services a core convention. With two thirds of the 3 million deaths annually due to work being from occupational ill-health, and only 20% of the formal sector workforce having access to an occupational health service, that would have been a hugely helpful step.
But the case was made for more emphasis on occupational health services, and there is nothing to stop – and everything to gain, for workers, employers and governments – employers establishing or extending such services, either directly at the workplace or through more responsive public health systems.
We've only just begun….
For all this to be made real, unions will be urging the ILO to put more resources – money and staff – into promoting safe and healthy working environments and establishing the ILO as the global leader in this field through multilateral bodies such as the G20, the World Bank and the WTO. This will provide huge impetus and vital technical co-operation, to develop better health and safety in the workplaces and countries where ETI members operate.
ETI and its members need to take advantage of this sea change in the world of work. No one should have to die, just to make a living.