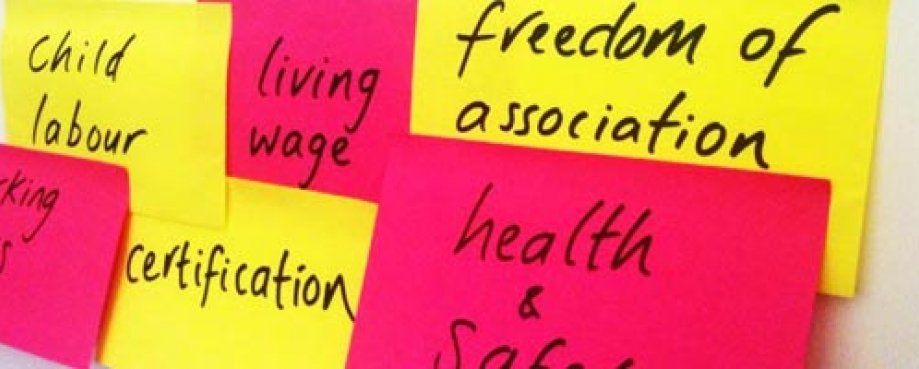 ETI has launched a new ethical trade training course for buying staff, designed to help companies drive ethical trade to the heart of the way they do business.
There is widespread evidence that companies' buying decisions - for example, lead times for orders and price negotiations with suppliers - can make it difficult for suppliers to meet the ethical standards demanded of them.
Developed in response to growing demand from companies, the training shows buyers the potential human cost of some buying practices, such as making late changes to orders or demanding ever lower prices.
Says ETI trainer Muriel Johnson: "buyers are under constant pressure to deliver the best value for their company. They're sometimes unaware that their decisions can have a negative effect on the people who are making their products.
"Giving visibility to these issues is key," she says. "By looking at photos and watching video footage of poor working conditions, and having the space to discuss the potential problems, they quickly become very motivated, and start to ask lots of questions about what they can do to help.
"By giving them enough information to get involved, ethical trade becomes an important part of their agenda too. It can turn what may have been seen as 'sales prevention', into a sales requirement."
The training helps buyers build their confidence in being able to recognise where workers may be being mistreated, and knowing what to do about it.
Says Muriel, "Once buyers have participated in the training, they know what to look out for next time they're visiting a supplier factory or farm. We are not trying to turn them into auditors, but we are enabling them to make it clear to suppliers that these things are important.
"For example, if they suspect that workers are being mistreated in any way, they'll know what kind of questions to ask the supplier - and what kind of answers they should be looking for."
Demand from companies to train their buying staff is high: since last summer, nearly 300 buying staff at companies including ETI members Asda, Sainsburys and ASOS.com have participated in the half-day course.
According to Sainsbury's CR manager Lisa Domoney, "the feedback has been so positive. The trainer's delivery was top class and it appears we have had 100% engagement [from buyers]."
Says Louise McCabe of ASOS.com, "our buyers and merchandisers particularly appreciated the facilitator's knowledge and experience, which was rated 'good' or 'excellent' by 100% of participants".
Muriel Johnson was social compliance manager at Marks & Spencer for seven years. As well as being an ETI trainer, she now delivers ethical trade training and consultancy to a range of blue chip clients as well as smaller supplier companies.
To provide more people with the opportunity of benefiting from these successful courses, Muriel is now running 'open' buyer training sessions at ETI. The open sessions are particularly aimed at organisations where the option of an in-house course is not so cost-effective.
Contact ETI's training team, training@eti.org.uk or +44(0)20 7841 4350 to book a place on an open buyer training course or to discuss your company's training needs.
Media enquiries: contact Julia Hawkins, julia@eti.org.uk or +44(0)20 7841 4358