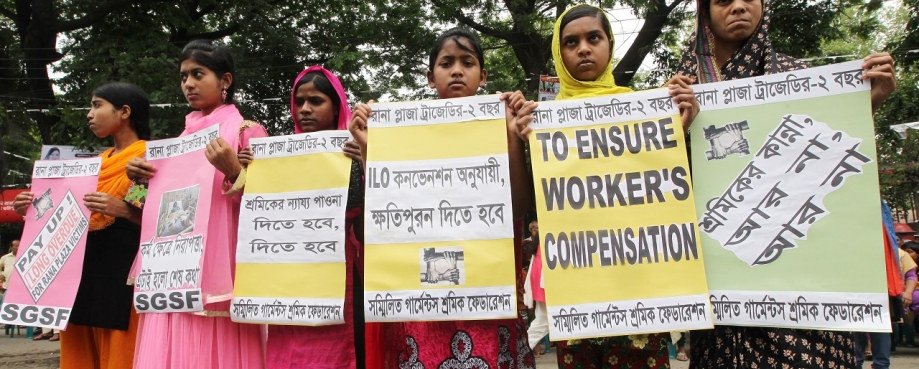 Almost ten years ago, the collapse of Rana Plaza in Dhaka, Bangladesh, brought about the deaths of 1,321 factory workers, mostly women, and injured over 2,500 more. This disaster has been attributed to several interrelated issues, including a lack of occupational health and safety (OHS) precautions and social dialogue in Bangladesh's readymade garment (RMG) sector. 
A decade on, the big question for me is: Has the garment industry learnt its lessons from this tragedy?
Lesson one: Workplace health and safety must be prioritised and upheld.
Remembered as one of the worst industrial incidents on record, Rana Plaza was a global wake-up call that health and safety measures in RMG were woefully insufficient. In the aftermath, key buyers and trade unions worked together to establish ground breaking initiatives aimed at improving measures to ensure similar tragedies would never occur again. The Accord on Fire and Building Safety in Bangladesh is one such initiative, a legally binding mechanism which aimed to identify safety issues and commit funds to remediate health and safety risks in industrial buildings going forward. 
The Accord, alongside similar initiatives like the Alliance for Bangladesh Worker Safety have made tremendous progress to ensure fire and building safety in the RMG sector since. In 2020, the Accord's national operations were taken over by the RMG Sustainability Council (RSC). The RSC advocates for the improvement of fire and building safety as a continuous process and receives essential support from international brands and trade unions, business associations, factories, sourcing and production country governments and trade unions at a local and global level. To date, the Accord and the RSC have inspected and provided remediation guidance to 1,822 factories in Bangladesh. Over 511 of these have completed 100% of their initial remediation actions, with 1,250 having completed 90%. Beyond this, the Accord has acted as a tool for advocacy and a model for a similar initiative to be established in Pakistan.
Lesson two: The right to freedom of association and collective bargaining must be respected and protected.
Before Rana Plaza collapsed, workers in the building had raised safety issues and tried to negotiate with management to address them. These concerns went unheard, with factory management forcing workers dependent on low wages to return to work. 
An effective social dialogue mechanism and OHS committee may have been able to take a stronger position against management in this case, addressing the issues raised and avoiding an egregious incident. Better still, if workers had been unionised then the union could have engaged management on these critical safety concerns, helped to negotiate for living wages and even lobbied government for access to social protection, potentially avoiding workers being forced to accept unsafe work.
Decent work cannot be ensured without an effective social dialogue mechanism at both a factory and sector level. Before Rana Plaza, only 149 RMG factories had a registered trade union. It is difficult to say how many of these were even functional, especially when we consider that only four out of five had a collective bargaining agreement.
According to National Garments Workers Federation (NGWF), since the collapse 1,035 new trade unions have been registered in Bangladesh's RMG sector, another 620 registration applications have been rejected and 540 are still pending. While these numbers are certainly an impressive leap, many unfortunately only exist on paper, with their actual functionality hard to discern. 
Compared to 2013, most RMG factories have elected workers representatives to facilitate social dialogue and amplify worker voice. Combined with the multi-stakeholder round table meeting on freedom of association and social dialogue, organised by the STITCH Consortium (which includes buyers, business associations, government, and trade unions), these have facilitated good examples of dialogue across the sector. Despite the improvement of working conditions over time, these remain a work in progress and a process that needs continuous dialogue. Key to this, is ensuring that women workers who make up about 54% of workers in the sector, are adequately represented and the voices heard. 
Lesson three: Living wages must be paid.
Without living wages, workers are too often compelled to work in unsafe conditions, for excessive hours and even across multiple jobs. They can be at risk of bonded labour or need to put their children or elderly relatives to work to make ends meet. The absence of a fair wage can also risk a worker's access to basic human rights including food, shelter, nutrition, health, housing, and education, and suffer social deprivations such as being unable to take part in cultural events. Furthermore, without a living wage, workers are ill-equipped to withstand crises such as ill health or injury. 
Had those working in Rana Plaza had access to a living wage, workers may have had the means to refuse to return to the unsafe working conditions known to management, at least for a short time. A strike such as this may have emphasised these dangers sooner. Following the collapse, those who suffered injuries or loss may have endured a lesser impact to their livelihoods and financial stability.  
Before the collapse, minimum wage in Bangladesh was BDT 3,000. Over the last 10 years it has been revised twice, most recently in 2018 when it was set at BDT 8,000. The trade union, IndustriALL Bangladesh Council (IBC), is demanding this be increased to BDT 23,000, which is closer to a national living wage. While the government has now formed a wage board to set a new minimum wage, the increase forecast is still set to be short of living wage. 
Businesses committed to paying living wages in their supply chains should use their leverage to encourage suppliers and local governments to deliver on national living wages, communicating that a resultant rise in cost will not turn their business away. Raising awareness of the benefits of paying a living wage for workers, businesses, and local economies, can support these efforts.
Lesson four: Access to remedy and compensation for harm caused must be provided.
Despite best efforts and intentions there will always be a risk of industrial accidents. The provision of adequate compensation when injuries or fatalities occur is critical to cover loss of income that they or their families may suffer. Access to the appropriate medical care and support is also crucial to prevent further harm or loss of livelihood. Such remedial actions can make the difference between life in dire poverty, where children and older people are forced to work to survive, and life at or just above the poverty line. Furthermore, paying living wages in adherence to the ETI Base Code, can afford workers a route out of poverty, with the means to support families and save.
In 2013 an ad hoc trust fund was created to facilitate payments to workers killed or injured at Rana Plaza. In its efforts to support victims, confusion around how, when, and how much the trust would pay those affected emerged, with some voices pointing to a lack of consistency which similar efforts would do well to learn from. The ILO and GiZ backed Employment Injury Scheme is one initiative that could go a long way to mitigate the risk. Unfortunately, it is still in the pilot stage and will require key buyers to actively support it to be a success.
Looking ahead
While some progress has been made in the decade since Rana Plaza, more remains to be done if stakeholders across the supply chain are to learn from this tragedy. Due diligence, living wages and social dialogue require continuous work if human rights risks in any sector are to be effectively identified, mitigated and redressed.