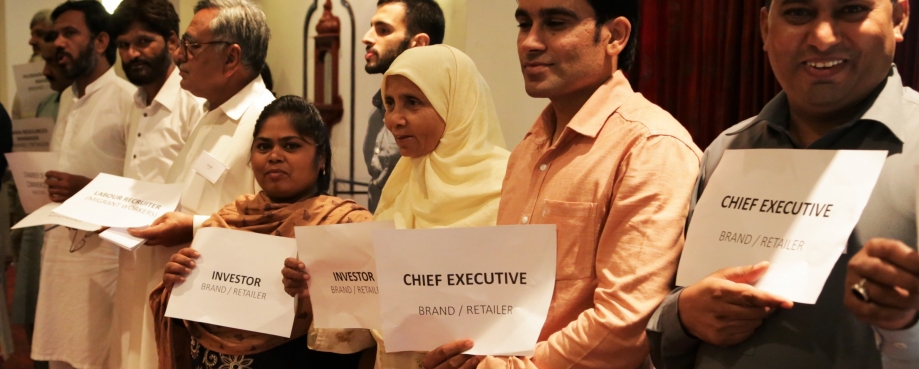 The Local Resources Network (LRN) is a business networking platform set up by the three European Ethical Trading Initiatives – Norway, Denmark and the UK –  to provide opportunities for sharing local knowledge and expertise on ethical trade issues in countries around the world. Its aim is to link local stakeholders and companies with global brands and trade unions and it has just formally launched in Pakistan.
I have just returned from Lahore in Pakistan where the joint ETI's partnered with the Pakistan Institute of Labour Education and Research (PILER) and GIZ (Germany's international development agency) to launch the Pakistan section of the LRN.
The workshop's 86 participants ranged from High Court judges, government officials, trade unionists and home based workers to academics, business consultants and local factory owners.
The aims were seemingly simple:
Agree a common understanding of supply chain issues with regard to labour rights.
Suggest how to better implement international labour laws to which Pakistan is a signatory.
Discuss ways in which multiple stakeholders can work collectively to improve working conditions.
But Pakistan can present multiple challenges when addressing business and human rights.
GSP+ and Pakistan's compliance with human rights standards
The EU's General Scheme of Preferences (GSP+) programme (a preferential trading deal aiming to support sustainable development and good governance) has made a huge difference to Pakistan's ability to export its apparel and textiles products.
Yet the country is barely managing to comply with the 27 international human rights standards that are conditional to accessing the EU programme, including women's rights, the environment, corruption and narcotics.
Pakistan has to do business against a backdrop of weak governance, limited space for civil society and trade unions and terrorist attacks.
Consequently, many global brands are now unwilling to allow staff to travel to Pakistan and local companies miss the engagement, mutual learning and listening that is so important in driving change.
Furthermore, of the 61 million people in the labour force around 73 per cent work in the informal economy.
Most workers do not get paid a minimum wage (13,000 rupees – around £84 per month), and even if they do, it is not enough to live on or feed a family.
The position of women in the workplace is even more precarious.
There is potential – even in Pakistan's informal economy
Pakistan is a young country – most men and women in its workforce are under 25. They are dynamic and enterprising.
With the right enabling environment for decent job creation and improvements in health and education, opportunities are there to be grasped.
In 2015, Pakistan achieved an overall growth rate of 4.2%, and an all-time low inflation rate of 4.5 per cent.
Despite reduced export demand from the West in the textile sector, mainly due to the security situation, there was still a growth rate of 3.6% in manufacturing.
This was largely due to the resilience of small enterprises operating mostly in the informal economy.
Even though there is widespread suspicion around freedom of association and collective bargaining in the informal sector and elsewhere, there also seems to be some recognition that compliance with labour legislation can make a difference to investment.
This is new and is welcome.
How the LRN will help
There was a clear sense of momentum at the workshop.
Those attending shared their different perspectives on decent work, responsible business and the challenges of attracting investment and market opportunities.
Justice Ali Nawaz Chowhan, chair of the relatively new Human Rights Commission in Pakistan, was excited by the idea of spearheading a National Action Plan on Business and Human Rights.
Rizwan Mushtaq is the manager of a local textile company that has committed itself to ethical trade practices. He was open about the challenges. He recognised that local companies have a long way to go to improve the way workers are treated and he also recognised the limited bargaining power local factories have with global brands. But he has a desire to establish more of a partnership with brands and retailers, rather than simply having to meet their compliance requirements.
Dr Karamat Ali of PILER spoke of his vision to organise 15,000 textile workers under a single, powerful industrial union with the capacity to negotiate collective bargaining agreements and uniting the industry across all provinces of the country.
Khursheed Ahmed, General Secretary of the Pakistan Workers Federation, spoke of the tireless efforts of the trade union movement to challenge exploitative practices and poor wages.
And, Justice Majida Razvi, Chair of the Sindh Human Rights Commission, a long-standing gender activist and Pakistan representative to the UN Commission on the Status of Women spoke of her vision for a multi-stakeholder forum that could help workers to have jobs that respected their dignity – particularly young people and women, who often make up the most vulnerable informal workers.
Developing a plan, building a platform
ETI and the LRN are ready to support the development of a National Action Plan on Business and Human Rights for Pakistan.
And the LRN – with its networking remit – is a valuable first step in building a local platform of diverse stakeholders.
Why? Because the platform enables local and global stakeholders to interact, to share examples of good practice and to identify expertise, good evidence and reports. 
All of this will help with human rights due diligence and can build locally owned and driven multi-stakeholder partnerships; to the ultimate benefit of workers, whether in global or local supply chains.
Photograph of workshop participants taking part in a team exercise is courtesy of Marcus Borley