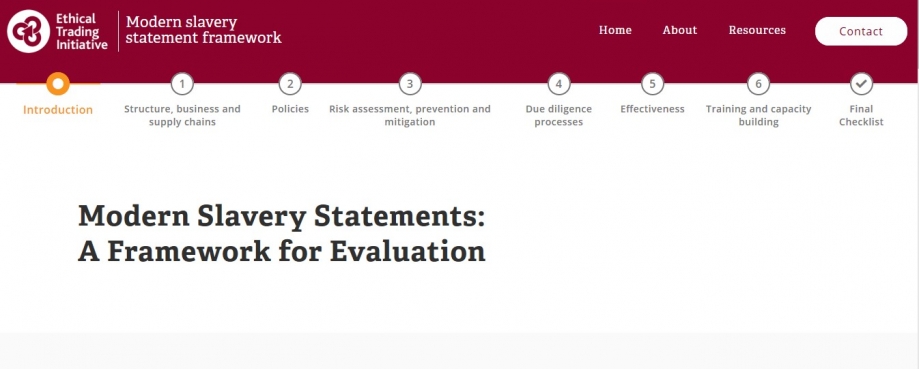 First open source tool for companies on how to write a Modern Slavery Statement
Ethical Trading Initiative has today published the first ever free, open source guide for businesses on how to write a robust Modern Slavery Statement.
The resource is the much-awaited online version of ETI's 2018 Modern Slavery Statement Framework, the first clear quality standard for modern slavery statements, offering a structured, step-by-step guide for businesses on how to write their statement as well as a tool to evaluate a statement's strengths and weaknesses. It has been co-designed with and road tested by ETI's corporate members, so as to make it as accessible and user-friendly as possible.
The Transparency in Supply Chains provision in the Modern Slavery Act 2015 requires commercial organisations which provide goods or services, operate a business (or part of a business) in the UK and have an annual turnover of £36 million or more to publish an annual modern slavery statement.
But not all companies are the same – whether in terms of skills, the risks they face in their global supply chain, or the countries they source from – so every statement will be different. But there are overarching principles – being open about the uncertainties and challenges you face, for example, and demonstrating continuous progress designed to have a long-term impact – which will be common to all. The framework sets out a standard that allows for these differences, while incorporating all the fundamental factors against which companies' progress will be measured.
Six areas, each taken from the UK Government's statutory guidance on recommended content for Modern Slavery Statements, are considered in turn:
Structure, business, supply chains
Slavery and human trafficking policies
Identification of risks, steps you can take to prevent and manage those risks
Due diligence processes
Effectiveness in ensuring slavery and human trafficking is not happening
Training and capacity building
Minister for Safeguarding and Vulnerability, Victoria Atkins, welcomes the framework: "Modern slavery destroys the lives of some of the most vulnerable people in the world, affecting almost every country and sector. I am proud that the UK was the first country to require businesses to report how they prevent modern slavery in their operations and supply chains. I welcome the Ethical Trading Initiative's online tool which guides organisations through the effective measures they can implement to tackle exploitation in their supply chains and improve their modern slavery statements. We have used the tool ourselves to help us produce the world's first government modern slavery statement which will be published this year."
Danny Hobson, Head of Ethics and Sustainability at ETI Member Arco Ltd, adds: "ETI's Modern Slavery Reporting Framework was incredibly useful in preparation of our Modern Slavery Statement. I convinced the Arco Audit committee that the Framework was how Arco should structure our statement. It was accepted and the new statement is available on our website. I would encourage all companies to use the framework as a guide for future statements."
Visit the framework here