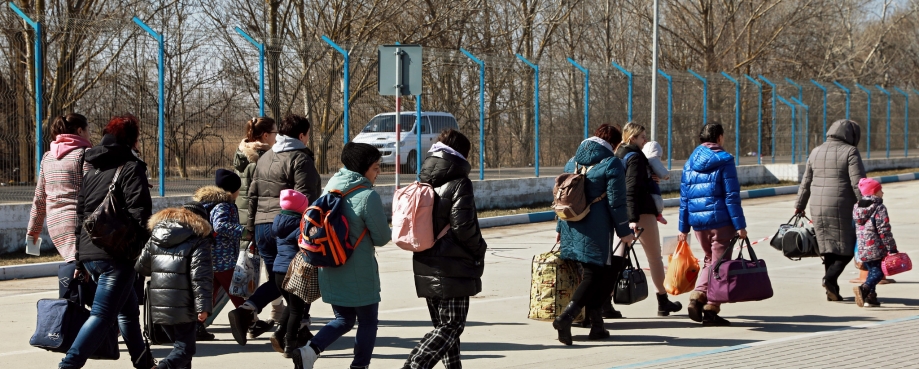 War causes unbridled destruction and with it, the disruption of lives and supply chains with heightened risks to workers forced to flee their homes. According to a report released by the United Nations High Commissioner for Refugees (UNHCR), at the end of 2021 there were 89.3 million people displaced around the world as a result of persecution, conflict, violence and human rights violations. The war in Ukraine has pushed this figure over 100 million people; 1% of the global population.
The World Bank predicts that two-thirds of the world's poor will live in fragile and conflict-affected areas by the end of 2030. If we are to stand any chance of reaching the UN Sustainable Development Goals, businesses must acknowledge their responsibility to respect the human rights of their workforce and implement a proactive approach to human rights due diligence. Particularly for the increasing number of people in conflict affected and high-risk areas (CAHRAs).
Our response
Since the Russian invasion, over eight million people have fled Ukraine and crossed into neighbouring countries. To reduce the risk to workers affected by the conflict, we have worked to support ETI members in implementing an eHRDD approach. This has included tripartite meetings to share and map risks by companies, trade unions and NGOs, the establishment of working groups to address key concerns.
The sheer number of those forced to flee, made it immediately clear that displaced people were at risk of exploitation and seeking employment. To respond to this risk, ETI convened a working group of trade union, NGO and corporate members and other allied organisations. Working collectively, this group has developed practical guidelines for suppliers on how to support the integration and employment of refugees and displaced people, with secure, decent, safe and fair work, with mainstreaming of gender considerations in mind. Beyond this, the guidelines outline measures to reduce the risk of abuse of workers who may be in a vulnerable situation, including risks of trafficking for the purpose of labour exploitation. To support other companies and their suppliers we have made these publicly available.
"Anti-Slavery International continues to be concerned about the risk of modern slavery to those who have fled Ukraine. It is important that businesses make sure they prevent refugees from being exploited in their supply chains, such as by providing workers with contracts and information about their rights in a language that they understand, with specific remediation plans to address any abuses that may occur, and so we have really welcomed this collaborative and pre-emptive effort from across business and civil society. This guidance outlines key areas in supporting the employment of refugees and preventing exploitation, including ethical recruitment practices and meaningful grievance mechanisms, which are fundamental for enjoying the right to decent work."
Eloise Savill, Anti-Slavery International
Proactive and collective HRDD
Our response to the war in Ukraine was rapid but it only started at a time where risks were already heightened, rather than in advance of the crises. This conflict, is yet another example that businesses and their supply chain partners have a critical responsibility to "prevent and address business-related human rights abuse in conflict and post-conflict contexts" and can collectively adopt practical measures to do so. 
Identifying risks and taking pre-emptive steps to engage with suppliers in potentially impacted areas, can help mitigate risk to workers, production, and business at large. They can also ensure that the structures exist to enable a response which is not just fast, but proactive.
Here are five lessons we have learnt from our collective efforts toward conducting eHRDD in conflicted-affected and high-risk areas (CAHRAs).
Convene and collaborate.When crises occur, many stakeholders will individually initiate efforts to respond. This risks inefficiencies and duplication on a large scale. To best leverage our resources and avoid these risks, ETI rapidly convened and worked alongside key affected stakeholders; including 26 brands, two trade unions, two NGOs, three MSIs and one international organisation. Establishing this working group enabled us to identify synergies and opportunities for collective action. Building these networks before the conflict emerges can help pre-empt the impacts of a crisis and facilitate a rapid and large-scale response.
Build collective intelligence.Coordinating as a collective is not only more efficient, but it also facilitates knowledge exchange, sharing of good practice and helps to ensure decisions are made with well-informed information. Working alongside other MSIs meant we could benefit from the insights gained from our combined memberships and better identify the risks to workers and geographies where they were heightened. A proactive collective approach can also enable intelligence sharing in a pre-emptive way, allowing connected organisations to jointly monitor CAHRAs through shared information on key indicators.
Collaborate across supply chain actors.Collaborations between buyers and suppliers as well as cross-sector efforts are essential to the successful implementation of the guidelines.
"Now more than ever collaboration across our supply chain leveraging those already robust partnership with our suppliers is essential, to respond to the increased risk of human trafficking to business operations and supply chains across Europe. We are all vessels for positive change and need to advocate to strengthen the integrity of recruitment and hiring practices to prevent fraudulent and unethical recruitment, as well as health, well-being and social protection"
F. Mangano, TFG London
Coordinate collective efforts.In times of conflict, businesses impacted are typically under pressure to establish measures that maintain safety and stability. In a supply chain, this can see suppliers inundated with communications and heightened HRDD expectations from their buyers. To reduce additional pressure on suppliers, our working group mapped out the supply chains of members with sourcing relationships in Ukraine and neighbouring countries. This exercise enabled us to identify over 800 overlapping suppliers, with whom we could exchange information and share practical advice as one coordinated response.
Communicate and generate feedback.Our response to Ukraine drew on lessons learned from previous responses to CAHRAs; specifically, the experience of Syrian refugees working in Turkey's garment industry. Future crises will always call for contextualised efforts, but there are learnings that we can collectively develop and leverage to strengthen a proactive eHRDD approach in CAHRAs. Continuous communication among the members of the working group both during and post conflict, including gathering feedback from suppliers regarding the implementation of the guidelines, will offer crucial insights into lessons learned and areas we can improve.
The conflict in Ukraine is not an isolated incident. The number of people living and working in CAHRAs will continue to rise with new waves of violence and economic crises in countries such as Sri Lanka, Myanmar, Ethiopia and Afghanistan to name a few. It is imperative that we plan accordingly, learn from the past and advance our understanding of how to implement eHRDD in CAHRA prior to crises. This is the only way to mitigate against the potentially devastating impact on communities that provide the goods and services we all rely on.
File(s)
Myanmar enhanced due diligence sectoral assessment
An ETI-commissioned independent assessment on human rights and responsible business conduct within Myanmar.
Read more