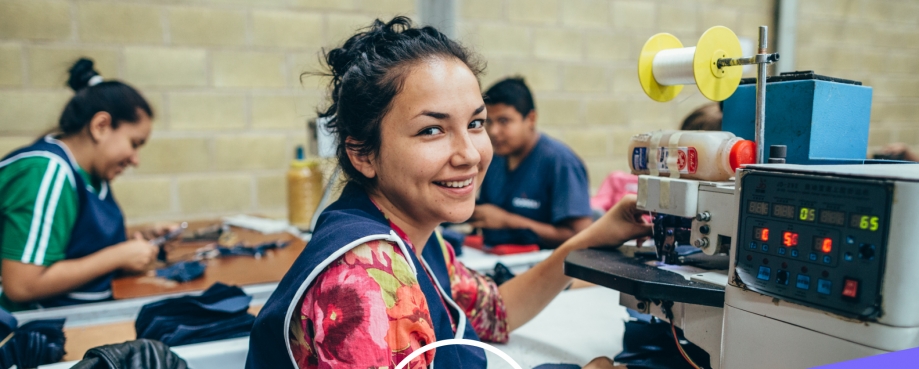 In this guest blog, Natalie Grillon of the Open Apparel Registry explains how open data can jump-start collaboration for the apparel industry.
Blockchain. Traceability. Digital IDs. Transparency. So many of us in the apparel industry have heard talk of these new models and technologies flying around conference halls, as we look to solutions for a more sustainable garment industry.
But there's an industry-wide problem, rarely discussed, that must be solved before the potential power of these ideas and technologies can be realised.
We've got the wrong address.
And by that, I mean thousands of incomplete, incorrect or varying facility addresses, differing even for the exact same facility.
What's wrong with bad data?
Databases of organizations including software providers, brand/retailers, multi-stakeholder initiatives (MSIs) and auditing firms contain errors in the names and addresses of apparel facilities. That is a fact.
This results in very practical and costly implications:
hundreds - even thousands - of hours of manual data entry and analysis to make practical use of supplier lists,
software systems at different organizations are unable to communicate or share data on a per facility level,
inability to geocode a facility to a precise location with an incomplete or incorrect address resulting in challenges for logistics, operations and transparency,
auditors turning up at the wrong facility.
Given the dynamic nature of apparel supply chains, with some major global brands updating their supplier base as frequently as every month, data accuracy is of paramount importance.  
How can we realize the potential positive outcomes of supply chain traceability, RFID tagging, blockchain and more if we have bad data sets to start with?
Open data for shared impact
The Open Apparel Registry (OAR) is a go-to source for correctly identifying global apparel facilities and their affiliations. A neutral open data tool, it collates disparate supplier lists from industry stakeholders into one global map and registry and assigns each unique facility an OAR ID.
The collated database of facility names, addresses and affiliated parties, pulled from public and contributed data, is powered by an advanced name and address-matching algorithm, developed by geospatial software firm, Azavea.
The free-to-use tool can be used by any organization to update and standardize a supplier list against the database, view facility affiliations and use the OAR ID as a unique and shared ID across software systems and databases.
Anyone will be able to identify an apparel facility, understand its affiliations and contribute to accurate facility information.
Collaboration in action
As the industry moves to a common, standardized set of names and addresses and a central, shared ID, more opportunities will start to arise.
In an OAR working group, major software providers and industry MSIs are working together to develop an OAR API integration to standardize data across their databases. With all major platforms having the same name and address for a facility, users could unlock shared data profiles and comprehensive overviews of a facility.
Brands have shared their plans to use the OAR to publish their public supplier lists, rather than publish maps or PDFs on their own sites, in an effort to collaborate with their peers. NGOs are using the platform to proactively contact brands and retailers affiliated with facilities in their region to develop new programmes.
Looking forward, the OAR ID can provide the universal facility ID necessary for interoperability of blockchain applications, supply chain transparency software and digital IDs for circularity initiatives.
What next?
While the OAR is still in its infancy, with new features planned for release and user feedback to take on board, we are eager to see how the industry uses it and the tangible outcomes that can come from this shared, open resource.
We believe the OAR will enable the apparel industry to seize the opportunities that collaborative technologies offer and will spark more open data projects - perhaps even in other industries.
Natalie Grillon is the Project Director of the Open Apparel Registry. She has led stakeholder and external engagement since the project's inception in 2017. Previously she co-founded Project JUST, an online tool to help consumers change the way they shop for clothing.