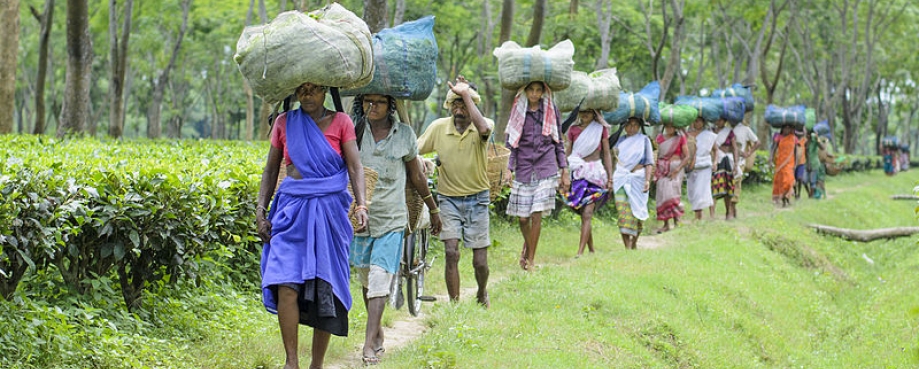 The UN Guiding Principles on Business and Human Rights are clear that businesses have a responsibility to respect human rights throughout their supply chains. Yet, as the strike by thousands of tea workers in Assam last month demonstrated, many are being denied their right to a decent livelihood. So, what can buyers and retailers do?
There are three clear steps they can take:
Insist that the Assam Wage Commission implements the minimum cash wage of INR 351.33/day that it recommended for tea workers in 2018
Support Indian producers in bridging the gap between current wages and INR 351.33/day through fair price negotiation
Review their purchasing practices to enable tea producers to bridge the gap with living wages everywhere.
"I can't afford to lose even one day's wages but there is no choice but to strike and raise my voice now,"  Assam tea worker
At the end of September 2020, 400,000 tea plantation workers in Assam went on strike to demand a daily wage of INR 350. They are currently paid less than INR 170. The raise would bring them closer to the INR351.33 level recommended by the Assam government in 2018. This refers to the cash they receive in hand, not to the benefits, often of dubious quality, that tea companies are required by law to provide for workers. 
There have been numerous other strikes over pay in Assam, in other parts of India and in Sri Lanka in recent weeks. The long reported hardships of tea workers and their families has intensified as a result of COVID-19 lockdowns, which have left workers on many estates in Assam and beyond without pay or food rations. 
But those responsible for paying their wages are part of a wider system – a system that is keeping the price of fresh leaves low. A system that does not share the price paid by consumers fairly with the rest of the value chain.
The most powerful players in that value chain are the tea brands, packers and retailers.
The most powerful players in that value chain are the tea brands, packers and retailers. Companies whose customers, employees and investors are increasingly demanding that human rights are respected in global supply chains.  UK and other European companies often argue that they only buy a small proportion of the tea grown in Assam – most of which is sold within India itself.  But regardless of the proportion of tea non-Indian companies buy from Assam, their voices do carry weight. And Indian buyers should also take these steps if they want a more resilient tea sector driven by a healthy, motivated workforce.
Yes, the tea industry is facing numerous challenges – falling demand, climate change, rising costs and now, of course, the impacts of the pandemic. But it nevertheless continues to be a multi-billion dollar global trade which is delivering premiums to some. So, if those companies were to consider – as suggested by Oxfam last year, sharing those premiums more fairly, maybe workers and their children won't have to go without food, or be at higher risk of coronavirus due to lack of access to clean water.
What companies can ask governments to do
Companies cannot address this problem alone; governments too have an important role to play. As a starting point, they could:
Insist that the Assam Wage Commission swiftly implements in tea estates the minimum wage of INR 351.33 per day that it recommended  for tea workers in 2018. You can find the details for the right person to contact here.
What companies can do now
Tea production companies may struggle to pay higher wages unless they are receiving better prices for their tea. In order to make it possible for them to bridge the gap from current levels to INR 351.33, buying companies should:
Support Indian producers in bridging the gap between current wages and INR 351.33/day through fairer price negotiation – IDH's Sustainable Procurement Kit can help.
What companies can do in future
Static living wage figures go quickly out of date with rises in living costs; in 2019 Oxfam estimated that a living wage in Assam was in fact closer to INR 400 per day. So it is imperative to create an enabling environment for wages to find – and keep – a level that will ensure a decent standard of living for tea workers and their families. This won't necessarily be easy, but ETI has made it clear that its members are expected to put in place policies that work towards a living wage in their supply chains.
Buying companies should therefore:
Review their sourcing and purchasing policies to ensure that on an ongoing basis they are enabling, rather than hindering, the payment of living wages to tea workers in Assam and all their tea sourcing geographies. The joint ETIs' Guide to Buying Responsibly  steers companies through the process.
These three steps will not only help ensure workers' rights are respected, but will also help to make the tea industry itself more resilient.
Civil society will be watching how companies react to the strikes. After decades of reports and exposés, turning a blind eye is not an option. Civil society is ready to support companies in their efforts to improve the lives of tea workers, but they are also going to hold all players in the supply chain to account and continue pushing for these actions until there is meaningful and sustainable change in the tea industry.
Change that means no workers will ever feel again that she has no choice but to lose a valuable day's pay in order to strike for better wages.