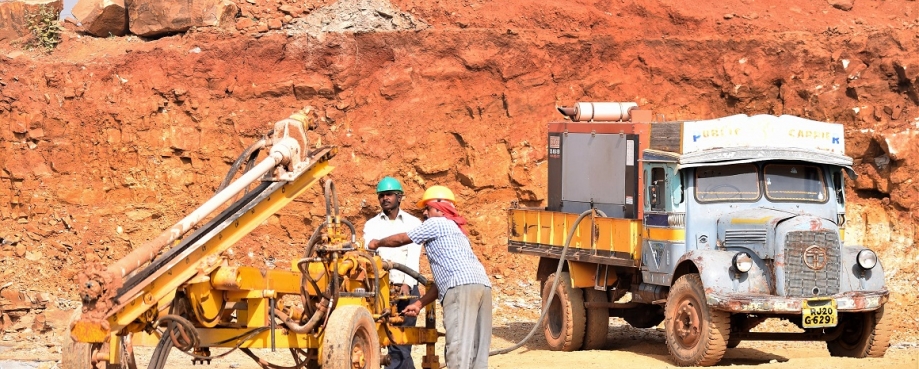 It can be a hard life if you work in an Indian stone quarry. India's sandstone industry is centred on the north-western state of Rajasthan. The state is arid and dry, and over the years, concerns have grown about working conditions in the industry, in particular around the health and safety of workers struggling to work in an environment with very high levels of dust.
Silicosis – lung disease caused by inhaling large amounts of crystalline silica dust – remains a leading cause of death for ex-stone workers and there are a high number of accidents in the quarries and stone processing yards.
But things are beginning to change, thanks in part to the Rajasthan Sandstone Programme.
The Ethical Trading Initiative (ETI) and its stone company members launched the project in 2012 and later received funding from the British government to expand the work.
India is one of the world's leading producers of stone and the industry is growing at over seven per cent a year. Around 280,000 tonnes of Rajasthan sandstone are shipped to the UK annually for use in commercial and domestic driveways, patios and pavements.
Anil, a drill machine operator, helps supply stone for the UK market
One of the workers supplying stone to the UK market is Anil, aged 24.
He works for Bundi Silica, a family-owned stone processing and exporting company operational for over 75 years. While most of the company's stone is produced for the local market, up to 20 per cent is exported. Bundi Silica is a long standing supplier of sandstone to members of the Rajasthan Sandstone Programme and is a committed local member of the project.
Starting as a stone splitter in a quarry, Anil has been working in the sector since he was 17. He is now a drill machine operator in Bundi Silica's quarry.
Anil is proud of his job and his equipment. "This machine was locally invented by drilling operators," he says. "Its task is to minimise dust.
"We use a tractor fitted with a compressor and water tank that carries 210 litres of water. This innovation ensures a continuous water supply along with the drilling shaft."
The water tank means the machine can supply water for almost six hours and drill up to nine metres an hour. In a hot and dusty environment, so-called 'wet' drilling drastically reduces dust. It improves conditions for workers in the hope of decreasing the risk of silicosis.
Placing an emphasis on health and safety issues
Kamlesh (33) is a stone splitter. It is hard, physically demanding work and he has benefited from the provision of personal protection equipment – helmet, boots and goggles – as well as a greater awareness of health needs.
"Unlike other quarries we also have access to safe drinking facilities," he says. "In summer the water tanks are frequently refilled and being able to drink when we want means our throats are less dry and makes a difference to other respiratory problems."
Raising awareness of health and safety issues and introducing wet drilling are two of the great success stories of the project, which joined with local campaigners to call for the introduction of greater health and safety legislation.
The decision to place an emphasis on health and safety was decided at an initial meeting in the city of Kota, the centre of Rajasthan's stone export belt.
That meeting, coordinated by the ETI, brought together UK stone importers and leading local exporters and processors, who all agreed that a hands-on approach was needed to improve workers' rights.
According to the ETI's Hannah Bruce, it was agreed to use health and safety as an "entry point" to demonstrate how companies are committed to making a practical difference. It meant working with government officials as well as local producers, organisations and worker representatives.
Hannah says, "It's crucially important to engage with government to improve safety in quarries and stone processing yards because government is a key player in enforcing health and safety legislation."
"Wet drilling is now compulsory and legal enforcement is vital," says Hannah. "It means all local companies have to comply, and not just leading companies such as Bundi Silica, who would otherwise be at a disadvantage commercially because of their commitment to sustainable business."
Navneet Bansal explains why wet drilling is complusory
Wet drilling increases companies' costs by about five per cent a year, but Navneet Bansal, Bundi Silica's director does not want the industry to return to the old way of doing things. He recognises that a commitment to safe business has improved work output and staff retention.
It has also improved worker-management relations as Navneet confirms. "Wet drilling has brought the dust level to almost nothing in the drilling areas.
"This is good for the health of everyone working in the mines or people around the mines. It has also conveyed a strong message to the entire workforce that we are concerned for their wellbeing."
Anil too has seen the difference the project has made to him personally. "I don't notice the dust as much and I'm producing more."
And Kamlesh confirms that prior to the project, occupational health and safety was often lacking in local quarries and processing yards. "The use of safety hats and goggles was rare," he says.
It was also common to see people working in flip-flops.
Even basic training around lifting heavy loads was almost non-existent, particularly for day labourers or those employed on a piece rate system. But in UK suppliers' yards that's almost a thing of the past.
Raising awareness of silicosis and more
ETI member companies have not only addressed the issue of wet drilling, the provision of personal protection equipment and health and safety training.
The project is also working with local suppliers as well as local campaigners and trade unions to advocate for improved public services and to raise awareness of government provisions for workers.
Government boards in each district have funds for workers living with silicosis and compensation is available to them and their families. But workers do not know how to access this money and sadly many silicosis widows have been left in destitution.
Hannah says that when project members discovered this, it was agreed that ETI should publish and widely distribute a leaflet in Hindi to advise on symptoms and inform workers on the steps they need to take to access their right to health services.
Of course more needs to be done. While inroads have been made primarily in processing yards, many quarries, which are lower in the supply chain have yet to be reached, although plans are in place to do so.
Yet the project has shown that is possible to improve workers lives and livelihoods with concerted action.
As Hannah concludes, "It's a step-by-step approach. From our health and safety starting point we're now building relationships at all levels and we are seeing a growing awareness of good employment practice, legal obligations and risk management."