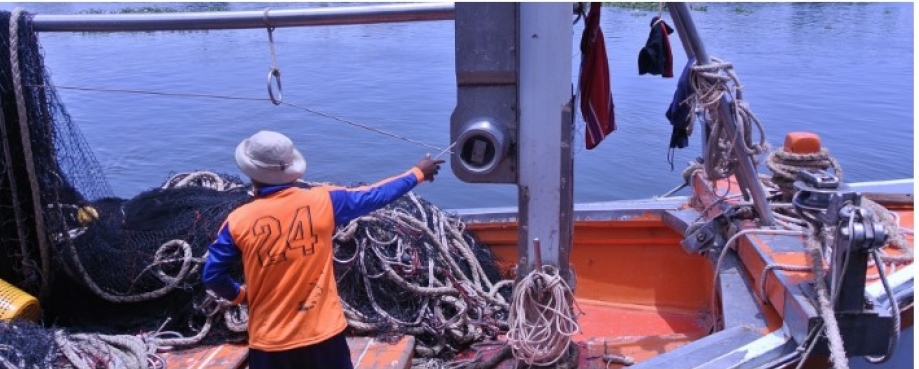 Major retailers and buyers sourcing seafood from Thailand have signed up to a collective advocacy letter aimed at preserving important regulations to protect some of the most vulnerable workers in the world.
ETI,and a number of our corporate members including Aldi South, Morrisons, Sainsbury's, Tesco and Waitrose, have joined German companies Aldi North, Lidl International, REWE and EDEKE, and US companies Cargill, Kroger, Albertsons Companies and Whole Foods in an open letter to the Royal Thai Government calling for the continuation of landmark labour reforms in Thailand, amidst fears that they may be rolled back. 
The signatories also include one of the world's largest pre-competitive seafood industry platforms, the UK's Seafood Ethics Action Alliance (SEA Alliance) which covers multi-billion-dollar global seafood exports from Thailand.
The letter recognises the progress made by the Thai government to protect both the marine environment and workers from exploitation and urges the government to continue the reforms and work with national actors "to achieve a transition towards a legal, ethical and sustainable fishing sector."
Art Prapha, Senior Advisor (Campaigns and Advocacy) at Oxfam America, congratulates all companies that signed the open letter: "This approach marks an important collective first step by major buyers of Thai seafood towards more effective implementation of fishery reforms, which protect an estimated 650,000, including large numbers of migrant workers, from exploitation and labour abuses. Consumers expect their seafood products not to cause human suffering and harm the environment, and food retailers have a leadership role to deliver on that expectation as much as possible."
Oxfam has scored the world's supermarkets, including many of the letter's signatories, on measures they are taking to tackle human rights abuses in their supply chains, publishing an annual scorecard as part of its Behind the Barcodes campaign.
Nick Kightley, Strategic Lead, Food and Farming at ETI, adds: "It is vital that we build on this important initial step and bring all key stakeholders together to develop more tangible, and effective engagement with government in order to implement these reforms. Global buyers must continue to support their suppliers, work closely with the Thai government and engage with workers' rights organisations and frontline NGOs to achieve sustainable impacts of the fishery reforms. Retailers yet to sign this letter should do so with immediate effect, and commit to taking a lead on collective advocacy on respecting human rights in their sourcing countries."
ETI was one of 23 organisations, all members of the Seafood Working Group, who released a joint statement in December 2019 following the US government's decision to suspend trade preferences to Thailand. The statement urged the Thai government to take a number of actions required to get the benefits reinstated, including reforming labour legislation, ending the legal and judicial harassment of labour rights defenders and collaborating with worker organisations to end labour exploitation.  
Nick Kightley concludes: "Leading seafood companies and international buyers must continue to send a clear message to the Thai government that they will not tolerate labour rights abuses against migrant workers in the seafood industry, and that they are monitoring and supporting the Thai government's efforts to continue, progress, and implement these vital reforms."