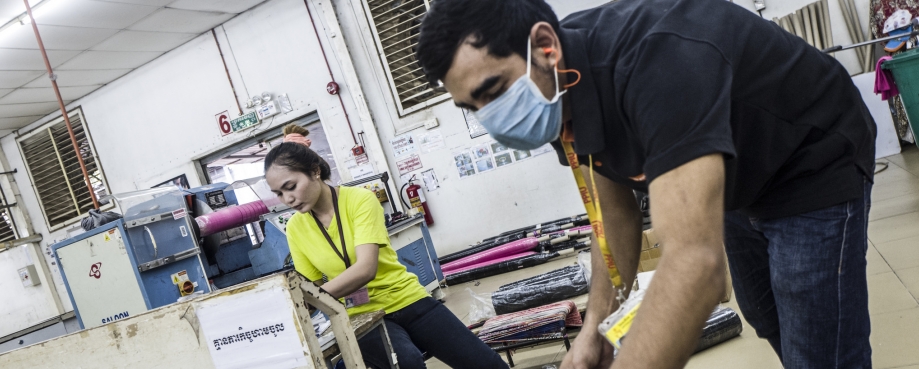 If governments step up to the plate they could "change the game" on modern slavery.
The comment was made by the Ethical Trading Initiative (ETI) ahead of a major international conference to tackle modern slavery, forced labour and human trafficking in public sector supply chains.
2019 International Conference on Tackling Modern Slavery, Forced Labour and Human Trafficking in Public Sector Supply Chain

Date: Wednesday 27 March, Queen Elizabeth 11 Conference Centre, London

Organisers: Co-hosted by the Ethical Trading Initiative, the Home Office and the OSCE, the Organisation for Cooperation and Security in Europe, in partnership with the governments of Australia, Canada, New Zealand and the United States.

Keynote speaker: Victoria Atkins MP, Parliamentary Under Secretary of State for Crime, Safeguarding and Vulnerability.

Statistic: The combined purchasing power of the governments involved in the Conference is more than US$600 billion annually.
To date, company efforts to combat modern slavery have, in the main, been led by multinationals and the largest retailers and suppliers. They are brands with reputations to lose.
But, as ETI spokesperson Cindy Berman pointed out, every government in the world procures goods and services. And they spend billions doing so, whether they are rich or poor countries.
"Governments are constantly spending money. This can be on medical supplies for health services, construction of public infrastructure or even stationery for civil servants.
"It all adds up," said Cindy Berman. "It is estimated that the average government spends between 12 – 24% of GDP on public procurement at national and local levels."
Government oversight
Despite their spending power, governments have limited oversight of working conditions in their supply chains.
This is particularly true of conditions at the lower ends of supply chains in jobs that are low-skilled, low-paid and insecure – where the risk of forced labour is particularly high.
Not only that, governments frequently use small and medium sized firms. Yet such companies are often unaware of the steps they need to take to mitigate and prevent modern slavery.
Procurement officials need to support and encourage these businesses to change the way they manage human rights risks.
Cindy Berman said: "Governments have huge power and leverage.
"They need to show political leadership and commitment and push public sector suppliers to conduct robust human rights due diligence.  
"In-house expertise and appropriate procurement policies and practices are an absolute necessity," she said.
The conference
"It's crucial that governments come together and combine approaches," Cindy Berman continued. "It's why the conference, which is about leadership, commitment and collaboration is so important.
"If this works, the advances made could be exponential.
"Individual public bodies around the world are doing great work, but they need support and guidance from national governments. They also need the chance to learn from their peers and work with others."
ETI, the UK Home Office and the OSCE are welcoming senior government officials and representatives of international organisations, trade unions and NGOs from around the world to the conference, which will focus on the steps governments should take to prevent and address human trafficking in government procurement practices.
The image of garment workers in Cambodia is courtesy of UN Women. It is generic and is for illustrative purposes only. It does not refer to a specific incidence of modern slavery.