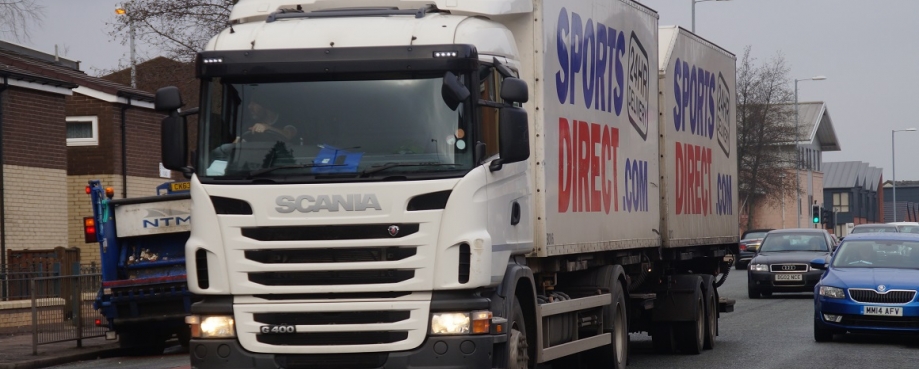 Mike Ashley, owner of retail firm Sports Direct said that he was not "Father Christmas" during his appearance before a UK government Business, Innovation and Skills Committee hearing. But you don't have to be Father Christmas to ensure decent, dignified and fair working conditions for your employees. You can do your due diligence and follow the ETI Base Code.
New advanced training course: Human rights due diligence
Sports Direct's labour practices not only read like a manual of 'How Not To Follow the ETI Base Code', they also demonstrated why such practices are bad for business.
The Sports Direct story is a case study in how a business model predicated on short-term profits being prioritised over investing for the long-term will almost inevitably end up shooting itself in the foot.
Employing vulnerable migrant workers on zero-hours contracts with long shifts, low wages and ferociously strict rules – including a "six strikes and you're sacked" policy – may generate large profits for shareholders.
It may also produce a steady stream of products for shoppers.
But it cannot be sustained indefinitely.
Bad for workers, bad for reputation
Sports Direct have learned the hard way that despite attempting to exclude trade unions from workplaces and keeping a low media profile, eventually the truth will out. 
The Guardian, Unite, the union and business ethics campaigners ShareAction were determined to hold the company to account for what they described as the "Victorian" work practices in its warehouse.
While Unite garnered a national day of action in 30 cities across the UK, and 20,000 signatures on a petition to the company, ShareAction raised questions about working conditions at a shareholder meeting.
Suddenly, neither shareholders nor shoppers were so happy with Sports Direct.
One of many on-line commenters echoed the prevailing sentiment when she said; "I was just in the Oxford Street store when a protest took place, I was completely unaware of the treatment of Sport Directs staff. I will definitely avoid buying there in the future."
Bad for workers, bad for productivity
The government hearing revealed Sports Direct as a company in which workers were subjected to long hours for less than minimum wages, and suffered discrimination and harsh treatment. 
Freedom of association was curtailed and workplace accidents and sickness levels were sky-high.
Non-executive director Claire Jenkins, told Sports Direct shareholders, "The managers sit down and talk to workers. A third party in between is not necessarily helpful."  
Yet given the "culture of fear" reportedly prevalent in the warehouse, a third party certainly would have been helpful for workers. 
The 'union effect' describes how workplace accidents are significantly lower in workplaces with trade unions.
At Sports Direct, with workers afraid to speak out or take sick leave and not being effectively represented, the reverse of the union effect took hold:
110 ambulances or paramedic cars were reportedly dispatched to the warehouse between January 2013 and April 2016 with 50 cases classified as 'life-threatening', including chest pain, breathing problems, convulsions, fitting and strokes.

Incidents between 2010 and 2016 included, "an amputation of a finger down to the first knuckle, a fractured neck, a crushed hand numerous hand, wrist, back and head injuries." One woman gave birth in the warehouse toilets.
Such levels of sickness and accidents are unacceptable for workers, but neither can they be good for productivity.
Bad for workers, bad for legal compliance
The use of migrant workers is frequently associated with exploitation – two of the most recent UK examples being in Kent's apple orchards and a Dewsbury bed factory.
In 2004 the tragic drowning of 18 Chinese cockle pickers in Morecambe bay led to the formation of the Gangmaster's Licensing Authority – something the ETI had long been calling for. 
Recent calls from ETI and others for the GLA's remit to stretch beyond the food sector seem particularly apt now in light of the Sports Direct hearing. Indeed, the GLA had already refused a licence to Transline, one of the recruitment agencies that supply staff to Sports Direct.
The UK's Modern Slavery Act and the Transparency in Supply Chains clause, which ETI and its members helped lobby for, will hopefully make such exploitation much harder to hide in future.
Bad for workers, bad for retention
More than 80 per cent of Sports Direct's warehouse staff were on zero hours contracts.
Their "assignments" could be ended "at any time without reason, notice or liability". Workers did not know from one week to the next if they had work which made planning and budgeting extremely difficult.
Workers were bodily searched on leaving the warehouse, harangued by name via tannoy if they didn't move quickly enough, and  threatened with dismissal for "strikes" incurred for offences such as "chatting too much", "spending too much time in the toilet" and "being sick and unable to attend work."  
They were effectively paid less than minimum wage due to time-consuming security searches taking place after clocking out at the end of nine-hour shifts.
However, the long shifts were not balanced with regular working hours or adequate overtime pay. And there have been claims that overtime was often not voluntary.
Is it surprising, then, that the company experienced high levels of worker turnover?
Bad for workers, bad for business
Stinting on investment in well trained, fairly paid, regularly employed workers may boost short-term profit, but a house built on shifting employment sands will not stay standing for long.
Sports Direct's fashion chain, USC collapsed in 2015 and 200 staff were given 15 minutes notice that they had lost their jobs.
And the company's stock has fallen by 40 per cent following The Guardian's December investigation.
So could its owner and managers have prevented this?
Much of Ashley's defence at the hearing rested on his lack of awareness that the abuses were taking place. He admitted that the company had outgrown him, and that he could not be aware of everything that went on in his business empire.
His is a cautionary tale on the importance of transparency and human rights due diligence. 
Be good for business, treat workers like human beings
An interviewee on BBC Radio 4 justified Sports Direct's labour practices, saying that migrant workers often do not have "have middle class aspiration".  Even if this were true, as BBC journalist, John Humphrys reminded him, "everyone should be treated like a human being".
Ashley himself told the hearing that the test was whether you would want your son and daughter working in that system. A system that denied people their rights as workers and as human beings.
"If the answer is no," he said, "it should be changed."
But in order to change systems, you need to first know what is happening.  
You also need an effective HR and management team to help you do what the UN Guiding Principles on Business and Human Rights call on business to do: to respect human rights and to provide remedy when they are abused.
And as commentators have noted, "Sports Direct's fall from grace and inevitable ejection from the FTSE 100 index of largest companies has prompted a wave of pronouncements on the importance of strong corporate governance and business ethics."
The photograph of the Sports Direct truck is courtesy of photographer Ian Hale under a creative commons licence via flickr.com