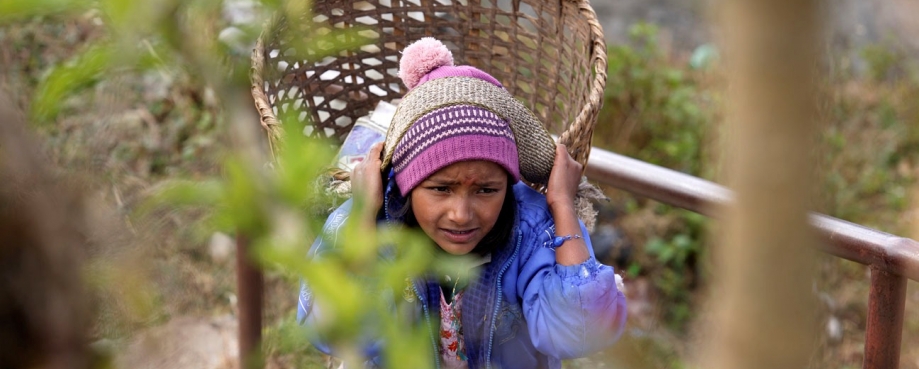 Today, Penny Mordaunt, the UK's Secretary of State for International Development is set to announce a new multi-million pound initiative to tackle the worst forms of child labour. We're proud to be playing our part.
Just imagine. You're in your early teens and your parents are labourers, living hand to mouth.
The odds are stacked against you, but at least you're going to school. Then, the unthinkable happens. Your dad has a stroke.
You're the eldest child and must step up to the plate.
To pay the medical bills, and to keep the family afloat, you must borrow money. At exorbitant interest rates.
You have to work to pay off the debt, either in the fields or in a small unregulated workshop.
Contracted to the owner, you'll be working for the next two to three years for six or seven days a week. Not only that, you'll be doing hard physical labour. For up to 16 hours a day.
You'll have slipped into modern slavery. Even though you're still a child.
"Invisibilising" child labour
Surprised? You shouldn't be.
This isn't an uncommon scenario, as was pointed out in the following ETI blogs, Understanding vulnerability to forced labour in global supply chains and Four partnerships that address some of the complex challenges in global supply chains.
But, what cannot be seen is almost impossible to address.
There is very low commitment to tackling hazardous child labour in the informal economy because of the strong incentives for children and the people they work for to "invisibilise" this labour.
Yet, such farms and workshops can and do supply international brands. Children will be working at the very lowest tiers of the supply chain and at the lowest skill levels, but they will be there.
They'll be picking the cotton bought by large mills, hammering metal ingots sold on to makers of medical equipment, or even melting plastic to make bangles for the costume jewellery industry.
You name it, children will be doing it. But they will be hidden.
So, while international brands may be unlikely to encounter children working in their own operations, they still have a responsibility to assess the risks in their wider supply chains.
It's a challenge, but it can be done.
As our Head of Modern Slavery Strategy, Cindy Berman recently advised: "Whilst [the drivers of] forced labour and child labour are complex, there are ways to deal with it."
That's why we need to make these hidden and overlooked children visible, and why identifying solutions in these informal spaces is a priority.
Additionally, it's important to point out that, as Cindy says, "workers who are the victims of modern slavery are not often asked what they want or given a choice about what lies ahead for them."
Child labour statistics
According to the ILO, 152 million children worldwide are engaged in child labour (as of 2016). Of these, 73 million are engaged in what the ILO deems "hazardous work"

Agriculture accounts for 71% of child labour, industry 12% and services 17%.

Sub-Saharan Africa and the Asia and Pacific regions host nine out of every 10 children in child labour – Africa with 20% (72 million) and Asia and Pacific with 7% (62 million).

88 million boys and 64 million girls work. 48% of these are aged 5-11, 28% 12-14 and 24% 15-17.

While child labour is declining (a net reduction of 94 million children since 2000) the rate of decline is now slowing. The share of children in child labour fell by only one percentage point during 2012 to 2016 compared to three percentage points in the previous four-year period.

UNICEF estimates that in the least developed countries, around one in four children (ages 5 to 17) are engaged in labour that is considered detrimental to their health and development.
Revealing the worst forms of child labour
With an £11 million grant from UK Aid, we'll be working alongside the University of Sussex's Institute of Development Studies, Terre des hommes, Childhope, the Consortium for Street Children and the London School for Hygiene and Tropical Medicine to support working children.
The consortium's programme, 'Tackling the drivers of child labour and modern slavery – a child-centered approach' aims to generate innovation from the ground up that can improve the lives of the many working children across Asia.
We'll therefore be investigating the key drivers of modern slavery and the worst forms of child labour and developing ways to counteract them.
For, while every child's story may be different, research shows that there's a lot of interconnectivity in both cause and effect.
Consequently, through our networks, ETI will be reaching out to informal workplaces and making multiple connected interventions, including:
Mapping supply chains to identify hazardous or exploitative workplaces with a high participation of children
Understanding how particularly marginalised groups (e.g. disabled children) may be 'used' for specific tasks or industries
Identifying the levers in the formal sector that facilitate the conditions for child labour to continue, and how these can be addressed
Exploring options for eliminating or adapting exploitation, building on ETI's work within the formal sector
Pinpointing national and local groups with whom to collaborate to tackle exploitative, hazardous supply chain practices; and importantly
Working with businesses to build an understanding of the inter-relationship between the formal and informal sectors and build interventions around these.
Revealing and reducing harm
In short, our aim is to reveal and reduce harm in global supply chains.
That's because, as every international company knows, addressing child labour – particularly in its worst forms – is a business-critical issue.
Let's face the facts. Children are often at the cheapest, most exploitable and expendable end of the labour supply chain.
Furthermore, child labour can also be an indicator of poor attitudes and behaviour towards workers more generally.
Now, just imagine if child labour were to be ended once and for all?
Read our advice for companies on ending child labour and download our Base Code Guidance.