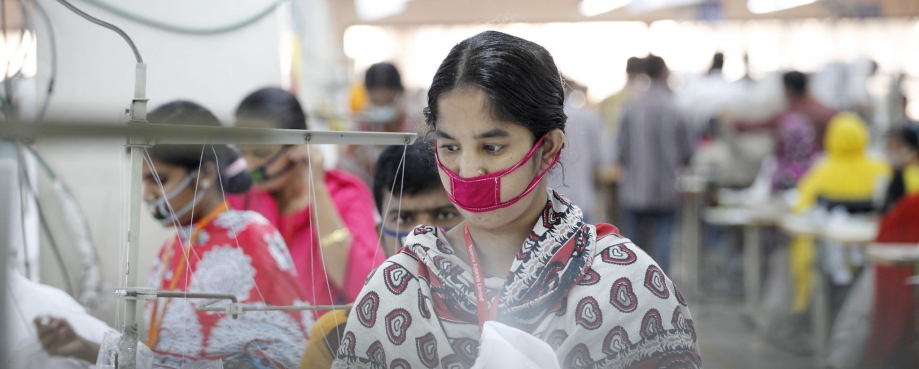 Audits are not the answer when it comes to tackling modern slavery, because it lurks in the dark parts of the supply chains that audits can't reach. Cindy Berman, ETI's Head of Modern Slavery, urges companies to make a genuine commitment to transparency
Supply chain transparency legislation in the UK, Australia, California and other countries has begun to make a difference in the fight to end modern slavery.
Transparency places a legal requirement for each company to produce a Modern Slavery Statement setting out what they are doing to deal with cases of modern slavery in their supply chains.
Companies can be held publicly accountable for the commitments they make. That has meant senior directors, legal counsel and other key parts of the business have had to get involved, and not only those charged with managing a CSR or ethical portfolio. It has also galvanised action by civil society organisations, investors, public procurement bodies and others to scrutinise the statements of companies and judge them on what they say publicly.
But the content and quality of most Modern Slavery Statements remains poor. Some companies use it as a PR or tick-box exercise, and a sizeable proportion of companies haven't even been able to comply with the minimum requirements to publish the Statement on the homepage of their company's website with Board or Director level sign off. Arguably the most worrying Modern Slavery Statements are those that say as little as possible. This is often the result of risk-averse legal counsel trying to avoid potential litigation or reputational risk if a company is honest about what it knows and what it is doing. That flies in the face of the purpose of the legislation.
ETI and Hult/Ashridge's research in 2017 found 77% of leading companies acknowledged that modern slavery was likely to be found in their supply chain. That gave other companies more courage to be more honest and open. But their lawyers didn't like it and felt vindicated when the mischievous media continued to name and shame well-known brands and retailers. Even if they were doing more than other companies to tackle modern slavery.
Scrutiny of Modern Slavery Statements by civil society organisations have tended to focus on large multinationals. The excellent reports of Business and Human Rights Resource Centre's FTSE 100, KnowTheChain, Corporate Human Rights Benchmark, Oxfam and the CORE Coalition have driven positive competition between companies to up their game on transparency and reporting. But there remains a gaping hole in the capacity of civil society, investors, government and other stakeholders to scrutinise the actions and statements of smaller, less public-facing companies that don't have public reputations to protect, and to hold them to account. These must be the focus of our efforts in the next few years.  
Human Rights Due Diligence requirementsof companies are gaining traction. The UN Guiding Principles on Business and Human Rights have been accepted on paper. They come into their own when governments use their Protect responsibilities to require companies to demonstrate their Respect responsibilities by showing what they know, and acting on what they find. The French Duty of Vigilance law is the clearest example, but there is growing momentum on this in Germany, Switzerland and other countries.
We can expect a lot more focus on human rights due diligence in the coming years. There is growing momentum of policy advocacy for an internationally binding Treaty for governments to adopt legislation on mandatory human rights due diligence requirements for companies.  
But companies must guard against responding to legislation requirements in ways that waste precious time and limited resources. Companies, rather than fixing and preventing the problem in the longer-term, often feel under pressure to show short-term visible actions. And to do that, they usually turn to audits.
Despite growing recognition that audits are flawed and are not the solution to addressing labour exploitation and abuse, companies still rely on them as the primary way to vet and monitor their suppliers. Companies reliant on audits might feel that they know what's going on and that their backs are covered. But neither of these assumptions is true. That's because most modern slavery is found in the less visible, informal parts of the supply chain, where audits cannot reach. So cases continue to emerge, even where workplaces are audited.
While audits have their place in the drive to end modern slavery, their role is limited to identifying problems, rather than solving them. Companies who are genuinely committed to uncovering the "hidden" human rights abuses in their supply chains need to adopt a more integrated human rights due diligence approach. That means taking a top-down as well as bottom up approach. It requires companies to treat their suppliers as partners, understanding their challenges, reviewing their capacity to manage modern slavery risks. Suppliers are often expected to quietly accept (and pay for) the plethora of audits that companies impose on them as a condition of doing business, but are rarely asked what support they need to make changes.
That also means looking beyond the first tier of their supply chain to the lower tiers, where modern slavery is likely to be hiding. And look to sources of support and expertise such as ETI if they need help doing so.