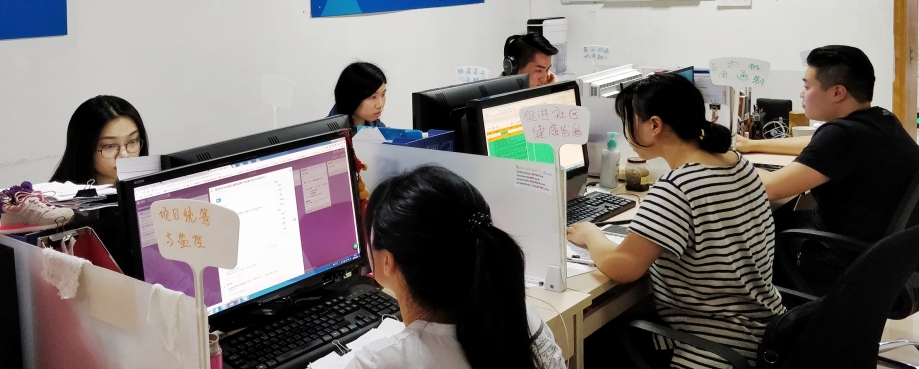 Social Insurance – the compulsory protection afforded to employees against economic risks such as loss of income due to sickness, old age or unemployment – is a key issue for Chinese workers, writes guest blogger Sheila Wong of Inno, which runs a grievance hotline for migrant workers.
It has been reliably estimated that less than a third of China's workforce of 770 million have a basic pension and only half are enrolled in any kind of insurance scheme.
Furthermore, many workers are under-insured. As ETI has previously pointed out, concerns and tensions are growing and the Chinese government is seeking to ensure full compliance with employment policies and regulations on this issue.
No wonder then, that social insurance presents one of the biggest challenges for stakeholders in Chinese supply chains seeking to implement ethical trading standards.
Certainly, Inno believes that all companies – international and local – should be taking action.
Inno surveys worker grievances
Inno implements a grievance mechanism aimed primarily at migrant workers in more than 700 supply chain factories in five regions – its Handshake Worker's Hotline.
Of those workers reached, 49% are in Guangdong and Fujian;  38% in Zhejiang, Jiangsu, Shanghai and Anhui; 7% in Hunan, Jiangxi, Hubei and Henan; while, 3% each work in Liaoning and Shandong and in Chengdu.
Yet, in the past year, we have witnessed dramatic changes in workers' grievances as our latest research shows.
Here's the top line results from an analysis of incoming queries to Inno's Handshake hotline via phone, QQMail or Wechat (China's equivalent to Whatsapp).
2017 top grievances
2016 top grievances
Social insurance: 32%
Wages: 37%
Working hours: 27%
Social Insurance: 28%
Wages: 21%
Environmental health and safety: 12%
Worker contracts: 10%
Management communications 12%
Food and accommodation: 8%
Food and accommodation:  6%
Other: 2%
Other: 5%
Social insurance mapping
The grievances chart shows a 4% increase in social insurance calls within the percentage distribution of issues in 2017 over 2016 (from 28% to 32%).
But, not only that, in 2017 the number of incoming queries to the hotline also significantly increased by 64%. Of that increase, 40% related specifically to social insurance.
We therefore broke down social insurance grievances themselves and found the top concerns were as follows:
2017 social insurance grievances
2016 social insurance grievances
Claiming unemployment insurance: 27%
Lack of understanding of what social insurance includes: 24%
Claiming workplace injury insurance: 27%
(This breaks down into five further grievances about terms and procedures; drawing the benefit; applying for compensation when social insurance has not been paid; proving capacity/incapacity for work after an injury; and, identifying so called "vocational" diseases e.g. repetitive strain injuries.)
Percentage of salary taken as the social insurance contribution: 21%
Transferring benefits when changing jobs: 18%
Acquiring a social insurance card: 28%
Failure to meet minimum payment years, prior to retirement: 11%
Off-site settlement of medical care: 15%
Inheritance grievances (i.e. relatives' claims against a policy following the non-work related death of a policy holder): 5%
Claiming pensions: 9%
Other: 12%
Other: 3%
Issues behind the statistics
A major and notable difference between 2017 and 2016 is that migrant workers have stopped asking about concepts or general solutions but are now filing grievances with a specific scenario of need.
In 2016 callers were, for example, asking "how to claim retirement insurance", while in 2017, they would be asking questions about a "solution around failure to meet the minimum level of social insurance payment requirements at the age of retirement."
Another observation from the data is that as more Chinese brands outsource to Southeast Asia, unemployment insurance has become one of the leading grievances. And that workers are asking related questions even before a closure announcement from a factory.
This indicates that prior communication should be conducted in such cases to avoid emergencies arising in a workshop – our evidence shows that workers can always tell what's going on before final decisions are reached.
Environmental health and safety issues are also still worth paying close attention to, given that work injuries make up 27% of grievances.
Why the data is important
While I have only analysed two years of data in this blog, the social insurance grievance trend is growing and this has been the case since 2012.
Debates are also becoming increasingly heated, as evidenced by the following case study of the 2014 Yue Yuen shoe factory strike.
Thousands of workers at the factory, which is one of the largest in the world, went on strike arguing that the company had not paid sufficient workplace insurance coverage.
China Labor Watch, a US-based workers' rights organisation, said the strike was "likely one of the largest Chinese worker strikes in recent history".
Inno would argue that the Yue Yuen strike was a watershed. It was the turning point that brought the issue of social insurance to national Chinese consciousness.
That's important, because unlike any other of form of grievance, social insurance issues never just impact an individual worker.
It is deeply related to the family and to children, and profoundly influences the future of the worker who is confronting a social insurance issue.
Lessons for companies
Tensions among workers have been steadily increasing [Editor: read this previous ETI blog on strikes in China, 'China's rising tide of strikes']. Workplace emergencies may therefore be one of the consequences.
We already know that without intervention, staff turnover can be huge. Our hotline analysis also shows that 60% of workers start planning to leave their jobs within six months!
Not only that, among all rights-related causes of workplace emergencies, social insurance grievances are the main cause of strikes (and even suicides) when a case escalates, as compared to other critical grievances such as long hours, wages and work contracts.
In fact, we found that most workers choose to leave a company because of rights-related issues. And when workers decide to leave because of other causes, 60% quote the impact of work on families and children.
That's because, as previously indicated, social insurance is deeply related to the well-being of the family as well as the worker.
It's also the case that social insurance is one of the key thresholds for domestic migrant workers in China to get access to public services and resources.
So, it's imperative that social insurance matters are addressed. Not only because they are important in and of themselves, but because they nearly always impact other issues.
Implementing policies
While our research relates primarily to running grievance mechanisms within workplaces, we believe our findings can be adapted to promote and maintain workplace stability.
We would therefore recommend that international brands take the following four broad actions based on our research:
Build trust: do this by being neutral in your positioning, professional in your operations and respect confidentiality in your communications with the supplier factory and workers. Also, be specific and address issues on a case-by-case basis.
Grow awareness and knowledge and encourage cooperation: any grievance channel should be a synergetic mechanism, encouraging collaboration to improve effectiveness and sustainability. It should also be regularly promoted to prove that both the brand and factory value it and believe that addressing issues benefits the business.
Ensure easy access: a grievance mechanism needs to fit in with a labour force's habits and work alongside other communications channels, so ensure surveys and thematic training take place.
Give evidence of effectiveness and excellence: show that communications channels work and lead to positive change.
Furthermore, because we believe that action should be taken right now, Inno suggests that companies:
Present precise case scenarios for discussion during social insurance training for workers, rather than presenting general policy and concepts.
Set 'pressure relief' as a priority when handling grievances. Onsite workshops or one-on-one psychology counselling should be considered.
Finally, put greater effort into inspecting misconduct, especially on handling grievances driven by social insurance. And, as changing government policy is almost certainly likely to become a further driver of social insurance concerns, companies should also monitor policy updates and be prepared to address them.
Inno was established in 2007 and is a not-for-profit community development organisation working in China with a focus on business and human rights. In collaboration with 185 values-driven local and global partners, it has brought change to 800 communities and reaches four million beneficiaries, including domestic migrant workers (migrating across provinces within China), left-behind-children, people with disabilities and hepatitis carriers in the workplace.