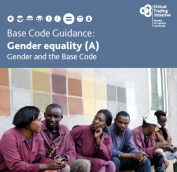 Public

1 October 2018

Resource type

Tools, Guidelines & Briefings

Subject

Gender

Equality

Inequality

Women

Violence against women
Guidance to help businesses understand the likely gender issues in their supply chains and how to respond to them.
Inequality, discrimination and injustice based on gender can be seen in the type of work performed, how workers are treated in the workplace, and in their pay and conditions. Women workers in particular – across all tiers of the supply chain – are often the disadvantaged gender because of discriminatory sociocultural practices and attitudes which consider women's work to be of lower status. Making progress towards gender equality is thus critical to the achievement of decent work particularly for women.