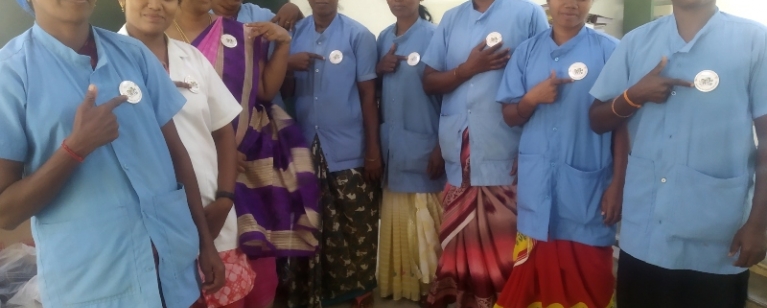 Thanks to the Nalam peer education programme, more and more mill managers are realising the value of promoting female workers.
Peer educators and workers are beginning to be promoted to supervisory roles such as maestri, coordinator, supervisor, line in charge, leader, worker teacher, and training officer. Here are a few of their stories:
"I started my work as a helper 4 years ago and became a peer educator 2 years ago, and now I am as a supervisor. Through the Nalam programme, I got the chance to re-evaluate myself and to learn the art of communicating with others,  to become more assertive,  and improve my time management. I am thoroughly enjoying my role and supporting my workers to enjoy their work life."
I always wanted to become a supervisor and help others. I joined the spinning mill as a worker three years ago (I'm 21 now) and having seen how my supervisors helped their co-workers effectively, it became my dream to rise up the ranks. I came across the Nalam programme one day and decided to join as a Peer Educator. I actively participated in all Nalam training and gained knowledge on all workplace rights. The first thing I learnt was how to speak with confidence and express my views and ideas without fear. I then shared what I learnt with all my co-workers and they recognized my talent and started reaching out to me on all kinds of questions and doubts" I am now a floor-level supervisor and the youngest worker to be promoted to supervisor level in the spinning mill. 
I worked for the past 15 years in the same mill. I wanted to be a school teacher when I was young, but due to my family situation I had to take up the mill work along with my mother and sister. I stopped thinking about wanting to become a teacher. When the Nalam programme  launched in her mill, the management chose me to be one of the Peer Educators. One day, I took all the training materials to a government school in my village and shared my desire to educate the school children on health and values. The headmaster was so happy that he allowed me to stay, and to teach Nalam to the school children. So my dream of becoming a teacher came true!  The mill management also noticed how I would  stand at the gate to check workers were wearing their PPE, and promoted me to the role of trainer . The Nalam programme is a ladder for many women.
"I have developed my leadership skill and gained more confidence through the Nalam Programme. I had been working as a trimming helper for 7 years. Now I am working as a supervisor for the past 8 months and managing 40 workers. I have walked extra miles to reach this level. My daily wage has increased to Rs.500. I am very proud to be part of this Nalam Programme as a peer educator and supervisor."
"I came here from Andhra Pradesh to work. I am supporting my siblings through my income. At the beginning, I felt very uncomfortable to stay here due to new working environment, people, language, and food. I also suffered a lot due to homesickness and I continue to miss all my family members though I have all the facilities here. I got introduced to the Nalam programme and I became a Peer Educator. My involvement in the Nalam programme changed my life and changed my attitude towards my free time, which I now use to learn and discuss with others. Due to my commitment, I have become a member of a grievance committee where I successfully put forward a demand for a separate TV for Telugu speaking workers. I will continue to represent the workers through this committee".
"I started my work 2 years ago and became a Peer Educator of the Nalam Programme. The Nalam training helped me to shape my approaches and improve my communication. I identified my dreams, learned about workplace rights and started exercising my learning through raising my concerns to supervisors. Now I am appointed as a caretaker, I gather issues from the workers, carry the issues to the management and resolve the issues. I am really happy, and I am well supported by the workers and management team."