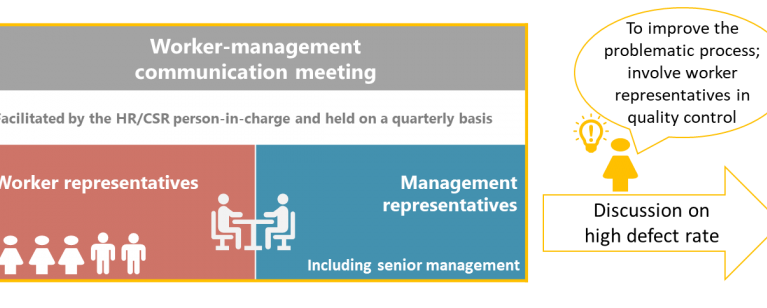 A workplace dialogue project has been operating for almost 20 years among 200 mainly female workers in a clothing factory In the Pearl River Delta area of China, to enhance worker-management dialogue and communication.
In the beginning, there was a reluctance among the women workers to volunteer as worker representatives. Reasons cited included a perceived lack of education, a lack of confidence in relation to attending meetings or training, a belief that such work was not for women, and that it might impact on their ability to carry out their domestic and family duties, but the project facilitator worked hard to build up their confidence and persuade them to take part.
Quarterly communication meetings were held with senior management and worker representatives to hear workers' opinions and suggestions, and promote ways of sharing information and solving problems together. There were some interesting differences between the male and female workers: while the men's opinions were fact-based and tended to focus on labour discipline, the women combined reporting of objective facts with feedback on how workers were feeling. Senior managers were impressed by their contributions, which they reported as improving their ability to emphathise with frontline workers.
"Compared with the male representatives, it seems that the female representatives pay more attention to the feelings of workers." Senior factory manager.
The factory has made a number of improvements, informed by the feedback from the women worker representatives, which have helped build trust and confidence in the worker reps among their fellow workers, and encouraged more women to consider volunteering as worker reps. These have included the introduction of training of line supervisors on how to allocate work and support new workers, and involving worker reps in improving suboptimal production and quality control processes, which the worker reps were now able to flag as the root cause of high defect rates which had been a headache for the senior management for a long time.
"It never occurred to me that these women workers could have such in-depth observation and thinking about the production process and are capable to participate in the solution to process-related issues. In the past, if we encountered such a problem, even if the workers know the reason, they would not take the initiative to tell the management." Senior manager
"I never thought I could sit with the general manager for meetings and discuss issues, especially the general manager listened to our opinion". Female worker representative
"Now I finally know the reasons for some workers' resignation. It enables us to make improvements in time." General manager
"I walk on the production line now. There are obviously more female workers who greet me proactively than before, and there are more smiles on their faces than before." General manager
Benefit to workers
Creation of a safe space for women worker representatives to raise issues, and share concerns
Faster and more effective resolution to problems via constructive feedback
Enhanced confidence and courage among women workers
Issues specific to women's workers better understood
Higher productivity and a lower defect rate means higher incomes, less need for overtime, and a better work-life balance.
Business benefits
Principles of gender awareness and gender perspective are established and mainstreamed
Gender mainstreaming and economic empowerment of women workers
Voices of the frontline workers are heard and understood
Root causes of inefficiency understood, and mitigated - lower defect rate, higher productivity
Worker-management trust and employee satisfaction enhanced