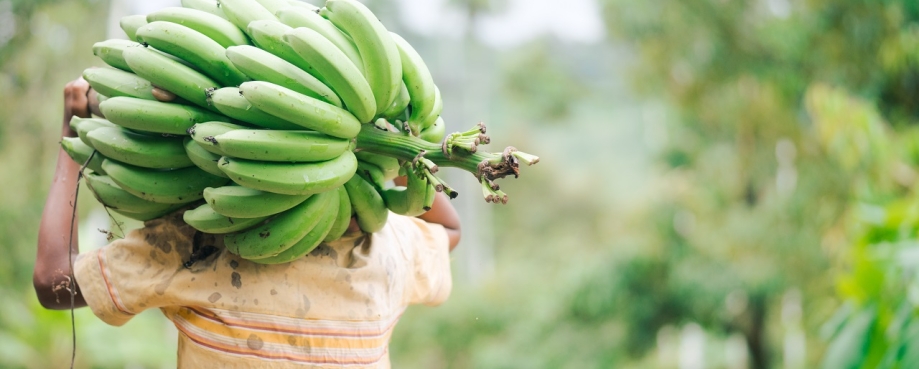 Last month, Banana Link and ETI co-hosted a webinar on 'Advancing Living Wages: Key Insights from the Banana Sector'. The event brought together European retailers and trade unions from Africa, Latin America, and Europe to share and learn lessons about their remuneration journeys. 
Appetite and need for enduring dialogue and engagement among retailers, suppliers and trade unions present across the entire living wage process was evident during the event. Trade unions proposed that retailers and suppliers make formal agreements to include unions at all stages – wage setting, verification, monitoring, enforcement. 
As inflation continues to impact real wages worldwide, living wage initiatives being rolled out in the banana sector offer key insights into how a systemic solution - that is sensitive to the needs of all supply chain actors - can be developed.
In early March, nine UK retailers, including Aldi, Asda, Co-op, Lidl GB, Marks and Spencer, Morrisons, Sainsbury's, Tesco, and Waitrose, committed themselves to bridging the living wage gap in their international banana supply chain through a sectoral effort by 2027. This  commitment followed similar joint efforts by Belgian, Dutch and German retailers in recent years. ETI and Banana Link's webinar looked to advance conversations around living wage commitments more broadly, and drive action towards greater international and methodological alignment that can be replicated to promote living wages for workers in other sectors worldwide.
Engaging with trade unions and sectoral efforts
Collaboration was a key theme across the webinar discussion and emphasised as a crucial component to the success of commitments to date.  Active engagement with workers and their representatives, as well as sectoral initiatives were repeated time and again, including by ETI's Board Member (TUC), Stephen Russell:
"Collective Bargaining can exist at a workplace level, a company level, a sectoral level or even a national level if people want it. But for a way of ensuring minimum-level decent conditions across a global supply chain, for example, sectoral is clearly the best." 
A good example of this has been the collaboration between ALDI SOUTH Group and ALDI Nord with  key sectoral players, including Banana Link, Heartwood LLC, Grupo Iren, Dole and Banafem, in the verification of living wage statistics on banana farms. The pilot conducted built trust across all relevant stakeholders through dialogue and collaboration.  Farms were more open to sharing sensitive information as a result, and more accurate wage calculations and an effective verification mechanism were made possible. ALDI SOUTH group insisted the process "worked most effectively when an independent trade union was present and involved".
Representatives of the Banana Workers' Union Federation of Côte d'Ivoire (FETBACI) reinforced the importance of union involvement in the regular monitoring of wage data and stressed the need for this to be done consistently to ensure workers can be decently paid. The Coordinating Body of Latin American Banana and Agro-industrial Unions (COLSIBA), emphasised the importance of freedom of association when it comes to wages, and workers' rights more broadly, without which workers' were far less likely to have the leverage to achieve any realistic objectives. 
So, what can other sectors learn from this model?
To achieve a joint commitment…
Long-term continued engagement and collaboration with stakeholders across the sector is essential. 
Workshops for shared learning, with a focus on gaining consensus on the contents of a commitment, can help facilitate agreement.
Collective action is vital. A single retailer doesn't have the leverage or power, but together you can have a greater impact. 
It's important to have the presence of a neutral convener, who can focus dialogue on progress towards positive outcomes.
Continuously point to evidence of the need to drive up wages, especially in countries where the government doesn't offer social protections. 
To implement an agreement… 
Leverage senior leadership touch points to enable internal advocacy alongside a clear ask.
Collaborate for cross departmental buy in, particularly between commercial and CSR teams. 
Establish a shared understanding of the terminology and commitment to human rights. 
Integrate KPIs within buyers' roles, to create a clear pathway for progress. 
Propose higher prices as a way forward to enable better outcomes from negotiations between suppliers and workers; retail prices should reflect the living wage established in collective bargaining agreements.
To effectively collaborate with trade unions…
Involve workers and their representatives in all aspects and stages of the supply chain.
Respect Freedom of Association.
Link collective bargaining processes in each country with price determination across the supply chain, to ensure that collective bargaining defines the criteria to establish a living wage.
Use wage indicators – Make wage figures and data available, use that data to reach wage agreements and review it to ensure its up to date.
Establish a roadmap for collective bargaining with local unions.
Collaborate with suppliers to facilitate and support effective unionisation.
If these measures are to yield the desired benefits for retailers and workers across supply chains, the best response must be via collective bargaining between workers, trade unions and manufacturers. An even better impact can be achieved when these initiatives are embedded in sectoral efforts.