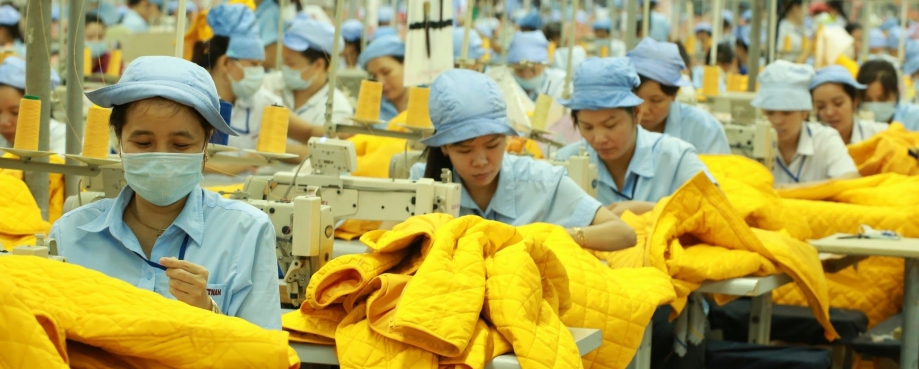 Post Brexit, ETI's Executive Director Peter McAllister has been thinking about the fallout for workers, their wages and their rights. He asks, will leaving the EU make a difference to workers' conditions of employment? If it does, will it be for the better? Or for the worse? And how can we make sure that progress already made on standards and ethical approaches is not diluted?
Since the vote to leave Europe, at ETI we've heard on the grapevine that some CEOs in member companies have been at pains to advise their UK workforce that all employees are equally valued. Not just British workers, but migrant workers too.
While we applaud them for being proactive, it's of concern that they have felt the need to do so.
But then reports of racist attacks and graffiti have increased, and under our Base Code guidelines, senior managers have a very definite duty of care for their employees, including but not limited to non-discrimination.
Meanwhile, trade unions have publicly expressed concern about workers losing employment rights with Francis O'Grady, the TUC's General Secretary warning that "workers' rights are on the line".  
Likewise, our charity members are worried about how Brexit will affect migrant workers and refugees. They're also asking themselves what will be the impact on poor communities when European regeneration funds are withdrawn, and will there be increased demand for charities' services at a time when money is increasingly tight?
Understanding the prevailing environment for workers post Brexit
The EU referendum was for individual citizens to express their point of view.
The role of ETI is to try and understand the prevailing environment for workers (particularly those who are typically vulnerable) and to work with our members to help ensure that their rights at work are respected.
We know that at times of economic turmoil – or when companies and industries go through change – workers, particularly front line workers, feel the pressure more than most.
This can be through job losses, a squeeze on wages, longer working hours, abuse in the workplace and illegal practices which we have seen on the rise.
The aftermath of the EU referendum result
The immediate aftermath of the referendum result has seen a nervous reaction from markets, concerns expressed by various businesses from housing to farming to retail, not to mention the political fallout.
We cannot yet speculate on what the final settlement will look like and what this will mean for the workers who produce everything from fresh produce to cleaning hotel rooms.
What we can say is that workers' rights have not changed in the short term and that efforts need to be redoubled to make sure that they continue to be enjoyed by all workers – whatever political settlement is negotiated.
As the nature of new conditions becomes clearer, ETI will continue to provide advice on how such changes can be accommodated without a negative impact for workers.
Brexit and vulnerable workers in the world's poorest countries
Worryingly, with few exceptions, there has of yet been little public debate in the UK about what Brexit will mean for workers in overseas supply chains – particularly vulnerable workers in the world's poorest countries.
One of the exceptions is ETI member, the Fairtrade Foundation.
Michael Gidney, its Chief Executive has pointed out that "the result of the European Union referendum won't just affect the UK".
He's also stated that "as the UK begins to reshape its relationship with the EU, it will need to renegotiate how it trades with other countries, both in Europe and the rest of the world".
You have only to read one of our latest blogs – Cambodia, Myanmar and the EU's 'Everything But Arms' trade deal – to realise just how linked in with the EU, the UK currently is.
Negotiated settlements must take into account workers' employment conditions
As companies, trade unions and NGOs unpack the implications of the Brexit vote, it's going to be important not to lose sight of the fact that we live in a globalised world.
It's also important that any negotiated outcomes – particularly with regard to trading relationships –take into account those least able to stand up for themselves. These are the workers at the very heart of ETI's Base Code of labour standards.
So we'll be working closely with our member companies, trade unions and NGOs – and other ethical trade partners – to make sure that politicians don't forget to uphold respect for workers' rights worldwide.
And also to make sure that progress already made on standards and ethical approaches is not diluted.