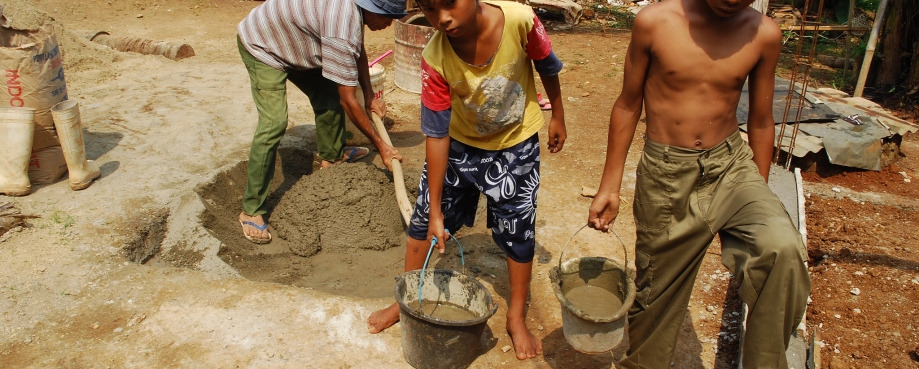 ETI trainer and blogger, Stirling Smith normally writes about worker voice, trade unions and related issues such as labour laws and modern slavery. But recent reports and legislation have got him thinking about child labour. Why it's still a problem. And what companies need to do to address it.
ETI's new Base Code Guidance: Child labour - practical guidance for brands and retailers.
I've written more than 30 blogs for the ETI website. Stravinsky supposedly said of Vivaldi that, "he did not write 400 concertos; he wrote one concerto 400 times." 
And I suppose you could say I've written about five blogs six times each.
My blogs have covered: worker voice and trade unions; safety and health; labour law in South Asia; sexual harassment at work; and modern slavery.
But I've never written a blog on child labour.
Until now.
The prevalence of child labour
According to a new report released by the Center for Child Rights and Corporate Social Responsibility (CCR CSR) and based on a survey of 557 social auditors, 64 per cent of them encountered child labour during their on-site inspections in the last two years.
This surprised me, because I thought that child labour had been more or less stamped out – at least in the supply chains of large global corporations.
Yet apparently, child labour is still a big problem. At least 168 million children are affected, according to the International Labour Organisation (ILO), but most of those are in agriculture and the informal economy, and should not be found making garments for the high street.
Personal experiences from the 1990s
More than 20 years ago – when ethical trade and corporate social responsibility really took off – child labour was usually THE focus of concern. Once individual companies began adopting codes of conduct, child labour was always included.
Even so, it took a while for suppliers to catch on.
I still remember walking up the road to a carpet factory in Nepal and seeing the children scampering out of the back. 
And in Pakistan, where there was no reliable documentation for young workers' ages, being shown school leaving certificates as proof that the workers were not children.  All from the same school, and all in the same handwriting. (After China, Pakistani is the country with the worst audit fraud).
But that was in the 1990s, and I thought that zero tolerance towards child labour was the one thing that suppliers had grasped.
Not according to the report.
Defining child labour
Let's clear up a few definitions before we look more closely into the report; I am still sometimes asked to define child labour on ETI training.
First of all, a child is defined in international law (the United Nations' Convention on the Rights of the Child) as a person under 18 years of age.

Secondly, child labour is work which is harmful to a child's health and development. That means it's possible for children (under 18) to work in a carefully regulated and controlled way.
So, it's okay for children to do newspaper rounds (though there are some rules about those).
It's also okay for children on a farm to help out, maybe for a few hours, or at the weekend or during school holidays, so long as the work doesn't involve pesticides. Or operating machinery or driving a tractor. That's vital. Agriculture is actually one of the most hazardous industries about – around 60,000 workers are killed doing farm work in India every year.
Vivaldi's curse! This blog is supposed to be about child labour, and I just started writing about safety and health.
To help us define the boundary where child work becomes child labour, we have two ILO conventions. Check out the ETI Base Code section on child labour, where it sensibly says these policies and procedures shall conform to the provisions of the relevant ILO standards.
I could go on about this at some length, but I recommend that you look at the ILO website and even some training materials I wrote for the ILO.
Highlights from the CCR CSR auditor report
Back to some highlights from the report:
Some factories deliberately recruited children, despite knowing it was against their buyers' policy, but some just had poor HR systems, and did not know how to check ages.

Remediation was virtually non-existent. When child labour is found, there is a long gap before buyers know about it, if at all, and children just disappear. Buyers have limited leverage, especially in China, to push a proper remediation process.

There were cases where a factory commissioned an audit (for buyers one assumes); the auditor found child labour, the children were sent away, and a different auditor brought in. Result - a new social audit report for the buyer with no child labour.
So the key takeaway is that, despite the zero tolerance policies towards child labour, it is "still an issue in supply chains" to quote the report.
Tackling child labour today
What can concerned ETI members (and other companies) do?
Well, for starters, review your due diligence for the issue - use ETI's new guidance to help you.
Get your remediation plans AND BUDGETS set up well in advance, so if child labour is found you can swing into action quickly. Because it's the slow response that puts children at risk.
And be aware that this issue is not about to go away. 
The Upper House of the Indian Parliament has just approved amendments to the 1986 Child Labour Act. But some of the amendments are controversial so future blogs will go into the Indian situation in more detail.
By the way, I always have preferred Vivaldi to Stravinsky!