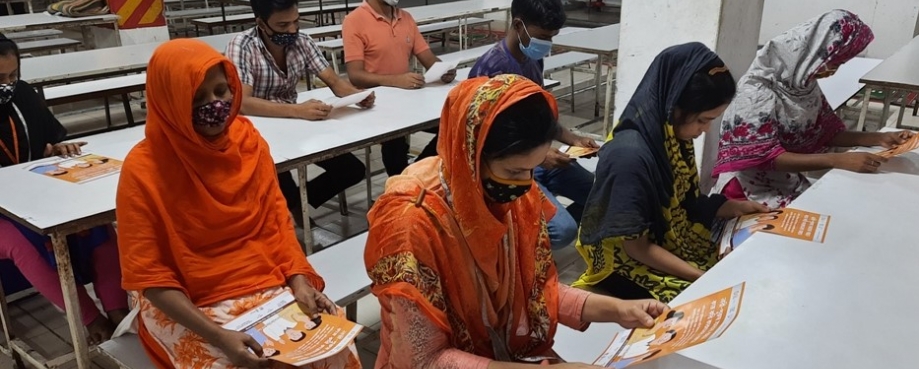 As part of the 16 Days of Activism on Gender-Based Violence 2020, ETI Bangladesh team is running a campaign to combat gender-based violence, reaching 12,000 male and female workers across 10 factories.  
The team has developed a calendar of activities throughout the 16 days, which includes distributing and printing leaflets on gender equality and gender based violence, and using the factories' PA systems to play a song in Bangla for 1 or 2 hours a day until December 10, 2020.
There will also be a virtual discussion session with ETI Bangladesh team members, with each team member sharing their personal experiences, thinking and mindset regarding gender-based violence, marital rape, social stigmas and other issues women are facing in Bangladesh.
The theme of this year's 16 Days is "Orange the World", and the team wore orange dresses to support the cause and to make the discussion more colourful.
ETI Bangladesh team is actively working and spreading the message to its beneficiaries and stakeholders to call for the prevention and elimination of violence against women and girls.
Listen to the ETI Bangladesh song
The team has also produced a song about combatting Coronavirus: