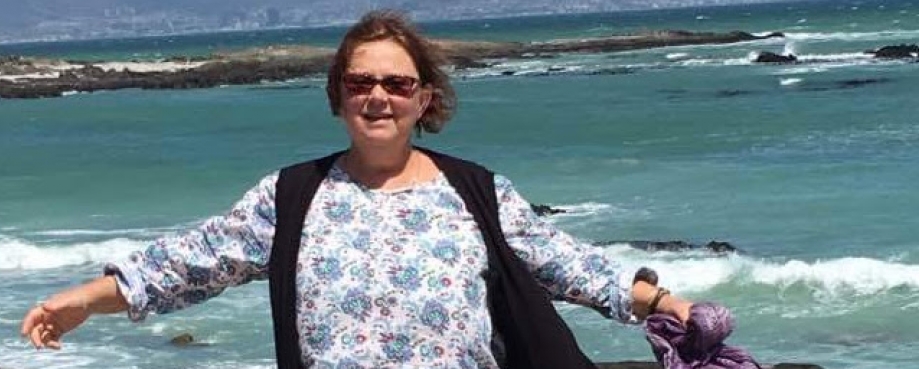 As Bev Hall, Senior Advisor: Transitions, prepares to leave ETI after five years, she shares her thoughts and reflects on the five-year journey.  
From my experience working on labour rights for over twenty years with five years specific to supply chains are at the same time, the unwanted gift that keeps on giving, and goal posts that don't just move, but instead change the game altogether.
During my last five years at ETI, the main game changers have been Covid-19,  ongoing geopolitical tensions and embedding core labour rights into Business and Human Rights frameworks and narrative. These changes deepen my commitment to support stakeholders across supply chains in accessing and defending human rights at work (aka labour rights). Even if that's one person at a time. 
Nelson Mandela said, "To deny people their human rights is to challenge their very humanity."  … we are all human and as such, I believe respect, dignity, and expression are at the heart of everyone's journey… "in everything, treat others the same way you want them to treat you". I believe, it's really that simple. 
Looking back
After a number of years as part of the Trade Union caucus committee,  my journey as an ETI staff member started with developing a road map to support Company members to implement freedom of association (FoA), collective bargaining (CB) and worker representation (WR) in their supply chains. As core labour rights, mapped out in ILO Conventions and national legal structures, there aren't many ways to translate these from legalese into more accessible language - let along enticing.
If you talk to a man in a language he understands, that goes to his head. If you talk to him in his language, that goes to his heart.
Finding a language that spoke to the hearts of stakeholders about the importance of FoA - as the enabling human right at work - took open and frank dialogue and the creation of safe spaces. Starting with a blank sheet, I worked collectively with members to developed ideas, indicators and strategies which resulted in today's five-step plan to implement Base Code Clause Two.  
The work on FoA/CB and WR throughout my tenure at ETI has extended to various activities from which responsible business can implement, leverage and learn:
Progressing worker representation: mapping key entry points and indicators of worker representation, we were able to develop a pragmatic approach for Companies to improve and progress representation thereby ensuring workers in all work sites and industries are able to safely raise collective concerns. This model has been adopted by several MSIs and provides a strategic approach to progressing WR.
Women's leadership training: Sponsoring the trade union women's leadership training and the Safe Spaces report, brought to life the struggle women workers, in all supply chains, face on multiple fronts. This work, with highlighting the Convention 190 on violence and harassment at work, was celebrated during the International Women's Day in March 2020. What a privilege to meet remarkable women and importantly, to be trusted with the stories.
All paths lead tosocial dialogue : Progressing FoA/CB and WR through company, trade union and NGOs is the beating heart of ETI. It's often provided the creative space where collective challenges and solutions grow. This has shone through across multiple groupings and initiatives, to name just two:

Seafarers crew change crisis: At the height of the pandemic and on request from ETI member, the International Transport Workers' Federation, prompted an advocacy initiative and the establishment of the ETI/ITF Logistics Expert Support Network whereby we, with our Company members, have explored the HRDD approach to shipping, road haulage and warehousing – in most instances, lifting the lid on the hidden parts of the supply chains.
Fruits of Peruvian dialogue: Our long-term efforts in Peru have brought about similar progress. Building upon a comparative study, we've brought together buyers, growers and trade unions to face various workers' rights issues in Peru's agricultural supply chains. Collaborating with Mondiaal FNV and a local team of expert volunteers, our work has contributed to the development of a platform for social dialogue in Peru.
More recently, I've led ETI's programme - Transitions and Futures. It has been a huge privilege to work with committed ETI members and external experts on this rapidly evolving area in the intersection between business and human rights. Together, we have cocreated a set of Transition Principles, to prepare global supply chains and protect those who the science predicts will be most affected by climatic changes.
Looking ahead
What a world we live in – but what a time to be alive! The optimist in me, fueled by experience and learning, believes it is a time of immense opportunity.
The challenges we face as people and planet may seem overwhelming at times, but I believe that by coming together with a genuine desire and openness to learn, share and find workable solutions we can and will overcome. There will be disagreement, but by listening and collaborating we can start to forge a way forward that rights the wrongs of the past, and propels us into the future with confidence.
It's been truly humbling to get to do what I love doing with likeminded and inspirational people. The future presents with a sense of urgency and requires the brave and committed to step up and take this unique time to reimagine and reinvent the way we 'do' business.
Farewell for now, ending as I started, to put it plainly, "in everything treat others the same way you want them to treat you". It's really that simple.
…
For queries relating to ETI's work on Transitions and Futures, General Merchandise, Logistics and Social dialogue, please contact: Margherita Parodi