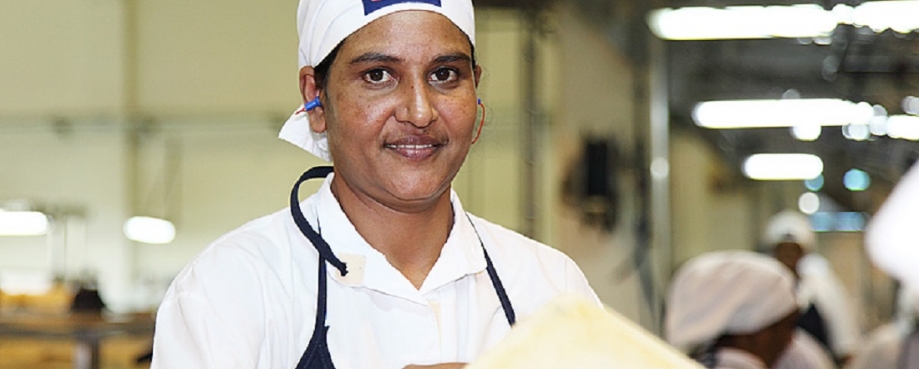 ETI member Princes, has recently shared a case study with us about expanding their Mauritian supply chain. They produced it in partnership with the Co-op (another ETI member) to highlight the importance of ethical migrant worker recruitment practices. ETI thinks it's well worth other companies reading and digesting, writes Jane Moyo.
Canned and packaged food and drinks company Princes' ethical approach to recruitment in Mauritius is highly regarded.
So much so, that the company recently produced a recruitment case study to support the sharing of experience and good practice between Co-op suppliers, of which they are one.
The aim? To help create better places to work.
We were impressed, and think other companies should take note also.
ETI's Mauritius working group
ETI was interested in Princes' experience because we run a Mauritian working group that concentrates on improving the working conditions of migrant Bangladeshi workers to the East Indian ocean island.
Employment contracts can, if not careful, amount to bonded labour. Yet there remains a large migrant worker population, which is constantly being replenished.
As Paul Williams, Princes' Ethical Trading Manager points out:  "Mauritius is an island nation and there is limited labour resource coupled with a skills shortage as well as the demand from the tourism industry competing for labour."
Those labour stresses mean that Bangladesh provides around a quarter of Princes' Mauritius workforce – and this is fairly typical for our membership (and other companies) as a whole.
While most of ETI's members sourcing from Mauritius are operational in the apparel and textiles sector, there's a lot of interest in Princes' experience – even though they operate within food, farming and fishing and own their own processing plants.
Why? Because ETI member companies understand that they have a substantial mandate to promote workers' rights and are keen to work together with ETI and each other to do so.
Princes' expansion
What does Princes do? Here's the case study.
When Princes Tuna (Mauritius) acquired its second processing plant in 2015, it took on the major challenge of aligning its working practices with the firm's existing factory.
Princes in Mauritius supplies mainly canned and pouch tuna products to a number of retailers across the UK and continental Europe, and it set its sights high.
In addition to ensuring adherence to ETI's Base Code of labour standards, Princes Tuna (Mauritius) Riche Terre plant has had SA8000 certification since 2003. [Editor: Social Accountability Standard SA800 is designed to help companies assess social and employment standards in their own and their suppliers' workplaces.]
Its target is to have the same SA8000 standards in place in its new Marine Road operation by the end of this year.
However, ensuring the newly acquired business meets all ETI and SA8000 requirements requires major effort.
Many of Princes' Bangladeshi employees come over for four to eight years before heading back home. A pipeline of willing and vetted migrants is required to replace those whose time is done on the island.
Achieving this while ensuring no exploitation of migrant workers requires careful managing.
Paul explains. "When we first started we were told of an isolated number of instances where people seeking recruitment had paid for a third party to take them to the recruitment agency.
"We had to tell them they should not be paying any third parties to take them to our recruitment agency.
"Traditionally an employee may be expected to pay towards the recruitment process.
"We've been trying to educate the workers in Bangladesh about their rights and responsibilities and the recruitment process and that they should not have to pay for any cost towards the recruitment process."
Princes' hiring decisions
Princes works with just one recruitment agency in Bangladesh, and has done since 1999. It wants to maintain a close and long-term relationship to minimise the risk of bad practice creeping into any stage of the process.
Even so, the Head of Human Resources regularly travel to Bangladesh to offer skills and advice and to talk through Princes' requirements.
She also make the hiring decisions in Bangladesh, rather than relying on their agency, and also rather than waiting for prospective workers to turn up at the gates.
"These are sizeable journeys to make and long periods away from family so people want a high level of reassurance that things will work out," Paul says.
"We have also had examples of people having reality checks and, having undergone the pre-induction process, deciding that working in a tuna factory in another country is not for them.
"It's better to find out at that early stage."
Princes is determined to do the right thing for employees – but, it has also found a raft of business benefits from acting ethically.
Paul continues: "We work hard to ensure we bring the right people over to Mauritius who want long-term contracts.
"People recommend us to their friends and relatives back home and as a result are more likely to stay for a long period of time. 
"We have seen high levels of employee engagement; a number of workers have voluntarily returned to Princes Tuna (Mauritius) to secure long-term contracts.
"We also find it easier to recruit in Bangladesh because of the reputation we've built up.
"It's mainly now done by word of mouth through friends and relatives rather than the push by the agency that it might have been 15 years ago."
Sharing good practice
Paul confirms that with the concentration of work it has put into ethical recruitment in recent years, Princes has become something of a leader in this field.
He also confirms their willingness to work with firms in other industries on how to build a workforce in Mauritius. 
"Through ETI other companies based in Mauritius, or considering building their presence in Mauritius, are turning to Princes to understand our approach," he says.
"We recognise the benefits of talking about what we're doing to share best practices and learnings. It builds up reputation and contacts and supports the development of the highest ethical standards."
The message the firm tries to give to others is that successful ethical recruitment is about transparency and getting feet on the ground in the country you are hiring from.
"Sharing the messages just seems like the right thing to do. It benefits employees and employers and improves working conditions. And we can learn things in return," Paul concludes.