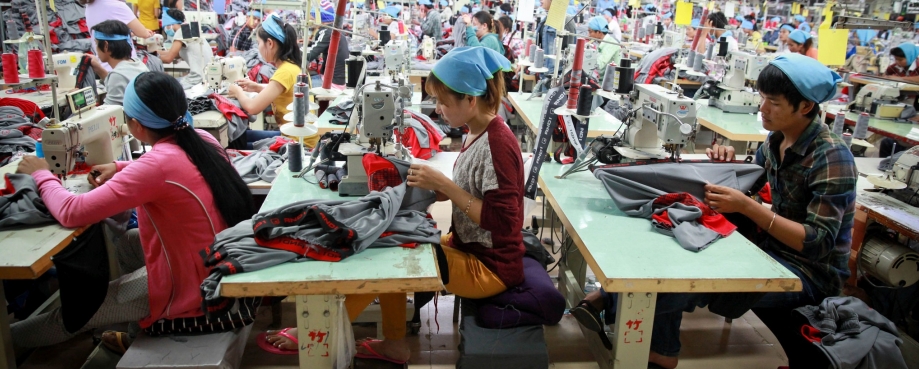 In this valedictory blog, Martin Buttle – who is leaving ETI to join Share Action – reflects on how the agenda for ethical trade has evolved since he joined us in 2014.
When I first joined ETI my focus was primarily programmatic. Getting a handle on deeply entrenched local issues in apparel and textiles sectors across the world.
Changing local environments
It's why I want to start with some bullet points about how I and ETI have worked to change local environments:
All this shows why ETI's current organisational strategy includes a focus on devolving discussions on ethical trade away from countries where lead firms are based, closer to production countries.
Our experience – as I have outlined – exemplifies this strategic approach.
Doing more at a policy level
So, over my time at ETI, there have been some obvious wins. But, structural issues, a concern about collective action as well as uneven playing fields have limited the extent to which programmatic and ad hoc interventions can create large-scale sustainable change.
It's important to do more. That means changing policy as well as practice; for businesses, as well as influencers, to have a deep and accurate understanding of cause and effect. And ultimately to understand what collective actions are necessary, to achieve impact.
At the international policy level, I sat on the Advisory Committee of the OECD Due Diligence Guidance for responsible supply chains in the garment sector. The guidance, whilst voluntary, set out in some detail the expectations of the 34 member governments of the OECD on the responsibilities of the garment industry.
Yet, whilst expectations are clearer there still remains an implementation gap.
It's one of the reasons why, working with our sister ETIs in Norway and Denmark as well as the INWORK team at the ILO, ETI surveyed 1,450 suppliers on company purchasing practices.
Across all industries the link between the commercial practices of companies and poor wages and long working hours was firmly established.
ETI published our Guide to buying responsibly.
Embedding intra-company understanding
But, there is a difference between presenting guidance to CSR or ethical trade teams and speaking directly to commercial decision-makers in brands about their companies' purchasing practices.
In 2018, ETI partnered with Better Buying  - a global initiative that provides retailers, brands, and suppliers with a cloud-based platform to obtain data-driven insights into purchasing activities.
We were fortunate to receive funding from the C&A Foundation to take this data and help commercial teams within participating brands create strategies and action plans to improve their purchasing practices.
We were also fortunate to hire Vanessa Podmore – poacher turned game-keeper, the ex-buying and sourcing director of Burberry to inform and shape this work.
To reiterate. To drive the right kind of change it's increasingly important to speak about ethical trade to commercial decision-makers.
The combination of brand specific data, speaking credible commercial language and engaging senior decision-makers is getting cut-through with brands in a way other interventions have not.
 As a result, leading brands have been setting up cross-functional teams to look at their purchasing practices, re-examine their cost-price structures, review their supplier terms and conditions and align their commercial teams' incentive structures with broader sustainability goals.
Target setting
 One of the lessons I've learnt from engaging with designers, buyers, merchandisers and technical teams is that they are constrained by the decisions of others including members of the C-suite who set margin targets for the business.
Last year, we therefore worked with Kings College and Warwick University Business Schools to examine the extent to which business models themselves are at the root of poor labour practices in global supply chains.
The report concluded: "Sustainable business models' are viewed as ways of integrating societal and environmental concerns systemically into the way business is done… at present, typical business models are far from sustainable, ….The key point in terms of focusing on business models is that until the pressures emerging from business models are tackled it is likely that all initiatives aimed at improving labour standards will bring only peripheral improvements."
Let's be clear. We are living in an uncertain world.
As such we are faced with the prospect of populist and authoritarian governments, trade wars, climate change and a fourth industrial revolution. These can all easily create large scale redundancies both here and in sourcing countries.
Increasingly, the business model of selling more "stuff" and sourcing from the next cheap sourcing country is under question.
If we don't start looking holistically at business models and the links between them and poor outcomes for workers in global supply chains, we will not reach ETI's goal: a world where all workers are free from exploitation and discrimination, and enjoy conditions of freedom, security and equity.
Engaging investors and the need for transparency
To address the business model we need investors to get more engaged in the discussion.
It is now well acknowledged that the 'S' of Environment, Social and Governance – the framework investors use to measure business performance on sustainability issues – is poorly developed in relation to the 'E' and the 'G'.
Investors need better data and a better understanding of how the issues play out, if they are going to play the role that's needed.
Transparency is important here.
Supply chain transparency and data disclosure helps hold decision-makers to account. It increases accountability, which can lead to positive behaviour change.
A good example of this is the collaboration between Garment Worker Diaries and the Open Apparel Registry. The Garment Worker Diaries collect regular, credible data on the work hours, income, expenses and financial tool use of workers in the global apparel and textiles supply chain in producing countries.
In July (of this year), using the Open Apparel Registry, Garment Worker Diaries linked data from the diaries with global brands through their supply chain disclosures. It means that interested parties can directly link on an ongoing basis, workers income and working hours with international brands.
I for one think this is pretty impressive. Particularly if people take action as a result.
A long journey to empowerment
My last five years have been a long journey. And there's a lot more to be done. But it is possible to envisage technology, data and transparency being used to envision, enable and empower workers.
And "empowerment" brings me to my final point. Nobody can do it alone.
Empowerment means companies accepting the importance of representation. Of welcoming trade unions as full partners within the brand, and having faith in the ability of unions to build an enabling environment.
An environment that sees a commitment to workers' rights and to better business.