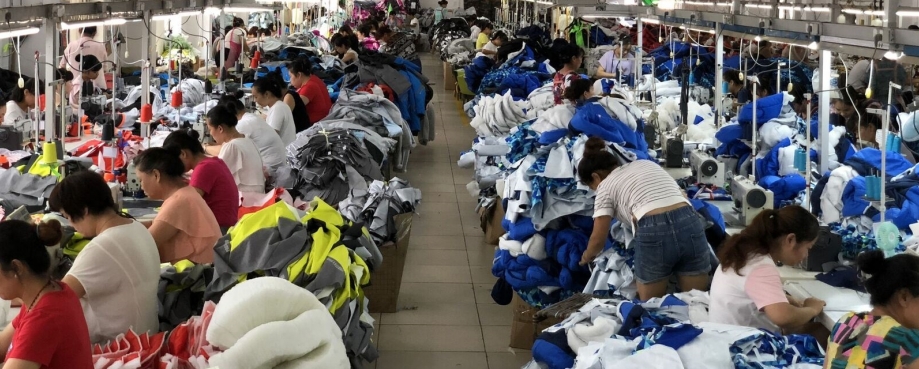 In this case study, we see how outdoor sportswear company and ETI member, Regatta, has encouraged a Chinese supplier to initiate a worker motivation scheme as part of its commitment to ETI/ILO SCORE business management training. And how effective that's been.
Geng Cuiru has just been given a large bottle of detergent by her HR manager. It is a reward for completing the monthly production goal set by her factory.
This is a first for Geng. She's not received rewards before, even when she was meeting her monthly or annual production targets.
Now, for the first time, she feels her hard work is being recognized by the factory. "Workers all need encouragement," Geng says. "Even simple things like detergent can make us happy and want to work harder. It shows the factory cares about us."
Giving rewards is a new measure the factory has taken to motivate its workers. Their positive response has proved it was the right decision to take. "We feel happier and more willing to work," Geng says.
Workforce management for cooperation and business success

Geng's factory supplies ETI member, the outdoor sportswear company, Regatta. Founded in 2001 in Shijiazhuang, in China's eastern Hebei Province, Regatta's supplier is one of the biggest private apparel producers in the city, employing more than 300 workers. But managers began to notice a lack of motivation. We focused more on production, not on caring for the workers," says Chen Liqin, the factory's HR Manager.

When Regatta suggested that the factory join the ETI/ILO SCORE training project in 2017, it was an eye-opening experience for Chen and her colleagues. In particular, Chen learnt from the training's fourth module, Workforce Management for Cooperation and Business Success, which concentrates on developing better HR systems. The factory came to realize that with nominal investment, they could build a caring HR system that motivates workers and improves productivity. That this could be a win-win situation for workers and the factory.
SCORE training
SCORE (or Sustaining Competitive and Responsible Enterprises) modular training helps SMEs improve productivity and working conditions by providing practical classroom sessions combined with in-factory consulting.
Designed by the ILO, this training series is being run in conjunction with ETI and its member brands, who are offering it to their Chinese suppliers.
The fourth module trains factories on human resource strategies for better recruitment and retention, and how to motivate and develop the right people to make staff a competitive advantage.
In this particular case, factory management concluded that their top priority was to build a motivation scheme which would include bonuses, gifts and verbal compliments.
At the beginning of July, Geng and 27 teammates were rewarded for completing 3,000 ski suits the month before.
Besides the detergent, she also received a small amount of money to take her team members to dinner at a local restaurant and for karaoke afterwards. "Our work is repetitive and can be robotic," she says. "We really need to relax ourselves to maintain our high spirits."
Surveying employees
Encouraged and guided by the project trainer, the factory management has also rolled out a survey to solicit employees' opinions about the factory.
There are nearly 40 questions in the survey covering six main topics such as rights and obligations, training, remuneration, regulations and policies, working environment and company culture.
The questions include: Are you satisfied with your current job? Are you clear about your responsibilities and rights? Did you receive necessary training? Do you want to work in the factory in the long run? Do you have any advice and suggestions for the sustainable development of the factory?
One third of the employees have now completed the survey.
"We never did this kind of survey before so we need to take time to explain to the workers what it is about. That's because it's a new thing to them and most don't have high educational levels," says Chen.
When fully completed, she confirms, the survey will be used as a reference by the factory to develop more policies to cater to the workers' needs.
Production line worker, Geng Liran, is complementary about this approach.
"In the past, I felt the factory didn't care about what we thought. But now I feel we are treated equally and that managers will take our requests into consideration."
Positive dynamics
Melissa Lloyd, Head of Buying at Regatta's Dare2B brand confirms that such positive dynamics between the workers and the managers are what Regatta wanted to see.
"We hoped that the project would bring a voice to the workers to help improve efficiency within the factory and impact their working lives,"  Melissa says.
She adds that the fourth module on HR management could introduce the factory to more ideas that will benefit the workers and eventually positively impact productivity too.
Chen corroborates this thinking.
She points out that higher motivation has already improved productivity and quality.
Product defect rates have substantially reduced and more teams have received productivity bonuses. Chen says, "the factory will soon start collecting statistics to show the improvement."
More change on the table
More plans to motivate and care for workers are on the table. And they're big.
"We're planning to improve and institutionalize the existing productivity rewarding scheme and introduce full attendance awards and year-end bonuses," says General Manager, Zhao Fenghua.
Geng Cuiru has her own plans too. "I look forward to a promotion," she says, and then smiles. "I'm leading one team now. I will be very proud if I can lead three teams."
Chen smiles back. "You have a definite spot in our talent pool," she confirms.
The ETI-ILO SCORE project is running from February 2017 to February 2019 with funding from Germany's Federal Ministry for Economic Cooperation and Development (BMZ) via its develoPPP.de programme. DevelopPPP helps German and European companies conduct business activities in a responsible manner in line with the expectations of the Sustainable Development Goals. In the context of the SCORE initiative, ILO and ETI are cooperating with SEQUA, one of DevlopPPP's designated partners charged with implementing the programme.
Previous SCORE blogs include: