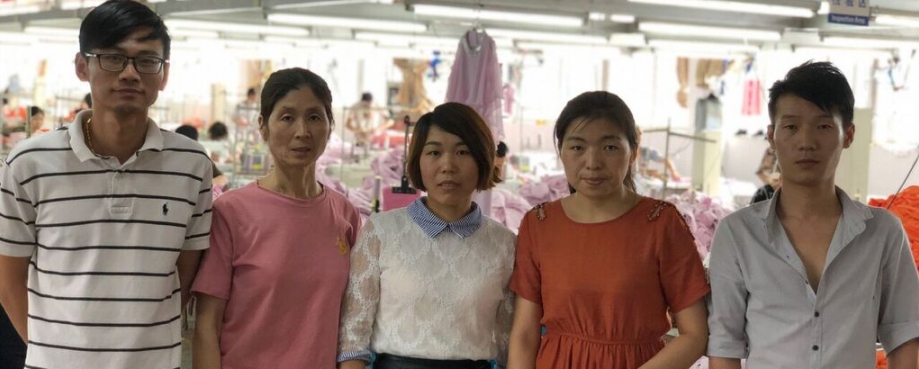 ETI company member Orsay, and their Chinese supplier Huaxing Clothes Manufacturing, feature in this latest blog in our series that seeks to help Chinese manufacturers improve relations with their workers and their bottom line. It's a case study, and illustrates how ILO SCORE training has helped to improve management processes,  reduce product defects and increase productivity.
The newly ordered fabrics have arrived – 50 rolls of pink satin.
Qu Yang unfolds one, his eyes flicking up and down the cloth, trying to spot the tiniest defect. After inspecting a few more rolls, he goes back to his office where four of his colleagues are waiting.
"Let's get started," Qu says.
Qu is the quality manager of Huaxing Clothes Manufacturing Co. Ltd, a small enterprise located in Changshu in China's eastern Jiangsu Province. Founded in 2002, Huaxing employs almost 100 workers and produces around 80,000 garments of women's clothing per month.
Meeting client demands
Qu's responsibility is to control product quality and make sure the factory meets client demands.
The meeting with colleagues is a new part of Qu's daily work routine, instituted following SCORE training. He believes it provides a good opportunity to discuss issues with production team leaders and to improve product quality and productivity.
Holding a sample of the pink satin in one hand, Qu explains the client's requirements – in this case a major new Orsay order for women's blouses. He outlines what workers need to pay attention to during the production process.
Afterwards, the team leaders convey the information to their team members.
Li Yu, one of the leaders, explains why she thinks the new system is a good idea.
"It's very useful," she says. "In the past, quality problems would only be discovered by the quality inspector after production ended. Now, the meeting means we can better prepare ourselves so many problems can be prevented."
SCORE training
SCORE (or Sustaining Competitive and Responsible Enterprises) modular training helps SMEs improve productivity and working conditions by providing practical classroom sessions combined with in-factory consulting.
When Orsay were told that ETI had linked up with the ILO to promote SCORE amongst exporting factories, they encouraged Huaxing to join the project – they knew its management were keen to address the efficiency, cost and profitability issues they were facing.
ILO experts working with Chinese consulting firms are consequently conducting training for both workers and manager representatives, and the daily meeting is just one of several new initiatives that Huaxing has taken.
Following the first training module, Workplace Cooperation, the factory formed an eight-member Enterprise Improvement Team (EIT).
This immediately helped create a better working environment and more efficient cooperation among co-workers and managers. It also paved the way for the successful implementation of the second module, Quality – Managing Continuous Improvement.
Aligned with client demands, ILO SCORE training spotlights individual customer needs, developing a quality assurance culture and systematically reducing defects. It also introduces the five pillars of quality management including customer focus, quality culture, quality goals, quality control and continuous improvement.  In addition to theoretical knowledge, the training provides hands-on tips, such as suggesting the Huaxing factory's daily meeting, to reduce defects and improve productivity.
Solving big problems simply
Qu and his colleagues have found the methods introduced in the training very helpful and they can already see the changes to the workplace.
One of the most significant changes is the reduction of stains on garments.
It was realised that by placing a trash can at every workstation, workers can dispose of litter properly. Building a new cafeteria has also meant that they have stopped eating and drinking at their stations.
That has also led to efficiency savings. "We used to employ three launderers who worked day and night because there were so many stained clothes," Qu says. "Now we only need one."
Qu points out that many of the new methods identified through the training are very simple and straightforward but can solve big problems.
His co-worker Zhang Wei, installs zippers on garments, but found dealing with soft fabrics daunting. So much so, that at the end of the day, he needed to redo many of them.
Qu took a photograph of a perfectly installed zipper, printed it and taped it to Zhang's workstation.
"When I look at the photo, I can immediately see my problem," Zhang says. "I make fewer errors now and I work faster."
And Zhang's reductions in errors are being replicated throughout the factory.
The overall defect rate has decreased. According to factory statistics, the defect rate in June and July 2018 was 3.5% and 3% respectively compared with 5% before the completion of the second module.
What's more, workers themselves have been inspired to think of new approaches to improve quality.
As Qu says: "Workers are now telling me about ways to fix defects. We're exchanging ideas."
Noticing the difference
Orsay China's Corporate Social Responsibility and Operation Manger, Derry Lam, has also been pleased with the positive changes taking place at Huaxing.
"I've seen a significant reduction in defective items and productivity has improved too," he advises.
Huaxing has three more modules to complete: Cleaner Production, Workforce Management and Safety and Health. Its General Manager Gu Ye hopes the project will eventually help the company achieve sustainable growth.
"At completion, we hope our company will have significantly improved our management," Gu Ye says. "And that the company can grow more sustainably."
But the final words should go to Qu.
"Quality means a lot to our company. It affects our reputation. Good quality saves on costs."
Another copy of this blog appeared on the ILO website on 29 August 2018.
The ETI-ILO SCORE project runs from February 2017 to February 2019 with funding from Germany's Federal Ministry for Economic Cooperation and Development (BMZ) via its develoPPP.de programme. DevelopPPP helps German and European companies conduct business activities in a responsible manner in line with the expectations of the Sustainable Development Goals. In the context of the SCORE initiative, ILO and ETI are cooperating with SEQUA, one of DevlopPPP's designated partners charged with implementing the programme.
Previous SCORE blogs include: